HimalayanWindows advises bringing proper Travel Insurance to all travelers interested in trekking in the Himalayas. Travel Insurance is a policy that helps cover medical problems, emergency evacuation, theft, loss of belongings, last-hour tour/ticket cancellation, death, etc. The Insurance Policy can protect you from losses during your adventure tour and trekking into the Himalayas. It is highly recommended that you bring proper travel insurance coverage for that area and activities.
---
Insurance while traveling to Nepal
Trekking in Nepal is walking on the path of mountains, and in mountain areas, the health treatment services are not standard and easily accessible. There are few available good hospitals and doctors in the mountainous regions. Therefore, if the trekkers suffer from severe sickness, they should be brought to the close city or Kathmandu ASAP. The best option could be a Chopper rescue arrangement for better treatment because Nepal does not have quality paved roads to drive to the hospitals. The Chopper rescue or helicopter charter is expensive. If you already have a travel insurance policy, that would be super helpful & your money will be saved.
We recommend purchasing an insurance policy for every trip, we offer that should cover emergency evacuation and treatment. However, we strongly recommend you bring an insurance policy for some famous trekking in Nepal, like Everest Base Camp Trek, Annapurna Base Camp Trek, Annapurna Circuit Trek, Manaslu Trek, etc. These are the high altitude trekking destinations, and there is an increased risk of high-altitude sickness.
---
Insurance while traveling to Bhutan and Tibet
As mentioned above, Travel Insurance is used for unforeseen situations and protects from significant losses due to certain obstacles. Mainly, it helps protect you from the failures of Bhutan's hefty cancellation fees and prepayment situations. Things happened to be the same while touring countries like Nepal, Bhutan, and Tibet. Please remember to bring an Insurance policy from your own country or other international insurance companies. Nepal, Tibet & Bhutan mostly deal with domestic travelers, not foreigners. For further information, please consult with us about the insurance policies on a particular destination while booking the trip.
When you select a travel insurance policy, it is required that you are minimum covered for medical treatment, including emergency evacuation. Moreover, we strongly recommend that the insurance policy covers your liability, loss of luggage, and trip cancellation.
HimalayanWindows shall have no liability for any loss, damage of baggage, theft, and personal effects. We would also like to inform you that the Nepal Insurance Company does not have a travel insurance policy for foreign citizens to date. So, we advise you to do your travel insurance with your insurance company in your country and send a copy of the insurance policy to your concerned travel agency before your adventure trip begins.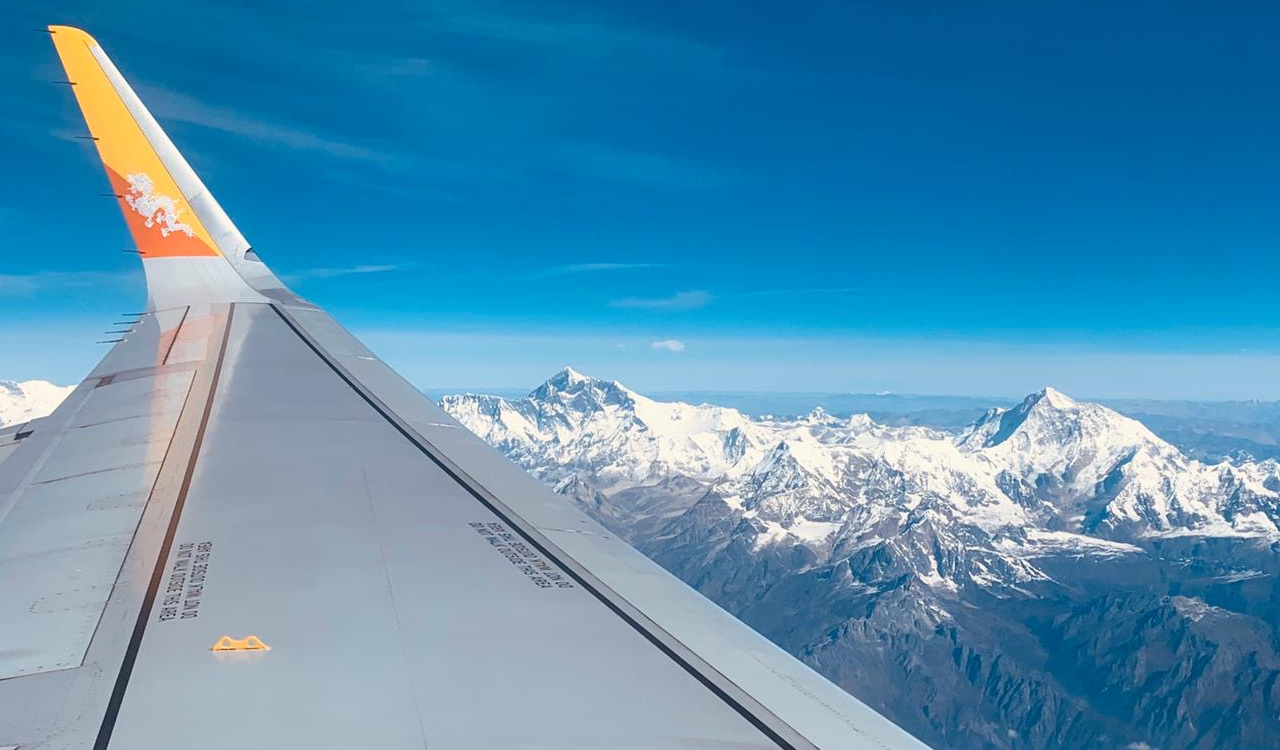 An eye-level Himalayan view while flying over Mount Everest Range
If you do not have such an insurance policy at your place, you can contact one of the international companies. The trusted one that we can recommend is WorldNomads.Com. They sell such an insurance policy to foreigners. WorldNomads covers emergency evacuation, including medical treatment, and they are familiar with our region and services. World Nomads is trusted by several travel brands like Lonely Planet, Tourradar, etc.
---
Rescue/Evacuation arrangement in Nepal
HimalayanWindows provides the quickest medical assistance, Security, and Evacuation services for all trekkers/mountaineers who need it.
People might face a lot of difficulties while traveling in mountainous regions. They need to be well-prepared before upcoming destinations in this mountainous sector. You might suffer from several health problems, altitude sickness, and injuries and need quick medical support or attention.
HimalayanWindows Team arranges rescue and evacuation services anywhere in the Mountains for the clients if they need them. Everyone, including the expedition team, who suffers an injury or gets sick, requires prompt medical assistance. We are responsible for trekking and tour operators with enough experience in the geography and accidents that might occur during trekking or hiking in the Himalayas. We alert our rescue and evacuation team promptly as soon as we are noticed and conduct necessary arrangements wherever we need them.
Although, we strongly recommend that you must have proper Travel Insurance to cover all of your rescue expenses. Mostly, you will be evacuated via Helicopter Rescue service, which is moderately more expensive than another type of rescue arrangement.
Helicopter Rescue Arrangement in Nepal
Rescue in Nepal has become a severe issue for all the mountaineers and trekkers, while arranging proper rescue is also taking the risk of their lives. HimalayanWindows thoughtfully craft the approach to save the lives of every individual who requires such an evacuation. Trekking in the Himalayas is not easy crises could arise at times or in situations. To overcome the problem, the Helicopter or Chopper Rescue could be the best idea, as saving our lives and getting proper treatment will be on top priority. We have several helicopter or Chopper companies whom we are associated with, such as Fishtail Air, Manang Air, Mountain Air, Air Dynasty, and many more.
Nepal, the land of splendid peaks and mountains, has attracted many mountaineers & trekkers. It is also said that Man can fight with anything but not weather conditions. This could happen at any time and place in the Himalayas, so such a rescue arrangement is necessary to save our lives. We are connected with several Heli Charter service companies and have done many evacuations in previous seasons; we will conduct all our efforts to make it possible and save your precious lives. Don't hesitate to get in touch with our team for any information or need any assistance.