The Annapurna Base Camp (ABC) is a stunning trekking destination located in the Annapurna Conservation Area of Nepal. It's a popular trekking route that takes you to the base camp of the Annapurna Massif, one of the world's most iconic mountain ranges.
Here are the top 10 Frequently Asked Questions (FAQs) on Annapurna Base Camp Trek: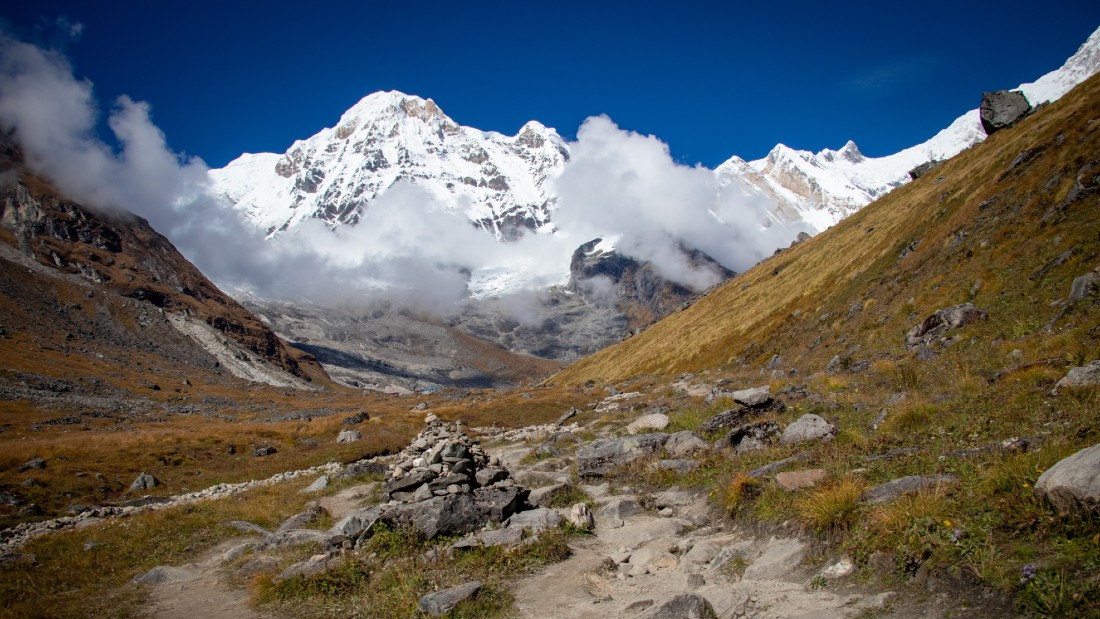 Annapurna Base Camp
What is the Annapurna Base Camp Trek?
The Annapurna Base Camp Trek is a popular trekking route in Nepal that takes you through diverse landscapes, terraced fields, dense forests, and traditional villages, leading to the base camp of the majestic Annapurna mountain range at an elevation of 4130 meters (13,550 feet) above the sea level.
How long does the trek take to complete? 
The trek usually takes around 7 to 12 days, depending on the starting point and pace of the trek. It covers a distance of approximately 110-115 kilometers (68-71 miles).
When is the best time to do the trek? 
The best times for the Annapurna Base Camp trek are during the spring (March to May) and autumn (September to November) seasons. These months offer clear skies, mild temperatures, and stunning views.
Do I need a guide and porter for the trek?
While it's not mandatory to hire a guide and porter, many trekkers choose to hire a guide and porter for convenience and support. A guide can provide valuable information about the route and local culture, while a porter can carry your heavy backpack.
What is the level of difficulty for the trek?
The Annapurna Base Camp Trek is considered to be of moderate difficulty. It involves some steep ascents and descents, but it doesn't require technical climbing skills. Basic fitness and prior trekking experience are recommended.
---
---
What permits are required for the trek?
You will need two permits: the Annapurna Conservation Area Permit (ACAP) and the Trekkers' Information Management System (TIMS) card. These permits are usually arranged in Kathmandu or Pokhara before starting the trek.
What is the accommodation like during the trek?
Accommodation along the trail ranges from basic teahouses to more comfortable lodges. These provide simple rooms with twin beds and shared bathrooms. It's advisable to carry a sleeping bag for extra warmth.
What should I pack for the trek?
Essential items include sturdy trekking boots, warm clothing layers, a down jacket, a hat, gloves, sunglasses, a good-quality backpack, a water bottle, and personal medications. A detailed packing list if recommended. Here's a link to learn more about trekking in Nepal.
Is altitude sickness a concern on this trek?
Yes, altitude sickness can be a concern as the trek takes you to higher elevations. It's important to acclimatize properly, stay hydrated, and ascend gradually. Familiarize yourself with the symptoms of altitude sickness and know when to descend if necessary.
Are there emergency facilities along the trail?
Some teahouses and lodges have basic first-aid facilities. However, it's important to have your own travel insurance that covers medical emergencies and helicopter evacuations in case of severe illness or injury.
Related trekking packages you may like;