Planning a trip to Tibet? Avoid common travel mistakes and hassles by following these expert tips for a seamless journey. Learn about Chinese Visas, permits, travel arrangements, and cultural sensitivities.
---
Are you gearing up for an unforgettable journey to Tibet? Navigating the intricacies of this enchanting destination can be overwhelming, but fear not. Many travelers find themselves in a whirlwind of questions and unwitting blunders when planning Tibet adventures wish they had known before embarking on their Tibet tours.
With over a decade of experience as a trusted tour operator and advisor, we're sharing invaluable advice to help you chart your course for an upcoming visit to Tibet.
1. Optimal Chinese Visa Strategy for Nepal Entrants
Tibet's connection to China necessitates a China visa for entry, but the process differs depending on your route. If your journey starts in Kathmandu, Nepal, hold off on obtaining a Chinese visa until after securing your tour with an agent. Why? Your existing Chinese visa will be replaced with a group visa tailored to your travel dates. Rushing into a visa application beforehand could mean wasting funds. Rest assured, your original visa's purpose will not be affected. Even if canceled, it won't hinder your travel within mainland China. Your local travel agent will guide you through obtaining an invitation or confirmation letter from the Tibet Tourism Bureau (TTB), a crucial document for your paper visa application at the Chinese Embassy in Kathmandu.
On the other hand, if your journey originated in Mainland China, securing a Chinese Tourist Visa is essential. Take note that a business, student, or different type of visa requires a No Objection Letter or leave letter to qualify for a Tibet Travel Permit.
2. Overnight Stay in Mainland China for Seamlessly Delivered Permits
For those entering Tibet via Mainland China; especially by flights, consider staying a night in a hotel or apartment. Why? Your travel agency needs to send your original permits exclusively to the Mainland China address (sending them elsewhere is prohibited). These original permits are mandatory before you board your flight to Tibet. While some areas accept permit copies; especially if you are taking a train journey, it's wise to check with your agent. Provide a precise address, including a contact number, to ensure safe delivery. A mere transit could lead to permit delivery complications, especially at the airport. To avoid this, a one-night stay in any Chinese city can save you from the hassle of lost permits.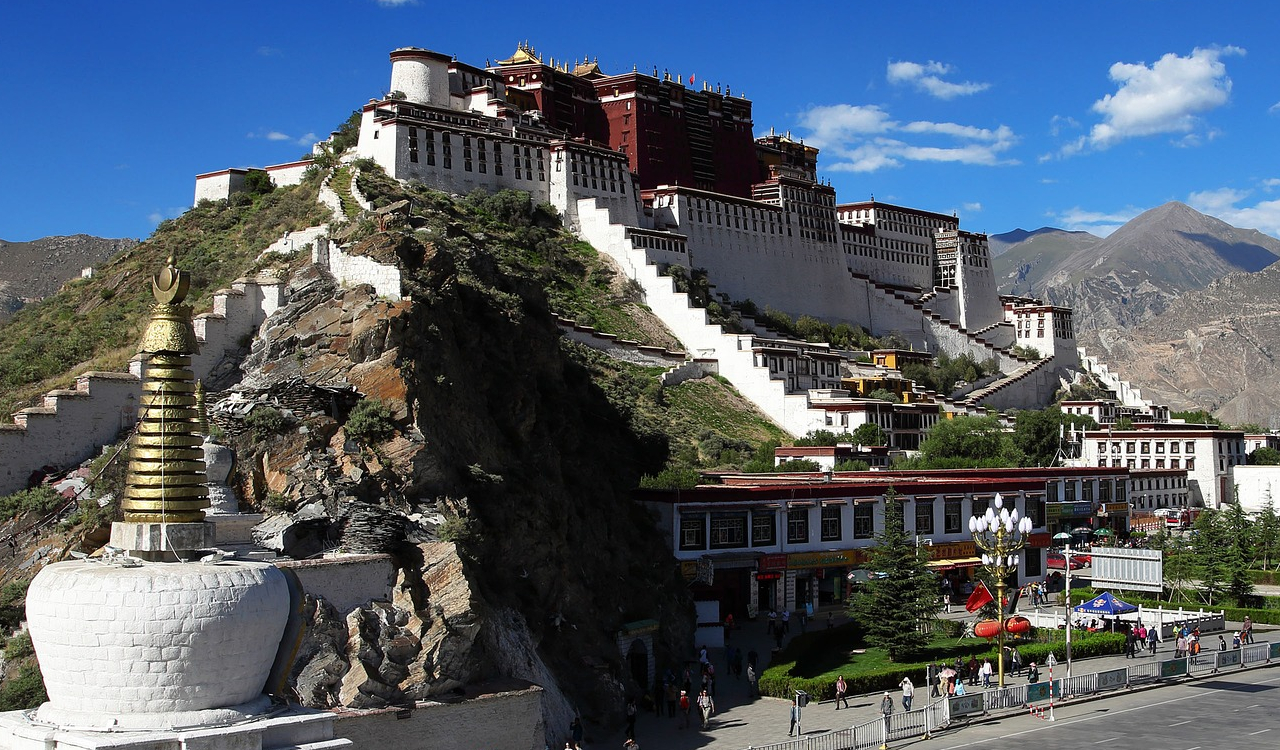 Potala Palace, Lhasa Tibet
3. Group Visa Caution: Separation in Mainland China 
Traveling in a group from Kathmandu requires meticulous planning for post-Tibet destinations. If you're parting ways from Lhasa's airport or train station, obtain a separate paper group visa. Otherwise, you might find yourself bound to your travel companions until your next Chinese destination. Acquiring another Chinese visa within China is a challenging feat. Clearly communicate your travel plans to your agent and secure a separate visa if separation is in the cards.
Important!
Kindly be aware that embarking on a journey to Tibet from Kathmandu, Nepal mandates a minimum of five travelers for the acquisition of the Tibet Group Visa (TGV). Overlooking this requirement could result in the rejection of the visa application, as each individual listed on the permit is required to personally visit the Chinese Embassy in Kathmandu to furnish their biometric information. The visa processing period typically spans 3-4 business days, excluding weekends (Saturday and Sunday).
4. Ticket Booking Timing and Tibet Travel Request Acceptance
Planning ahead is key. Initiate your Tibet trip arrangements at least a month before your intended departure. Secure your flight ticket after receiving the Tibet Tourism Bureau's (TTB) travel request approval or your confirmation letter. Unforeseen changes might render your tickets non-refundable or lead to hefty agency cancellation fees. Preempt these concerns by booking your Tibet tour well in advance. Keep in mind that TTB may restrict traveler numbers during festive periods or ceremonies, often prioritizing early applicants.
5. Mind Your Reading Material: Politics in Tibet
A note of caution for your luggage: refrain from packing books or magazines discussing Tibetan politics, religious debates, or Free Tibet activities. These materials are strictly prohibited and may raise suspicions at the Tibetan and Chinese border customs. Such scrutiny could lead to entry denial into China, intentional or not. Consult your travel agent for a list of acceptable items to bring. Prioritize adhering to these guidelines, as the allure of traveling to Tibet should not be jeopardized. While certain guidebooks like Lonely Planet may be rejected, the consequences are limited to confiscation.
We hope these insights provide a smoother path through your Tibet travel planning. Equipped with an understanding of Tibet's tour procedures and the dos and don'ts, you're primed for an unforgettable experience. For further information on Tibet travel, refer to our Tibet Travel Information or Tibet Travel Procedure resources.
Enjoy your travel to Tibet!  Happy Travels!!
*This blog was originally published on 5 September 2016 and updated on 28 August 2023
---
Tibet Tour
.
Travel blog
.
---
Tibet Group Visa
.
Tibet tour
.
Tibet Travel Info
.
Tibet Travel Permit
.
Tibet Travel Procedure
.
---
---