Embarking on the epic trek to Annapurna Base Camp is an adventure that combines breathtaking landscapes, cultural immersion, and a sense of achievement that will linger in your memory forever. This journey of a lifetime takes you through diverse terrains, and remote villages, and to the base of one of the world's highest peaks. Lace up your hiking boots and prepare for an unforgettable experience as we explore the wonders of trekking to Annapurna Base Camp.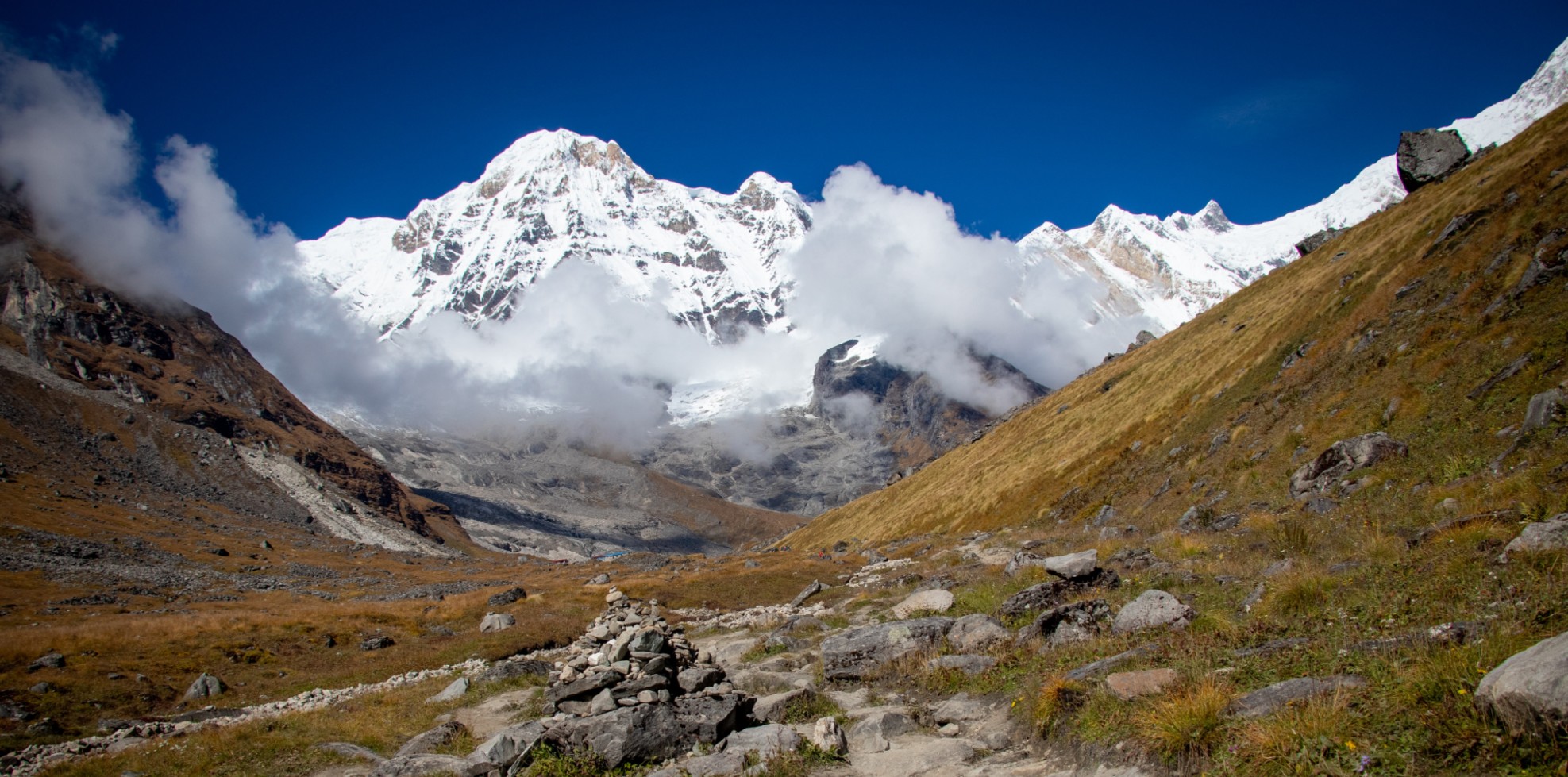 Annapurna Base Camp ABC
Introduction
The Annapurna Base Camp trek, also known as the Annapurna Sanctuary trek, is a renowned trail in the heart of the Himalayas. Nestled at about 4,130 meters (13,550 feet), Annapurna Base Camp offers trekkers a front-row seat to the towering peaks of the Annapurna massif. This journey offers an immersive of Nepal's landscapes, culture, and warm hospitality.
The Route and Itinerary
The trek typically starts from Nayapul or Phedi and winds through lust forests, terraced fields, and charming villages. As you ascend, the trail leads you through the Modi Khola Valley, passing teahouses and lodges that offer rest and refreshment. The trek culminates at Annapurna Base Camp, where you're surrounded by the towering peaks of Annapurna I, Annapurna South, Hiunchuli, and Machapuchchhre (Fishtail). Learn more about the Annapurna Base Camp trek route and itinerary.
---
---
Savoring the Scenic Beauty
The Annapurna Base Camp trek is a visual feast for nature enthusiasts. Traverse dense rhododendron forests, cross suspension bridges over rushing rivers, and ascend to alpine meadows. The dramatic changes in terrain offer a symphony of colors and landscapes, from terraced fields to snow-covered vistas.
Cultural Encounters Along the Way
Beyond the natural beauty, the trek provides opportunities to engage with local communities. Trek through traditional Gurung and Magar villages, where you can experience authentic hospitality and witness daily life in the Himalayas. Visit ancient monasteries, and Chortens (Buddhist shrines), and learn about the region's rich cultural heritage.
Challenges and Rewards
Trekking to Annapurna Base Camp is a physically demanding endeavor. The high altitude and steep ascents can be challenging, but the sense of accomplishment as you reach the base camp is unparalleled. the breathtaking panoramic view of the towering peaks is a reward that makes every step worth it.
ABC trail in winter
Essential Packing Tips
Packing strategically is crucial for a successful trek. Your gear should include the following:
Sturdy hiking boots
Layered clothing for caring temperatures
A warm sleeping bag
A reliable backpack
Trekking poles
Waterproof jacket,
Hat
Gloves to shield against the sun and cold
Learn more about hiring trekking gear in Nepal.
Preparation and Training
Before embarking on this trek, it's essential to prepare physically and mentally. Regular cardiovascular exercise, strength training, and hiking on uneven terrain can help condition your body. Mental preparation involves understanding the challenges and maintaining a positive mindset.
Choosing the Right Season
The best time for the Annapurna Base Camp trek is during the pre-monsoon (spring) and post-monsoon (autumn) seasons. These months, from March to May and September to November, offer stable weather, clear skies, and ideal trekking conditions.
---
---
Permits and Logistics
Acquiring the necessary permits is a crucial step. Trekkers need an Annapurna Conservation Area Permit (ACAP) and a Trekkers' Information Management System (TIMS) card. These permits contribute to the conservation of the region and ensure your safety.
Safety Measures
Altitude sickness is a potential risk during high-altitude treks. Acclimatization days, staying hydrated, and ascending gradually are essential to prevent altitude-related issues. Traveling with a trained guide and a well-equipped group enhances safety.
Responsible Trekking Practices
Responsible trekking involves minimizing your environmental impact. Pack out your trash, use biodegradable toiletries, and respect local customs and wildlife. Support local economies by purchasing goods and services from local communities.
Capturing the Memories
Documenting your journey through photography or journaling allows you to relive the adventure and share it with others. Capture the changing landscapes, the camaraderie with fellow trekkers, and the moments of awe as you approach the base camp.
Conclusion: A Triumpn of Nature and Human Spirit
Trekking to Annapurna Base Camp is a testament to human determination and the awe-inspiring power of nature. As you stand at the base camp, surrounded by towering peaks and pristine beauty, you'll feel a deep connection to the mountains and the spirit of exploration. The journey to Annapurna Base Camp is not just a trek; it's a transformative experience that will remain etched in your heart forever.
---
Adventure Trekking
---
Annapurna Base Camp Trek
---
---