The Himalayan Realm of Bhutan is set to cut in half the daily fee it imposes on tourists, reducing it from US$200 to US$100, in an endeavor to invigorate the tourism sector, which continues to face challenges even a year after the conclusion of Covid-19 restrictions.
Having escalated its "Sustainable Development Fee" from US$65 to US$200 per nightly visitor as of September last year, following the conclusion of a two-year period of Covid restrictions, Bhutan allocated these funds to offset the environmental impact generated by tourists. The recently announced rate adjustment, reducing the fee to US$100 per night, is slated to be effecting from September and will remain in force for a span of four years. The government conveyed this decision in a statement released on 25 August 2023.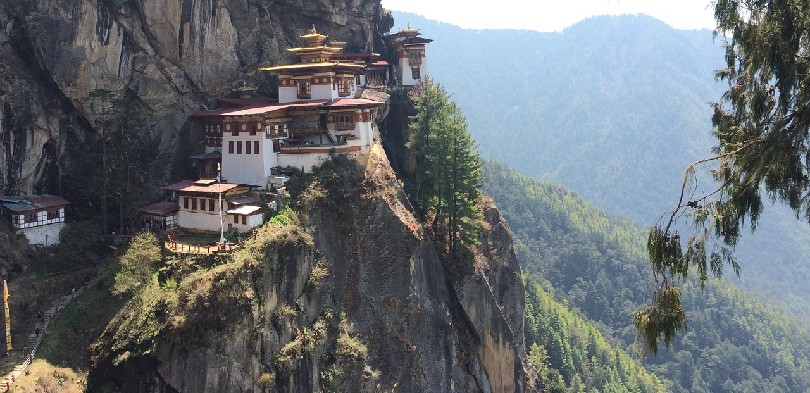 Tiger's Nest Temple
The rationale behind this move, as outlined in the government's statement, is rooted in recognizing the crucial role of the tourism sector in generating employment opportunities, fostering foreign exchange earnings, and contributing to overall economic expansion.
Historically secluded, Bhutan welcomed tourists for the first time in 1974, initially receiving a modest 300 visitors. Over the years, this figure skyrocketed to 315,600 in 2019, marking a 15.1% surge from the preceding year, according to the official statistics.
Bhutan has consistently maintained apprehensions regarding the potential repercussions of mass tourism, leading to measures like the prohibition of mountain climbing in order to safeguard the sanctity of its mountain peaks. The tourist fee structure has consequently limited the influx of visitors to those who are willing to make more significant expenditures, resulting in a significantly smaller number of arrivals compared to neighboring Nepal.
Notwithstanding this precaution, Bhutan aspires to enhance the role of tourism in its $3 billion economy by boosting its contribution from around 5% to 20%. Dorji Dhradhul, the director general of the Department of Tourism, has expressed optimism that the reduction of the fee could amplify the number of arrivals during the peak tourist season spanning from September to December. This period includes various religious and cultural events that take place in the predominantly Buddhist nation.
While the government relaxed regulations pertaining to the length of stay and associated fees for tourists in June, the anticipated increase in the tourist numbers has not materialized as initially projected. Dhradhul noted that over 56,000 tourists have visited Bhutan since the beginning of the year, with around 42000 of them being Indian nationals, who are only required to pay a fee of 1200 Indian rupees ($14.5) per day.
The tourism sector in Bhutan employs approximately 50,000 individuals and contributed roughly $84 million annually to foreign exchange earnings during the three years preceding the pandemic.
Source references: CNN and Tourism Council of Bhutan.
Some popular tours in Bhutan that you may like;
---
Bhutan tour
.
Latest news
.
Travel blog
.
---
Visit Bhutan
.
Bhutan tour
.
---
---