Are you planning to travel to Bhutan from the United States of America (USA), yet have no ideas on how to make the trip? No worries! This travel blog will explain all you need to know on how to make a holiday trip to Bhutan by Air or land and how to enter and get a tourist visa for Bhutan traveling from the US.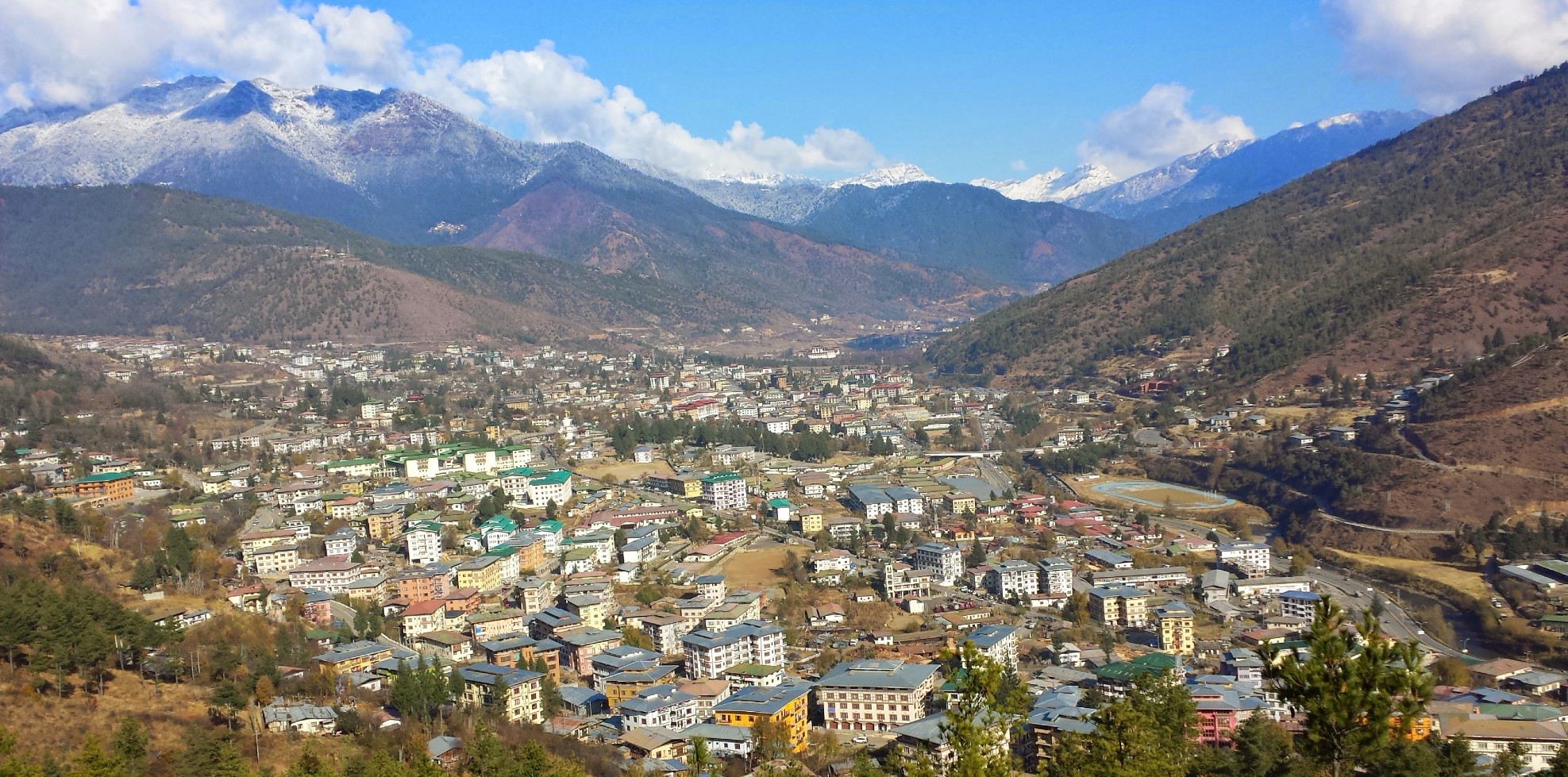 Thimphu – the capital city of Bhutan – The Land of Thunder Dragon and the Last Shangri-La
Bhutan is a small and predominantly Buddhist nation sandwiched between India to the South, west, and east and China to the north. Bhutan covers an area of 14,824 square miles (38,394 Square Kilometers) and has the highest mountain peak – Gangkhar Puensum (25,000 ft/7,570m above sea level); this is higher than any peak in the US, Europe, Africa, or Australia. The total population of this tiny nation is about 8,00,000, or you can imagine the average population of a city in one of the states in the USA. Bhutan is the only country that believes in Gross National Happiness (GNP) rather than Gross Domestic Product (GDP) and is popularly known as the 'Land of Thunder Dragon' or 'the Last Shangri-La.'
Update: 17 May 2023
Let's travel to Bhutan! Bhutan has already reopened its border for international tourists in September 2022 with a renewed focus on sustainability. Tourists have started to visit Bhutan without mandatory quarantine unless they are fully vaccinated. You may start planning your trip to any date with Himalayan Windows. We take bookings with free cancellation or free date change in case of further travel restrictions due to unavoidable conditions. 
Getting into Bhutan from the United States
There are multiple ways to travel to Bhutan from the United States of America. Both air and land can travel to Bhutan. Only five countries, including India, Nepal, Bangladesh, Singapore, and Thailand, have direct flight connections to Paro International Airport, Bhutan by Druk Air, and Bhutan Airlines (Bhutanese-owned airlines). As you are planning from the US, you must get connecting flights to one of these countries.
If you are planning to enter Bhutan by Land, you will need to travel to India and get the train/flight to the nearest train station/airport, from where you can catch a taxi to the Bhutan-India border town.
How do I travel to Bhutan from the US by Air?
Ideally, there is no direct flight to travel to Bhutan from the USA. As a tiny Himalayan nation and having only an international airport with rugged terrain that surrounds the airport, only a few certified, experienced pilots take the flight only between sunrise and sunset. Two airlines (Druk Air and Bhutan Airlines) operate direct flights to Paro from Bangkok in Thailand, Singapore, Dhaka in Bangladesh, Kathmandu in Nepal, New Delhi, Kolkotta, Guwahati, Bagdogra, and Gaya in India. Other than these airports, you will have to take a connecting flight to reach Bhutan. Suppose you plan to visit Bhutan from the United States of America (USA). In that case, you must take a connecting flight from the USA to the airports mentioned above, then take a direct flight to Paro International Airport, Bhutan. Suppose you are flying from the USA's east coast, including New Hampshire, Massachusetts, Rhode Island, Connecticut, New York, New Jersey, Delaware, Maryland, Florida, North Caroline, and South Caroline. In that case, it may be easier for you to fly to New Delhi or other airports in India or Kathmandu. Suppose you are traveling to Bhutan from the west coast of the United States of America, which includes Oregon, California, Washington, and Alaska. In that case, it may be easier for you to travel to Bhutan via Bangkok or Singapore.
Check out the packages connecting from Kathmandu and New Delhi:
Or, let us know your connections, and we will plan your perfect Bhutan trip, including our connecting flight to Paro.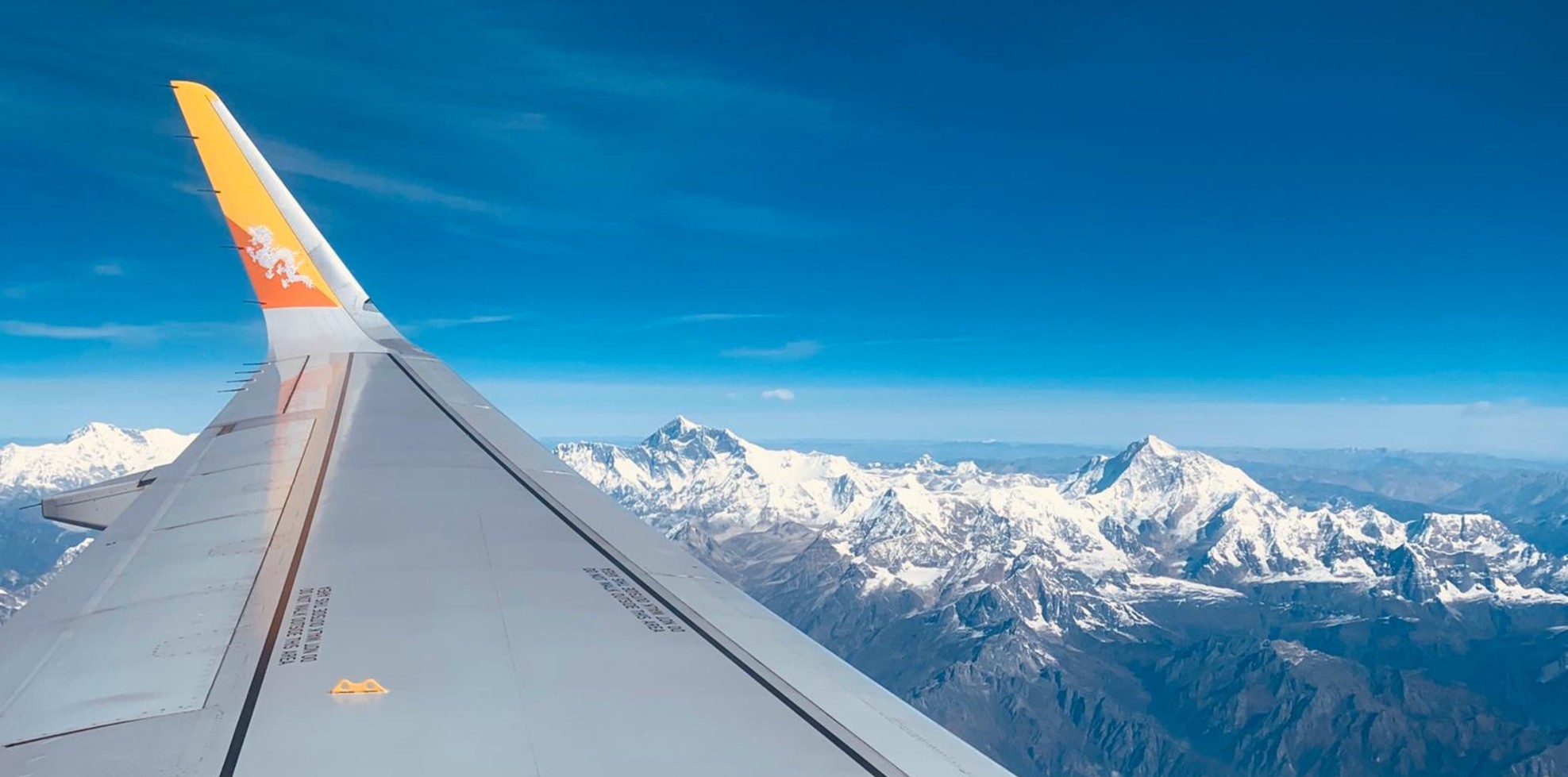 When you take the flight to Paro International Airport from Kathmandu or New Delhi, take the relevant window seat to enjoy the spectacular view of the Himalayan Vistas from your window. 
---
---
How do I travel to Bhutan from the US by Land?
Tourists can only travel to Bhutan by land from India through the borders of Jaigaon-Phuentsholing (the most preferred way to enter Bhutan), Gelephu, and Samdrup Jongkhar. All these mentioned border crossings are from India. If you are traveling from Nepal, you will have to exit from the Kakadvitta border and take a bus or train to the Jaigaon-Phuentsholing border. Make sure you have an Indian Tourist Visa before the travel to Bhutan by land through Nepal. The closest airports to the Bhutan-India borders are Bagdogra Airport in West Bengal and Guwahati International Airport in Assam. Tourists can take a direct flight from these airports to Paro or drive to the Jaigaon-Phuentsholing border. Jaigaon town is about 150 km from the Bagdogra International Airport, which takes about five hours to reach. You can also take a train from India to the nearest train station to the Bhutan border, from where you can take a taxi to the border town of Jaigaon-Phuentsholing.
Check out the packages connecting to/from the Phuentshoing border:
We can customize the itinerary according to your requirements at your request.
How do I get a tourist Visa for Bhutan traveling from the US?
Bhutan Tourist Visa can't be obtained without a pre-booked tour, so you must go through the tour operator to get the Bhutan Visa as you can not apply for it personally. Once you book the trip with the tour operator (local/international), the tour company applies for the Bhutan e-Visa clearance on your behalf using your color-scanned passport copy. Bhutan e-Visa clearance can only be generated once you have made the total amount of the proposed trip, including the Visa Fee. Before you travel to Bhutan, your tour operator will send you the Bhutan e-Visa clearance copy via email, and the duplicate copy will be forwarded to the airlines in Bhutan; Druk Air, and Bhutan Airlines, so you must have the Bhutan e-Visa Clearance handy before you check-in at the Druk Air/Bhutan Airlines counter. Once you reach Paro International Airport or any Land borders, you will need to show the Bhutan e-Visa Clearance to get an on-arrival visa stamped on your passport.
Moreover, permits are required to travel within Bhutan that will be applied for by the tour company. Your tour guide will keep all the necessary permits while on tour, as the licenses must be shown at the various checkpoints across the country.
How Much Does It Cost to Travel to Bhutan?
The minimum total cost for a Bhutan tour traveling in a group of 2 people would come to around US$ 450 Per night per person (Full Board plan staying at 3-Star hotels, entrance fees; and the extra is flight fare to/from Paro.)
Permits/Visa: US$ 200 Per Night (SDF) Plus US$ 40 (Visa Fee)
From September 2022, Bhutan has reopened the country without mandatory quarantine for fully vaccinated tourists with some changes in the prices. Effective from June 20, 2022; Every tourist traveling to Bhutan (Except for Indian nationals) must pay USD 200 per night as a Sustainable Development Fee (SDF). The Goals of SDF are to end poverty, protect the earth's environment and climate, and ensure people everywhere can enjoy peace and prosperity. On top of US$ 200 per night, there is a Visa fee i.e. USD 40 per person.
Entrance Fees: Somewhere between US$ 89 & US$ 119 Per Person
It depends on how many monuments/sights you visit during the trip, the maximum amount you would pay for a week's tour in Bhutan is approximately US$ 119 per person. The entrance fee for Tiger's Nest is US$29 and the other sights fee is US$ 15 each.
Tour Package: US$200 Per Night (minimum of 3-star hotels)
Generally, a Bhutan tour covers all your expenses as a FULL BOARD plan such as accommodation, food, guide, transport, service charges, etc. Suppose you plan a tour with 3-star accommodation with a minimum of two people traveling together, in that case, the total cost would come to around US$ 200 per night per person.
Flight fare: US$ 480 – US$ 915 Per person (Flight fare is subject to change)
The flight cost would come between US$ 480 and US$ 915 per person depending on which port of entry you choose to fly. If you connect from Kathmandu, the return flight cost is US$ 480 per person, from Delhi US$ 600 per person, and Bangkok US$ 915 per person.
What are the Major Tourists Highlights of Bhutan?
1. Visit the Tiger's Nest Monastery: Located high up in the Himalayan Mountains, Tiger's Nest Monastery is one of the most iconic landmarks in Bhutan. Take a hike up to the monastery for some breathtaking views and a chance to explore the ancient Buddhist culture.
2. Discover Bhutan's Rich Culture: Bhutan has a rich cultural heritage and a long history of Buddhism. Visit ancient temples, monasteries, and fortresses to learn more about the country's past.
3. Explore Bhutan's Nature: Bhutan is home to some of the world's most stunning and unique natural landscapes. From snow-capped mountains to lush valleys and dense forests, there is something for everyone.
4. Try Authentic Bhutanese Cuisine: The cuisine in Bhutan is a unique mix of Indian and Tibetan flavors. Try some of the country's famous dishes such as momos, ema Datshi, and Phaksha paa.
5. Shop at the Local Markets: Bhutan is known for its vibrant markets filled with handmade crafts, colorful fabrics, and unique souvenirs. Spend an afternoon browsing the stalls and pick up some special gifts.
What is Bhutan's Sustainable Development Fee (SDF)?
Bhutan SDF (Sustainable Development Fund) is a national fund established by the government of Bhutan to support the country's sustainable development initiatives. The fund is managed by the Ministry of Finance and is used to finance priority investments, build capacity, and support the implementation of projects and programs that promote sustainable development in Bhutan. It also provides grants and loans to support local initiatives and organizations. The SDF now is USD 200 per day in Bhutan which is imposed after Covid-19 Pandemic.
Does it Worth Traveling to Bhutan?
Yes, it is worth traveling to Bhutan. The country is known for its stunning natural beauty, unique culture, and friendly people. Bhutan is also home to some of the world's most spectacular trekking routes and offers a range of outdoor activities such as rafting, biking, and birdwatching. Bhutan is also a great place to learn about Buddhism, as it is the only country in the world where Vajrayana Buddhism is the state religion.
---
---
Conclusion
We have prepared this travel blog, especially for those who want to travel to Bhutan from the United States of America (USA) as an American or non-American. We already have many travel blogs on how to travel to Bhutan, obtain a Bhutan visa, and Bhutan Travel Information. Without knowing the general facts and information about any destination, you can not have a hassle-free trip, so we recommend getting the necessary information before your journey starts.
Other articles you may also like;
*This blog was originally published on 17 February 2021 and updated on 17 May 2023.
---
Bhutan tour
.
Travel blog
.
---
Visit Bhutan
.
Bhutan travel information
.
Bhutan tour
.
---
---