"Make your five-day trip to Bhutan an unforgettable one by exploring the country's most revered monastery temple, the Tiger's Nest, also known as Paro Taktsang. Spend five days exploring the beautiful cities of Paro, Thimphu, and Haa Valley, and don't forget to hike the Tiger's Nest for a truly remarkable experience. "
The best way to experience the beauty of Bhutan is with our 5 Days Bhutan Tour Package which includes a hike to the Tiger's Nest. This Bhutan trip itinerary provides you with a wealth of opportunities to explore the unique natural and cultural wonders that make Bhutan so special. From breathtaking mountain views of Mt. Jhomolhori (Chomolhari) from CheleLa Pass to the stunning scenery of Paro from Ta-Dzong, you will be captivated by the beauty of this country. You will also have the chance to visit art and craft schools, the national library, and handicraft centers. This 5 Days tour package with Tiger's Nest hike is the perfect way to immerse yourself in the culture of Bhutan.
On this Bhutan Tour Package with Tiger's Nest Hike, you will explore the vibrant culture of Thimphu, renowned for its colorful festivals, ancient monasteries, and cultural landmarks. You can stroll through the local markets to see the daily lives of Bhutanese people and their craftsmanship.
Throughout this journey, you will be taken to some of the most unique places in the country, such as Thimphu Dzong, Paro Dzong, Memorial Chorten, Punakha Dzong, Buddha Point, and Dochola Pass. You will also visit Haa Valley, the smallest district in Bhutan, situated in the southwest of Paro. This isolated area is adorned with pristine alpine forests and picturesque mountain peaks, all of which will leave you with a feeling of having seen the true Bhutan, even on a short trip.
---
RELATED CONTENT | All You Need To Know Before Traveling To Bhutan
---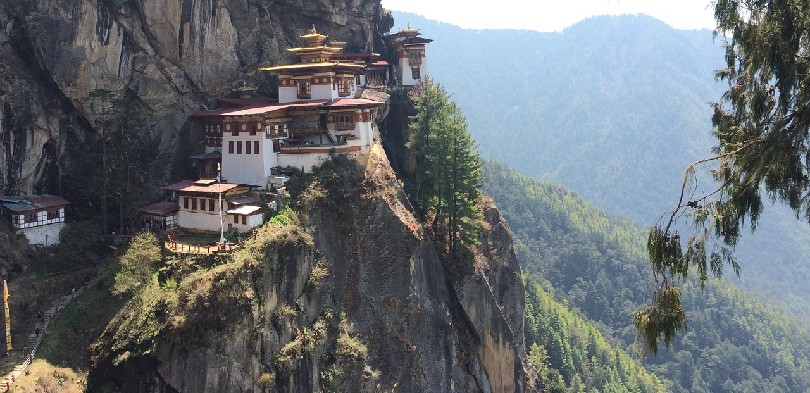 Tiger's Nest Temple in Bhutan
Top FAQs: Bhutan Tour Package with Tiger's Nest Hike
Tiger Nest Monastery trek/hike distance: How long is the hike to Tiger's Nest?
It is less than an hour's drive from Paro (12 KM) to the place to start the trek. Then, you will start hiking up to the alpine forest with several steps. The hiking duration is about 2.5 to 3 hours to reach the monastery and another 1.5 hours to return to the vehicle.
How to reach Paro to the Tiger's Nest monastery?
You will reach Tiger's monastery hiking for a couple of hours after half an hour's drive from Paro to the edge of the Taktsang hill.
What is the elevation of Tiger's Nest monastery (Paro Valley Bhutan)?
The elevation of Tiger's Nest monastery is 3,180m ( 10,433 Ft.) above sea level. During the winter (December – February), it will get snowy up to the Tiger's nest.
What is the Opening Time of Tiger's Nest (Taktsang Monastery)
Opening Time of Tiger's Nest Temple (Taktsang Monastery) – 8 AM to 1 PM & 2-5 PM Daily, October-March and Until 6 PM, APR – SEP (Opening this is subject to change, and it is wise to reconfirm before making a plan)
What are the other attractions after the hike to Taktsang?
The other attractions after the Taktsang are Ta Dzong, Tashicho Dzong, Buddha Point, Haa Valley, Chele-La Pass, and many other cultural and historical sites.
---
---
Experience the thrill of visiting the Stunning Taktsang Monastery, also known as Tiger's Nest, perched atop a cliff at an altitude of 3180m. This majestic landmark is the highlight of Paro & Bhutan. As you hike up to the temple, rest and take in the beauty of the Tiger's Nest and its cliff at the wooden tea houses or cafeterias along the way. If you're not up for the climb, you can hire a horse to take you up, but be aware of the steep ascent and steps.
At HimalayanWindows, we strive to make your Bhutan Tour Package with Tiger's Nest Hike as enjoyable and unforgettable as possible. Visit us to learn more about our 4-night 5 days Bhutan Tour with a drive to Punakha or contact us for a customized itinerary in Bhutan.