After a painful years (2020 & 2021) that wiped out because of the Coronavirus Pandemic, Nepal is hoping to bring some tourists in 2022 during Spring (March/April) & autumn (September to November) as the government has recently decided to reopen the country for fully vaccinated tourists without mandatory quarantine. The Spring and Autumn attract half of the total a million-plus tourists visiting Nepal every year. Thousand of tourists visit Nepal to trek several mountains including Mount Everest Base Camp Trek. Here, we present the list of packing gears that every trekker should be aware of before trekking to the Mount Everest Base Camp especially after this COVID-19 Pandemic, the list of gears can also be applied for the other treks like Annapurna Base Camp, Langtang Trek, Ghorepani Poonhill Trek and etc.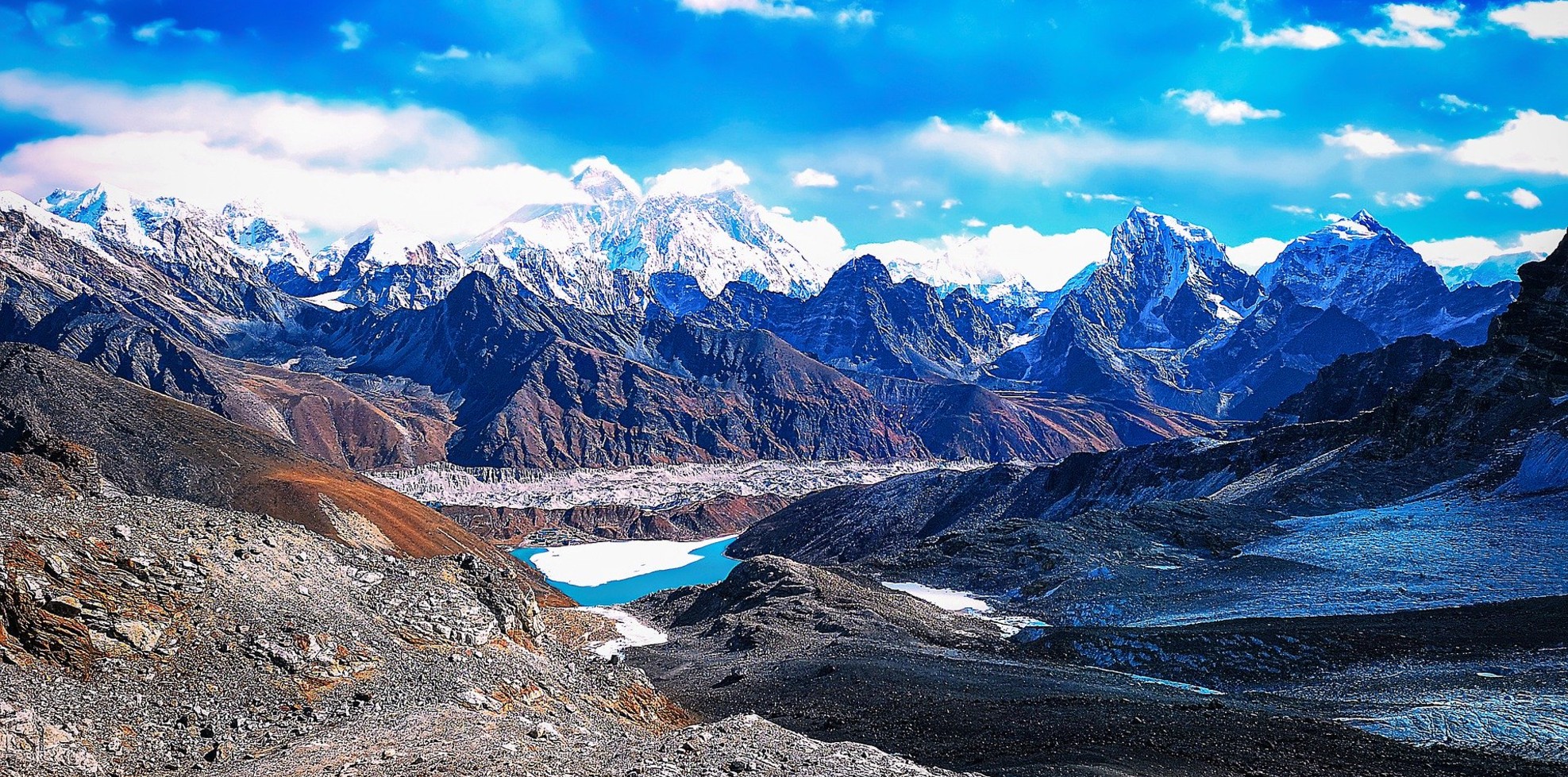 Everest ranges as seen from the Gokyo Ri during your Everest Base Camp via Gokyo Lake Trek
It is important to buy liable and good quality clothes and footwear as you will be facing very cold weather during the trek to Everest Base Camp. These recommendations are completely based on the past experiences of trekking in a specific area and genuine feedback from the professional trekking guide and our past trekkers who have competed for the trek with us. The Everest Base Camp Trek Packing gear list is mostly recommended for the trek below 5500m above sea level.
Learn about trekking gears to bring especially in the colder seasons such as November, December, and early March which are the coldest months of the year. However, it is recommended to bring warm clothes as possible as you will be trekking at a higher altitude and the weather can change overnight.
Clothing for EBC Trek
First Base Layer – The first base layer of clothing is very important for the colder parts of the trek and higher altitudes. This probably may not be needed for the first and last part of the trip.
Second Insulation Layer – The second insulation layer is basically made from fleece-type materials. We recommended purchasing a very lightweight allowing for easy movement while trekking.
Third Layer – The third layer should be a warm and waterproof down jacket and trousers which can also be called the outer core layer. The third layer is mostly used for a higher altitude of the trek. We recommend purchasing a good quality down jacket and trousers as a third layer of clothing.
Trekking shirts
It is wise to bring 4-6 shirts to be worn on most of the days. Bring quick-drying polyester, nylon, breathable fabric, lightweight t-shirts. Avoid bringing cotton t-shirts. Also, combine with short and long sleeves shirts that are commonly used in varied weather.
Trekking shorts and Trousers
We suggest taking a pair of trekking trousers and a pair of hiking shorts. There are mainly used for the lower or warmer stretches of the trek.
Waterproof Jackets and Trousers
Encountering rain on the trail is a pain. Usually, you can face rain between June to September (These months are low season and not a perfect time for the trek). Bring good waterproof gears. Also, you can bring Pancho for the heavy rain during the trek…
Hat
You will need a Hat to protect yourself from the sun. A wide brim trekking hat is recommended.
Beanie and Neck Gaiter
Beanie is mostly used when it gets cold and is used during the night and at a higher altitude. Additionally, you can also bring a neck gaiter which keeps your face and neck warm. This could be helpful because it prevents cough due to the dust on the Khumbu trail.
Gloves
Gloves are very IMPORTANT during the Everest Base Camp Journey. Your hand always has to be warmer and a good and warm pair of gloves are very essential.
We recommend bringing two types of Gloves; one heavier more insulated pair of gloves and another a lightweight inner glove. You can wear a lightweight inner glove on the lower part of the trekking trail.
Footwear
We recommend getting comfortable ankle-covered hiking boots that must be fit enough. Make sure to bring well-sized hiking boots before heading for the Everest Base Camp journey. Good quality hiking boots are very important for this kind of trekking.
We recommend that you trek with good-quality hiking boots instead of shoes. Although, we suggest also bringing a pair of lightweight shoes to walk around the tea houses and during your acclimatization day on your Everest Base Camp journey.
Socks
Do not bring socks made from cotton. Good hiking socks should be breathable and moisture-wicking. Merino wool socks are one of the preferred materials for trekking. We recommend bringing at least 6-7 pairs of hiking socks.
Also, we recommend bringing 3-4 pairs of Thermal socks which are slightly thicker than standard trekking socks and mainly used for higher altitudes and colder weather.
Waterproof Gaiters
Gaiter covers your ankle which prevents water, mud, rocks, etc. Especially, during the snowy season or snow melting season. Gaiters are very important. During January, February, March, April, we recommend bringing gaiters. However, you can bring a gaiter for all seasons as it prevents from entering anything from outside.
Trekking Back-Pack
Duffel Bag- If you are trekking along with a porter, bringing a duffle bag is the best option. A duffle bag should be waterproof and durable.
Backpack – If you are hiking solo or only with a guide and without a porter, a 50-65L backpack with an opening at the top is recommended.
Day-pack – If you are trekking with a porter, we will still need a small day bag to bring your daily items such as water, rain gear, camera, snacks, and other personal things. A 20-22L is the perfect size day pack.
Rain Cover- It is wise to bring a rain cover for your backpack and day pack.
Sleeping Gears
The sleeping bag is also one of the important packing lists of gears. The tea houses along the trail provide basic sleeping facilities and sometimes the sleeping bag is not properly clean and may not be warm enough. Most of the guesthouses do not have heating facilities inside the room and can be very cold, especially the places 3000 meters above sea level. Therefore, a warm 4-season at least -10 Degrees Celsius Sleeping bag made of duck goose or good quality synthetic material is recommended. Make sure that the sleeping bag fits the shape of your body.
Sleeping Liner
If you purchase liner instead of the sleeping bag, get a nice shaped liner, which has to be a cozy sleeping bag liner for a mummy-style sleeping bag that has to be made of high quality brushed Polyester fabric that will keep you warm all night.
Trekking Poles
We recommend using trekking poles while trekking for multiple days. Using the trekking pole helps reduce the impact and stress on your joints. A lightweight pack-able pole with 100% carbon fiber construction with the folding design is recommended to bring. However, if you have never used trekking poles before, it is not mandatory to use them.
Sunglasses
A good pair of UV rating, polarized, and durable sunglasses are recommended.
Headlight
A headlight is much recommended for the Everest base camp journey. It is essential when you walk around the tea houses during the night and when you hike to the Kalapatthar very early in the morning to get the sunrise view from Kala Patthar's viewpoint.
Miscellaneous Gears for EBC trek
Passport/Cash/Card
Water Bottles
Towel
Lock- usually if you are using porter for your valuable stuff.
Camera/GoPro – Drones are restricted to use in Nepal (Need special permission)
Portable Charger
E-book
Set of Cards to play
Insurance – we recommend using World Nomads for the insurance while Mount Everest Base Camp Journey.
Medication and Toiletries
Water Purification tablets
Diamox – for Acute Mountain Sickness (AMS)
Common medication such as Paracetamol for diarrhea, headache, etc
First Aid Kit
Sunscreen – UV rated Lip Balm
Wet Tissue Papers or baby wipes
Toiletries – Toothbrush, toothpaste, and a few rolls of toilet papers
Plasters- At least a pack of blister plaster for small cuts
Oximeter – A device to measure the effect of altitude on your body
Hand Sanitizer a good quality
Face Mask is a good quality
Conclusion
The main objective to write this blog is to aware you of what to bring for your exciting Everest Base Camp Trek in Nepal. We believe this blog has helped you to choose the recommended gear before you get ready for the trek. The list of packing gears for this trek has been prepared from the experience of our past trekkers who have returned home happily and safely. You have to be more selective on the clothing if you are trekking during November, December, January, February, and early March. These are the coldest months of the year for the trek. January and February are considered the off-season for the high-altitude trek. If you are prepared for snow and cold temperature, great views and quiet trails make your EBC trek more fun!
Happy Trekking!
This blog post was originally published on 23 July 2020 and updated on 16 February 2022. 
---
Everest Base Camp Trek
.
Travel blog
.
---
Gear Packing List
.
Trekking Gears
.
Everest Base Camp Trek
.
---
---