Annapurna Base Camp Trek Blog
The trek goes into the frozen heart of the Annapurna range, a splendid amphitheater of rocks and ice on a staggering scale. The trek routes start in rice paddies and lead through a gorge of bamboo and forests to end among glaciers and soaring peaks. Annapurna Base Camp's other highlights include a sublime view of the holy mountain Machhapuchchhre' Fishtail' and Nepal's most significant and prettiest Gurung Village in Ghandruk.
Annapurna Base Camp (ABC)
Where Is Annapurna Base Camp?
The Annapurna Base Camp is a high glacial basin lying 40Km directly north of Pokhara, Nepal. The oval-shaped plateau sits at over 4100 meters above sea level. The Annapurna Sanctuary is surrounded by a ring of mountains, the Annapurna range, most of which are over 7000m above sea level.
FACTS About Annapurna Base Camp Trek
Get to know about the Annapurna Base Camp Trek facts, including duration, maximum elevation, total distance, the best time to trek, difficulty level, accommodation, etc.
| | |
| --- | --- |
| Duration of Annapurna Base Camp Trek | Seven days to 14 days |
| Maximum Elevation | 4130 meters above sea level |
| Total Distance | 80KM/50Miles |
| Best Season | February, March, April, May, October, November, and December |
| Trek Starts from | Pokhara/Phedi/Nayapul |
| Trip Ends | Nayapul |
| Annapurna Base Camp Difficulty Level | Moderate to Strenuous (Demanding) |
| Permits | TIMS and ACAP required |
| Accommodation: | Tea houses |
Getting Into Annapurna Base Camp
The return trek can take as little as eight days, and 14 days can give you more time to soak up the scenery of Annapurna Base Camp Trek, also called Annapurna Sanctuary Trek. There are several possible routes to the Sanctuary, all meeting at Chommrong.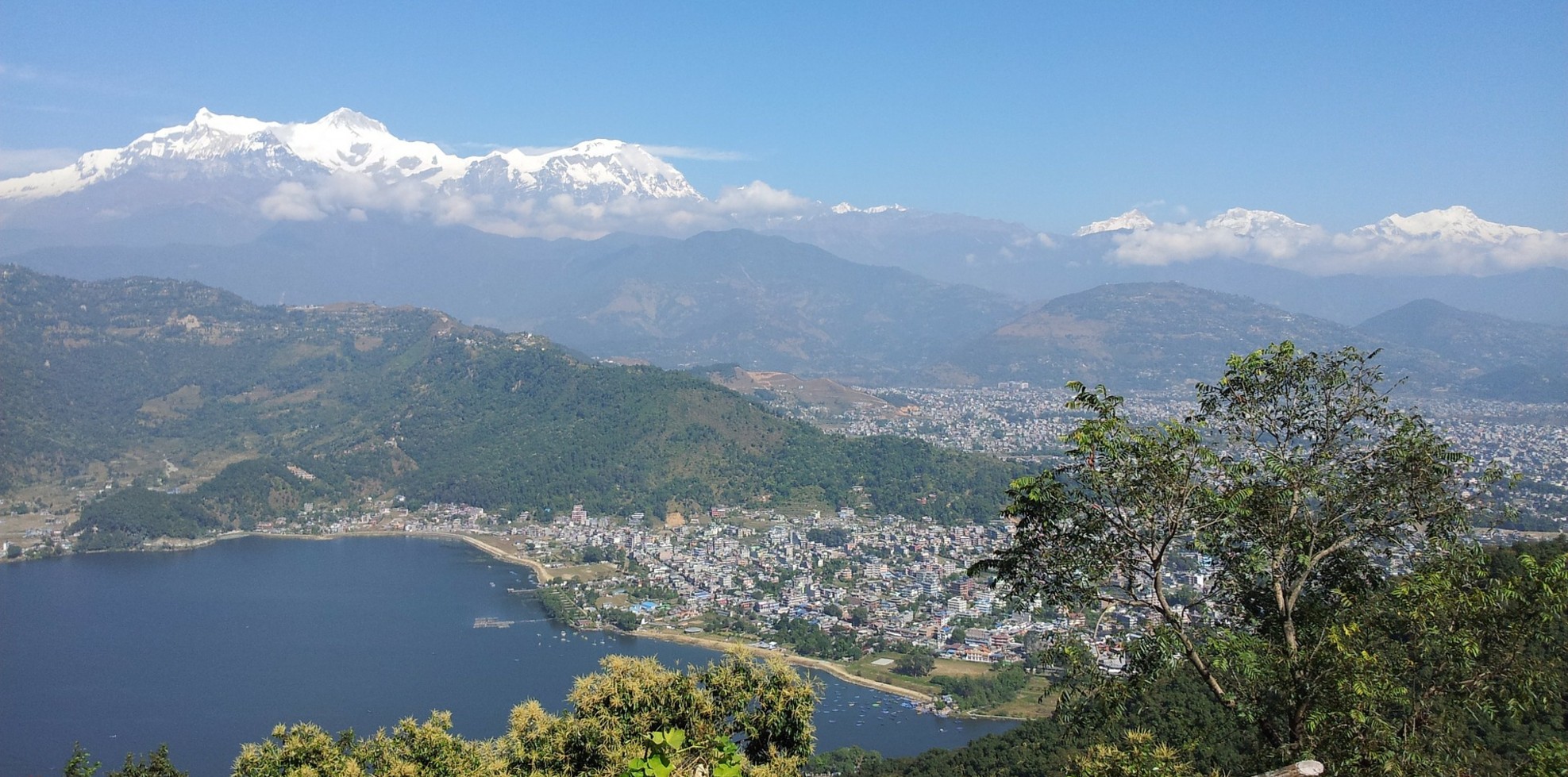 Pokhara City with the backdrop view of Annapurnas
Choosing The Best Itinerary For Annapurna Base Camp Trek
There are several possible trails to the Sanctuary, all meeting at Chomrong. Depending on your holiday time, you can choose the correct itinerary for the Annapurna Base Camp trek. Annapurna Base Camp Trek for 14 days is the best classic itinerary combined with Ghorepani Poonhill Trek. If you have a two-week holiday, this 14 days route itinerary could be the best choice. However, if you have a short holiday and need to be completed within a week, the Annapurna Base Camp Short trek of 5 to 7 days is the option you need to consider. On this short seven days trek, you skip Ghorepani Poonhill and reach Chomrong direct in the fastest way possible.
Gears To Bring For Annapurna Base Camp Trek
In general, we suggest similar hiking gear while trekking to the most popular designations in Nepal. All high altitudes and multi-day treks require the same kinds of equipment. We are giving you some of the essential top gear you need for the hike to Annapurna Base Camp. Check into hire trip gears to know in detail.
Hiking Boots: Your feet are one of the essential parts of the body to take care of while trekking. Do not compromise on footwear when going for multi-day trekking in the high Himalayas Mountains. Buy good quality, recommended, waterproof trekking shoes, and make sure to break them before you go for the hike.
Trekking Backpack: A good quality backpack has enough room to keep your belongings and take an extra day bag that you may need for a day hike or short hike around.
Down Jacket: Buy a good down jacket with more baffling and down. Make sure to ask for advice from the professional before you start the trip because it depends on the month/season you go.
Water Bottle: Drinking water is essential during the hike, and it is advised to bring a water bottle so you can fill it at every stop on the trekking routes. Also, get some water purification tablets.
In addition, you will need more general gear such as a pair of hiking trousers, shorts, a few pairs of socks, underwear, a torchlight, sunglasses, sunscreen, walking poles, a hat, etc.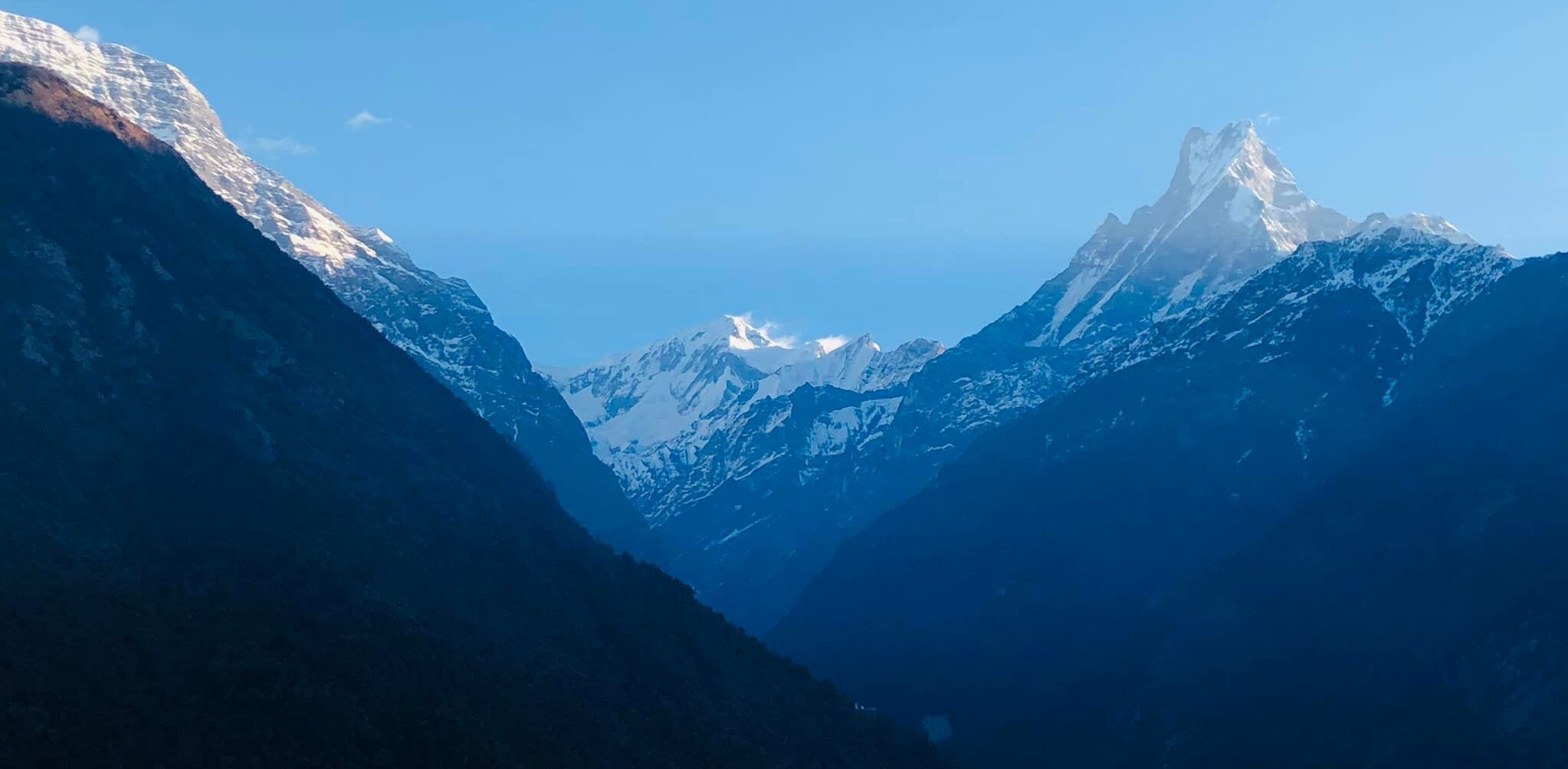 Macchapurche View
---
---
Snowy ABC trail in winter
When Is The Best Time Of The Year To Trek Annapurna Base Camp?
The best time of the year to trek Annapurna Base Camp is February, March, and April (pre-monsoon), November, and December (Post Monsoon). From October to December, the landscape is green and lush from the recent monsoon rains, the air is crisp and clean, and views of the mountains are crystal clear. Similarly, from February to April, the weather is warm and clear; you will see entirely snow-covered peaks and can encounter some snow ready to melt on the trail.
The Difficulty, Risk, And Preparation For Annapurna Base Camp Trek
The difficulty level of the Annapurna Base Camp trek is moderate to strenuous because we hike on the stone pathway, slightly climb up on the rock, and several stone staircases with a great view of landscapes and snowy peaks that make you the best trekking experience. A physically fit person can do this hike without any training. However, it is suggested to have good preparation before you hike this trail.
There are significant chances of avalanches along the route to the Annapurna Base Camp between Dovan to Machhapuchchhre Base Camp (MBC). Always get recent information about the trail, especially if you are hiking during winter. Always check at the ACAP office in Chommrong before you proceed for the ABC trek.
Altitude Sickness During Annapurna Base Camp Trek
The significant difficulty during any trek is the altitude. If the altitude is high, there is an increased risk of altitude sickness and risk of a low level of oxygen during the walk. In this case, the primary thing you have to consider is don'ton't have to gain a lot of altitude in a single day. You should make sure that you have gained altitude slowly during the trek. This will help you adjust to the altitude much better.
You start your Annapurna Base Camp trek after the bus ride from Kathmandu and Pokhara. The altitudes of these places are 1300 meters to 800 meters, respectively. When you start the hike, you will gain a lot of lengths, reaching a maximum of 4130 meters at Annapurna Base Camp. Here is below the list of places with elevation in meters above sea level. This will help you understand in a better way.
Table of altitudes during Annapurna Base Camp Trek
| | |
| --- | --- |
| Places | Altitude/Elevation |
| Kathmandu | 1410 meters |
| Pokhara | 820 meters |
| Nayapul | 1070 meters |
| Ghorepani | 2874 meters |
| Tadapani | 2630 meters |
| Himalaya | 2920 meters |
| Machhapurchchre Base Camp (MBC) | 3700meters |
| Annapurna Base Camp (ABC) | 4130 meters |
Budget For Annapurna Base Camp Trek
The budget of Annapurna Base Camp depends on the itinerary you choose. This should include your permits, transportation, accommodation, food, guide, porter, and nightspots stanightspotsa. The price ranges could be from USD 800 to USD 1300 per person for a 12-14 days trek if you plan the hike with two people.
Conclusion
We have prepared the Annapurna Base Camp trek blog to provide some ideas and information before planning this amazing trek in Nepal. Also, we designed this blog because of the frequently asked questions like; Why the Annapurna Base Camp trek is popular amongst trekkers? How challenging is the walk? How much is the budget? And answers are simpit'sit's because of the shorter number of trekking days, cheaper Everest Base Camp trek, the scenic, typical trekking experience, etc. Etc.
*This Annapurna Base Camp trek blog was initially published on 24 August 2020 and updated on 03 March 2022.
---
Adventure Trekking
.
Travel blog
.
---
Annapurna Base Camp Trek
.
trekking
.
trekking in nepal
.
---
---