"The Thimphu Tshechu (Festival), initiated in 1867, draws thousands to Thimphu for a vibrant three-day celebration. It offers Bhutanese farmers a welcome respite from daily farm life, uniting them in their finest attire for blessings, prayers, and cultural festivities. The festival features prayers, mask dances, and folk dances (cham), conveying blessings and Buddhist teachings. Attending the festival is believed to bring merit, with the final day marked by the unfurling of Guru Rinpiche's Thongdrol for added blessings. Join Himalayan Windows Tours for a unique and meaningful Thimphu Tshechu (Festival) Tour 8-day. "
Join our Thimphu Tshechu (Festival) tour, one of the most popular Festival Tours in Bhutan. This Festival tour is going to be held from 24-26 September 2023. Enjoy this popular 3-Day Festival in Thimphu and explore Bhutan including its beautiful cities of Paro, Thimphu, Punakha, and Wangdipodrang.
Thimphu Tshechu (Festival) Details 2023
Arrival Date in Paro:

23 September 2023

Departure Date from Paro:

30 September 2023

Thimphu Tshechu Festival Date:

24-26 September 2023

Location:

Thimphu Dzong
*Plan early for the Thimphu Tshechu (Festival) Tour. The festival starts from 24 September to 26 September 2023. Check out other Bhutan festivals with tentative dates.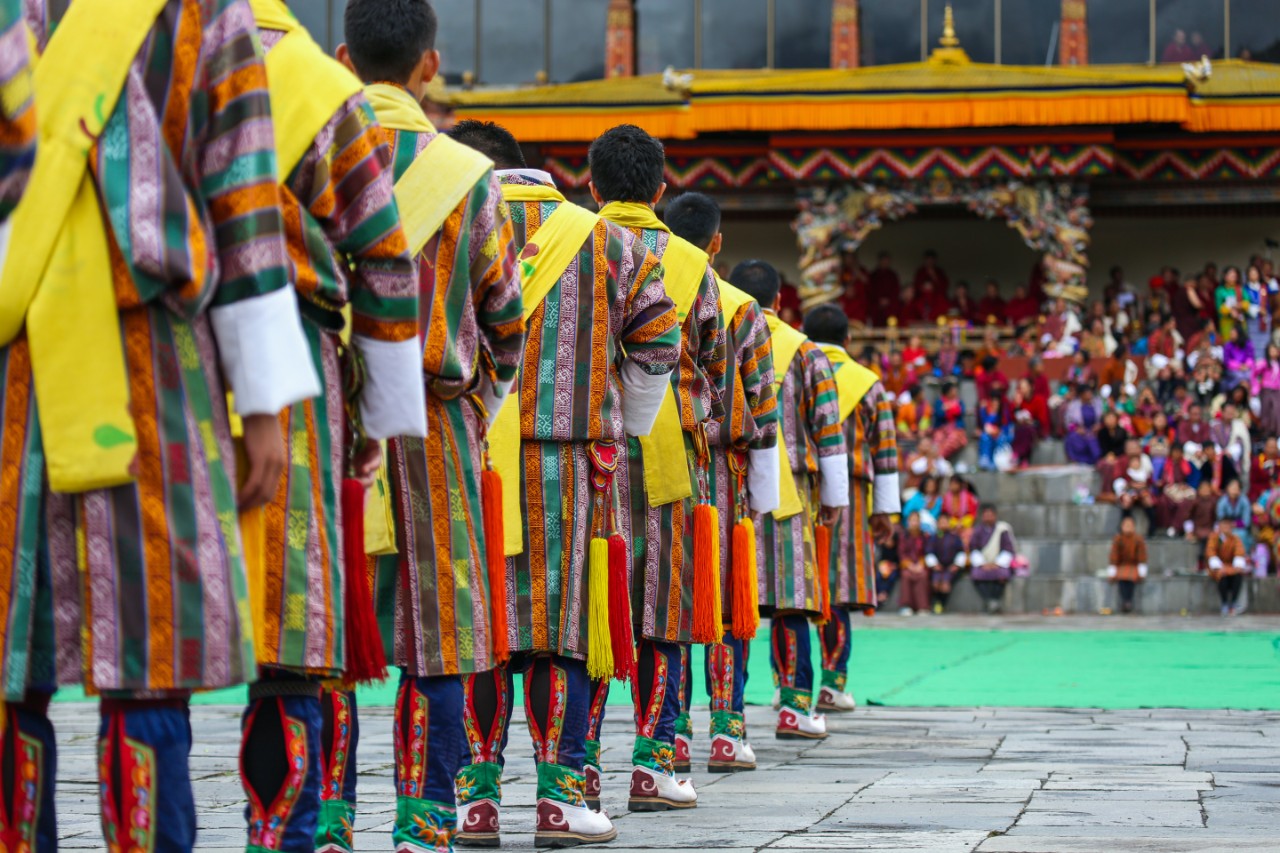 Attending the Festival inside Thimphu Dzong
The Thimphu Tshechu (Festival) is an annual event that brings thousands of people from all over Bhutan to the city of Thimphu for three days of celebration. Initiated in 1867 by the 4th Desi Gyalse Tenzin Rabgay, the festival was later updated by the third king of Bhutan, Jigme Dorji Wangchuck, in the 1950s.
To Bhutanese farmers, the festival serves as a much-needed break from the daily routine of farm life. People dress in their finest and come together to receive blessings, pray for health and happiness, and revel in the vibrant culture of the country.
The festival is marked by a series of prayers and rituals to invoke the gods, followed by mask dances and folk dances known as cham. These dances are performed to bring blessings, teach the Buddhist Dharma, and protect onlookers from misfortune.
Furthermore, it is believed that those who attend the festival will gain merit. The last day of the festival is especially special, as the Thongdrol of Guru Rinpoche is unfurled early in the morning, bringing blessings to all who view it.
The Thimphu Tshechu (Festival) is an incredibly unique and meaningful event, drawing people from all over the country to the vibrant city of Thimphu for an unforgettable experience.
Come experience the Thimphu Tshechu (Festival) Tour with the experts from Himalayan Windows! Our knowledgeable team will ensure that you have an unforgettable and once-in-a-lifetime journey.