Getting into Bhutan 
Travel to Bhutan via Air and Land: The Kingdom of Bhutan used to be isolated from the rest of the world until the early 1960s. It used to be very difficult to enter this tiny nation as it was only accessible by walk from two Southern and Northern entry borders. The Northern route was through Tibet crossing high Himalayan passes that were impossible to travel during winter. The second route was from the Southern point and came through the plains of Assam and West Bengal. Nowadays, It is possible to fly to Paro, Bhutan, from different destinations and enter by land from the Southern borders, including Phuentsholing/Jaigaon border crossing.
Update: 3rd July 2022
Bhutan is OPEN NOW! Bhutan will open for international tourists in September with a renewed focus on sustainability. Tourists will be able to visit the country without mandatory quarantine from 23rd September 2022. You can start planning your trip to any future dates with Himalayan Windows. We take bookings with free cancellation or free date change in case of further travel restrictions due to unavoidable conditions. 
Traveling to Bhutan by Air
The only international airport of Bhutan, Paro International airport, is situated in Paro, Bhutan. Paro airport flies to several destinations, such as Kathmandu, Bangkok, Singapore, Delhi, Kolkotta, Guwahati, Bagdogra, Dhaka, etc. Paro airport is considered one of the world's most thrilling and adventurous airports. Travelers are always excited to fly to this tiny airport where only Druk Air and Bhutan Airlines operate daily flights. Paro International airport is situated at an elevation of 2,225m above sea level. The flight could be the best idea to connect to Bhutan from several south Asian countries.
Bhutan Tour from Kathmandu (Nepal)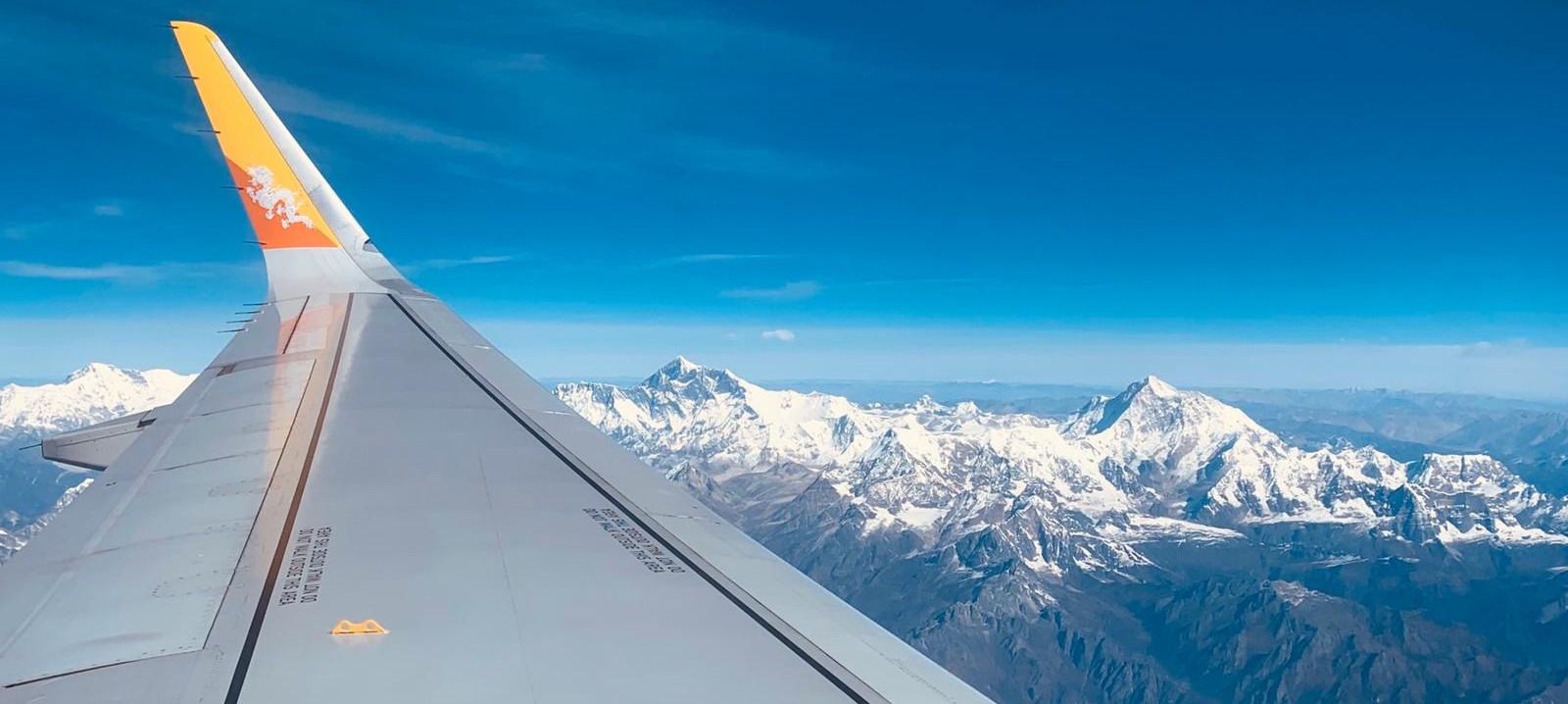 An eye-level Himalayan view while flying from Kathmandu to Paro
The Bhutan tour from Kathmandu is always unique and quite popular. People often do 3 Country Tour of Nepal, Tibet, and Bhutan to have different tastes in travel from these beautiful Himalayan countries. This allows travelers to visit all three destinations in 'One Go' without getting permits, visas, flight booking, and other logistics. Regular flights from Tribhuvan International Airport (TIA) to Paro International Airport are regular flights. Both the carriers, Druk Air and Bhutan Airlines, operate flights from Kathmandu. You may choose seven days Kathmandu and Bhutan Tour Package to have a full taste of these beautiful Himalayan nations and an eye-level Himalayan view, including Mount Everest while flying from Kathmandu to Paro. For a better mountain view, choosing the left seat for Kathmandu to Paro flight and the right seat for Paro to Kathmandu flight is recommended. You may request the seat preference while checking in at the counter or ask your tour operator, who may help you with this.
---
RELATED CONTENT: How to Obtain Bhutan Visa Traveling From Nepal 
---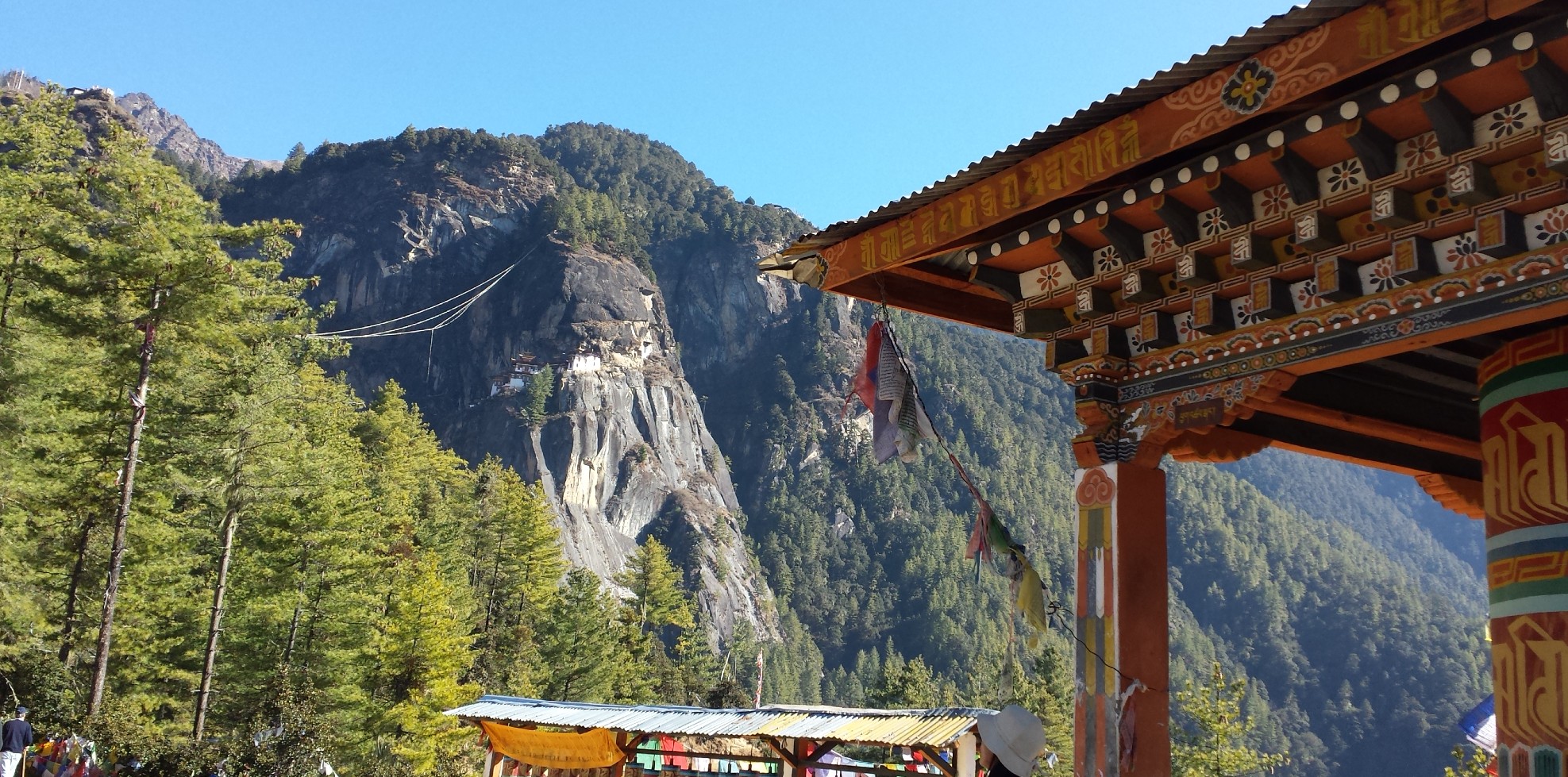 Take a glimpse of Tiger's Nest Temple from the trail, almost mid-way through the hiking route. 
How to take a connecting flight to Paro International Airport, Bhutan?
We have recommended some routes to Bhutan from different countries that do not have direct flights to Paro International Airport. Bhutan has direct scheduled flights only to five countries, including Nepal (Kathmandu), India (Delhi, Kolkotta, Bagdogra, and Guwahati), Bangladesh (Dhaka), Thailand (Bangkok), and Singapore.
Traveling to Bhutan from the United States of America (USA): Consider choosing New Delhi/Kathmandu if you are flying from the east coast of the U.S. and Singapore or Bangkok if you are flying from the west coast of the U.S.
There is no direct flight to Bhutan from the United States of America (USA). Bhutan has only an international airport with different terrain that surrounds the airport; only a few certified pilots take flights during the day with good visibility. Two Bhutanese-owned airline companies (Druk Air and Bhutan Airlines) are operating flights.
Suppose you are flying from the east coast of the U.S., which includes New Hampshire, Massachusetts,  Rhode Island, Connecticut, NY, New Jersey, Delaware, Maryland, Florida, North Caroline, and South Caroline. In that case, it may be convenient for you to fly to New Delhi or other airports in India or Kathmandu (Nepal). On the other hand, if you are flying from the U.S.'s west coast, including Oregon, California, Washington, and Alaska, it may be easier for you to travel to Bhutan from Bangkok or Singapore.
Traveling to Bhutan from Australia: Take a transit flight to Bangkok or Singapore, then fly to Paro International Airport.
Traveling to Bhutan from the U.K.: Take a flight to Delhi and then fly to Paro International Airport, Bhutan.
Traveling to Bhutan from Europe: Delhi or Bangkok as a transit destination to fly to Bhutan would be an ideal choice.
Tentative Flight fares to Paro Bhutan (By Druk and Bhutan Airlines)
| | | | |
| --- | --- | --- | --- |
| S.N. | Flight Sector (Both Ways) | Class | Flight Fare (In USD) |
| 01. | Bangkok (BKK)- Paro (PBH) & Return | Economy | $ 965.00 |
| 02. | Singapore (SIN) – Paro (PBH) & Return | Economy | $ 985.00 |
| 03. | Delhi (DEL) – Paro (PBH) & Return | Economy | $ 665.00 |
| 04. | Kolkotta (CCU ) – Paro (PBH) & Return | Economy | $ 445.00 |
| 05. | Dhaka (DAC) – Paro (PBH) & Return | Economy | $ 445.00 |
| 06. | Kathmandu (KTM) – Paro (PBH) &  Return | Economy | $ 435.00 |
Note: The above flight fares are tentatively quoted based on the foods before the COVID-19 Pandemic and are subject to change without prior notification.
Traveling to Bhutan by Land
You can also enter Bhutan through the southern borders of India. The open borders are Phuentsholing, Samdruk Jongkhar, and Gelephu. These are only the borders open to international tourists. Phuentsholing border crossing is the most popular one. Check out the 7-Day tour itinerary that enters/exits via the Phuentsholing border crossing.
Bhutan Visa
Every traveler from any country who wants to visit Bhutan must obtain a Bhutan Visa Clearance before traveling to Bhutan. Even nationals from India, Bangladesh, and the Maldives need a visa clearance/entry permit. Read the blog, Bhutan ends free entry for regional tourists, including India, to know about the recent changes in the rules by the Bhutanese government. Your tour operator can obtain your Bhutan visa; you must send your color-scanned passport copy to your tour operator, who will apply for your visa. Your passport must be valid for at least six months from the travel date. Before you fly to Bhutan, your tour operator will send you a copy of your Visa clearance; you will need to show that paper to the airline counter while checking in. The original visa will be stamped into your passport upon arrival at the Paro International Airport.
Trip to Bhutan Checklist
Passport valid for at least six months from the travel date
Bring one valid identity card (if in case you lose your original passport while traveling)
VISA Clearance Copy and Flight Ticket (A printed copy is advised)
Some cash for an extra payment (Sometimes ATM Machines may not work)
T-shirts, hiking boots (For Tiger's nest hike, regular hiking shoes are fine)
Down Jacket (For winter)
Winter Clothing
Sunscreen, Sunglass, gloves, Hat, and Sneakers
Walking poles, day bag for hiking
Things To Pack Before Your Trip To Bhutan
Down Jacket with a waterproof coat
Hiking shorts or skirts
Winter Clothing
Hiking or trekking boots
Pairs of Socks for hiking
Sunscreen for lips and Face
Sun Glass, Gloves
Sneakers
Cotton Long/Short T-Shirts
Sun Hat
Walking Stick for hiking
Day Bag and Duffle bag or suitcase
Dress code while entering temples, Dzongs (fortress) in Bhutan
Long Skirts or Full Pants
Short, either half or full sleeve
No Hats, No short skirts, No Umbrella, No slippers
Any kind of shoes with socks
Photography in the courtyard only
Accommodation and Food in Bhutan
Accommodation: As per the minimum standard package in Bhutan, you will be provided at least a 3-star category of hotels. You can request the operator if you prefer to upgrade to 4 or 5-star hotels. Some additional fees will be added while upgrading your rooms or hotels.
Food: As per the minimum standard daily package, all meals, including breakfast, are included in the box. Your breakfast and dinner are provided at the hotel premises, and lunch is provided en route. All meals are provided in a buffet plan, and several traditional local meals are served. Soft or alcoholic beverages are not included in the package.
The unique feature of Bhutanese food is its sharp taste. Chillis are a crucial ingredient in almost every place because of Bhutanese love spicy food. However, the food for tourists is not spicy considering their different tastes. If clients want to try spicy food, they have to request it.
Tipping: Tipping is expected but not mandatory. US$ 15-20 a day for a guide and USD 10-15 a day for the driver is a kind of standard tipping.
Smoking in Bhutan: Bhutan is the only country in the world that entirely bans the production and sale of Tobacco. Smoking is prohibited in public places. Hotels, local bars, and restaurants accommodate smokers and have indoor smoking rooms. Tourists can bring in 200 cigarettes, but please ask your guide to find a specific area to smoke.
Temperature in Bhutan
Based on the altitude, the climate differs from semi-tropical to alpine (For every 1000m height rise, the temperature drops by about 6-7 degrees Celsius.)
In Thimphu, the temperature ranges from -2.5 degrees Celsius to 25 degrees Celsius in the summer, including rainfall of 100mm. In the Himalayan range, the temperature ranges from -5.8 Degrees Celsius to 10 degrees Celsius in summer, including an average rain of 250mm.
The center of Bhutan feels sub-tropical with a freezing winter, while the northern part of the country has a severe climate with snowfall about 2-3 times during the winter. Eastern Bhutan is warmer than western Bhutan.
In Southern Bhutan, the climate is tropical in the monsoon and may range from 15 Degrees Celsius in the winter to 30 Degrees Celsius in the summer.
Table of Temperature in Bhutan based on months [ Estimated Temperature table]
Month
Celsius Value
Paro
Thimpu
Punakha
Trongsa
Bumthang
Jan
Max
9.4
12.3
17.0
13.0
10.8
Min
-5.8
-2.6
4.3
-0.2
-5.1
Feb

 

Max
13.0
14.4
19.0
13.9
10.0
Min
1.5
0.6
7.8
0.4
-1.4
Mar
Max
14.5
16.4
22.8
17.6
16.2
Min
0.6
3.9
10.4
4.4
3.5
Apr
Max
17.6
20.0
26.2
20.1
18.7
Min
4.6
7.1
12.9
6.6
3.9
May
Max
23.5
22.5
29.1
21.0
21.3
Min
10.6
13.1
17.7
11.6
9.5
Jun
Max
25.4
24.4
29.2
22.2
22.5
Min
14.1
15.2
20.1
13.6
13.5
Jul
Max
26.8
25.9
30.4
25.3
24.1
Min
14.9
15.6
20.5
15.3
13.6
Aug
Max
25.3
25.0
29.1
23.8
23.0
Min
14.7
15.8
20.0
15.0
13.7
Sep
Max
23.4
23.1
27.5
22.6
21.6
Min
11.7
15.0
19.1
14.2
12.1
Oct
Max
18.7
21.9
26.1
21.8
19.5
Min
7.4
10.4
14.7
11.7
5.9
Nov
Max
13.9
17.9
22.6
19.8
16.1
Min
1.4
5.0
9.6
6.4
-0.5
Dec
Max
11.2
14.5
19.1
18.2
12.3
Min
-1.7
-1.1
6.3
2.5
-2.3
We have listed most headings based on our previous clients' experiences in Bhutan. If you have more questions, feel free to contact us anytime.
---
Bhutan tour
.
Travel blog
.
visit Bhutan
.
---
Bhutan tour
---
---