Before you book your trip with any companies, make sure you have booked with a reliable tour company. Know everything about the company; check the reputation on different social platforms such as Google, Facebook, TripAdvisor, and any other reputable social sites to know about the company before you book and confirm your holiday package.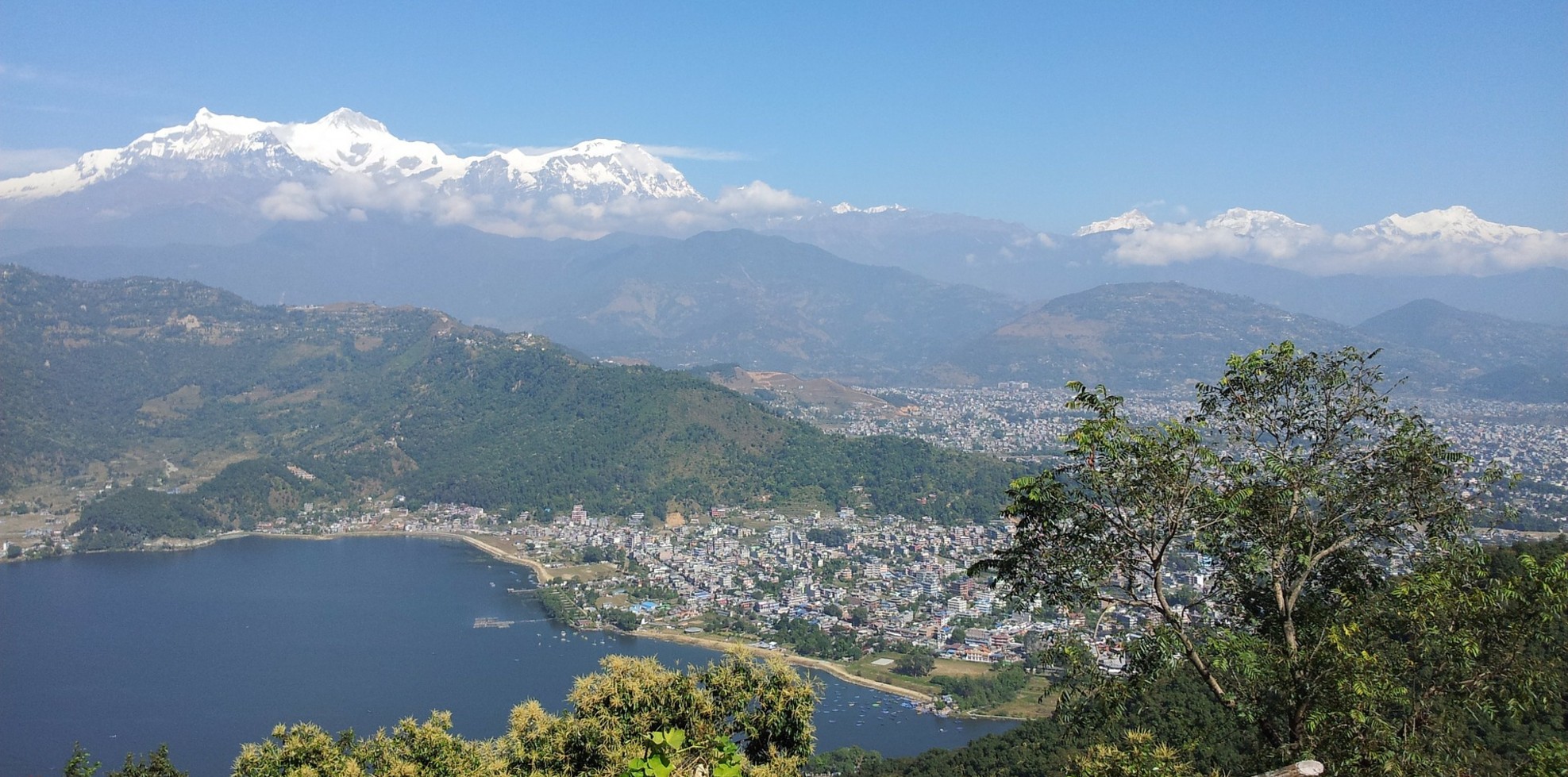 Pokhara Valley, Lake, and Annapurna Massif, as seen from the World Peace Stupa.
The Trip
Some people think that touring in Nepal is all sweat and hard work. But this is the truth. The itinerary is prepared to make the most of your time, and the trip begins with Breakfast from your hotel, when your Guide explains your day, like where you are going, and so on. Generally, your day tour concludes around the late afternoon, and evenings are usually accessible for shopping and exploring on your own. Depending on your tip, the meals will be served either in your hotel or outside the restaurant. It is always wise to know the facts about Nepal and festivals in Nepal before heading for a visit to have a better understanding of the country.
---
Are you planning to trek in Nepal? Check out the essential trekking information that you should know before the trek.
---
Entry and Exit Point in Nepal
Here is the list of entry/exit points in Nepal from India and Tibet, China; also, you can get a visa on arrival at these locations (Some  countries can  not get visa-on-arrival, check the official website below)
Eastern Nepal (From India): Kakarvitta, Nepal
Central Nepal (From India): Birjung, Parsa
Western Nepal (From India): Belahia, Bhairahawa
Mid-Western Nepal (From India): Jamunaha, Nepalgunj
Western Nepal (From India): (Kailali) Mohana, Dhangadi
Western Nepal (From India): Gadda Chauko, Mahendranagar
North-West Border (From Tibet, China): Hilsa Border (Especially for Kailash Mansarovar Yatris)
Northern Nepal (From Tibet, China): Kodari, Sindupalchok (Closed after 2015 earthquake)-  Kerung Border is Open Now
Nepal Visa and Arrival Information
All foreigners, Except Indian citizens, need a Nepalese Visa to enter Nepal. Nepal Visa can be obtained from the Nepalese Embassy or consulate near your hometown or country if you meet some requirements. It can also be obtained on arrival at Tribhuvan International Airport (TIA). Still, we suggest you first check with your nearby consulate whether you are eligible for getting an on-arrival visa or not. You will get multiple entry visas if you are planning to visit Third Country and go back to Nepal, and this can be helpful if you are planning to book Cross Country tours across Nepal, Tibet, and Bhutan. Please check our Nepal Immigration Regulations online to know as many citizens from several countries can get visas on arrival at every border immigration.
Visa Fee Valid till now (Updated in 2019, Subject to change)
US$ 30 for 15 Days,
US$ 50 for 30 Days and
US$ 125 for 100 Days
Do- Need more information about Nepal Tourist visas? Check out the official website of Nepal Immigration.
Info after Arrival at TIA
Before you land at Tribhuvan International Airport (TIA), ensure you have sent your flight details and get the details (name and number) of the person who is coming to pick you up at the airport. To avoid any hassles, you may buy a local SIM card at the counter of Nepal Telecom or Ncell inside the terminal so that you can directly call the person who is coming for pick up. If you have no intention of buying a SIM card, no worries; your representative will be coming with a Pla-Card mentioning either your name or HimalayanWindows. And make sure that no one is coming from the hotel to pick you up (if you have booked a hotel yourself), as some hotels have such services.
Money and SIM Cards in Nepal
It is better to bring some cash in hand in major currencies such as US Dollars, Euros, and Pound. You can exchange your money into Nepalese currencies at any money exchange around your location. However, most restaurants and shopping centers accept Credit cards (Master/Visa), or you can get money withdrawn from ATMs nearby your place. However, bringing some cash before you start your day is suggested.
As we explained earlier, you can buy a SIM card upon arrival inside the terminal and withdraw some Nepalese currency from the ATM very close to the Arrival terminal. Or take the help of your Guide who comes to pick you up.
Passport!
A passport is a MUST for entry to almost any country worldwide; no one can enter any country without a valid ticket. The Passport must be valid for at least six months from the date of your visa application. If your Passport is valid for less than six months and only a few pages remaining, you'd better apply for a new passport before you set off. Keep in mind that your visa, entry, or exit stamps can be more prominent and can cover your complete page. If you must apply for a new passport, be sure to use this in advance of your travel plan. If your travel agent wants a copy of the permit or other documentation, you can send a passport copy but let them know that you will renew your Passport before you set off. And do not forget to bring a copy of your previous Passport along with your new one while traveling in case your agent has used your old passport details for permits and visas.
Make a copy of the Passport.
It is highly recommended that you make a note of your Passport or bring a photocopy of the Passport along with the original one and keep it separately. If you lose your Passport, it is easier to report it with a copy to the concerned body. Now, taking a snap and saving it on your drive or smartphone would be even better.
Passport Sized Photograph
It is suggested to bring some copies of passport-sized photographs (at least 5-6 copies); two copies are needed for the Nepalese visa, and some need permits and TIMS. So it is wise to bring some copies of Photographs while traveling.
What to Carry
For sightseeing, you can carry your day bag keeping your essential items for daily use, such as a Camera, Money, Credit card, Passport, and smartphone. You can put the baggage you have packed on the bus, or the carrier will take it to the destination. And your tour guide will inform you earlier if there is anything to carry particularly that you need to bring.
Food
Usually, for the cultural tour programs, Breakfast is included as hotels are booked generally. Therefore, you are free to have either Lunch or Dinner wherever you like, and there are plenty of restaurants to have meals. However, it depends on the package you take on the tour.
Accommodation
The hotel accommodation we provide is on a twin-sharing basis unless there is any special requirement from the clients. This may not apply while trekking in Nepal due to the basic infrastructure in the mountains. Generally, hotels offer twin or double-sharing rooms, and you will need to inform us earlier if you have any special requirements, such as a single room, etc.
Transportation
We use private vehicles for cultural and historical sightseeing, such as Cars, Jeeps, Land Cruisers, Mini Buses, Coaches, etc., depending upon group size. Generally, the driving limit in the mountainous region of Nepal is 50mk/hr because of winding mountain roads.
Tour Guides
On every tour, you will be touring with a Guide and Driver; if the group is running by bus or if the group size is significant, the transport helper will accompany the tour as well. The Guide will be the person in charge of the group, and you should consult with any problems, questions, suggestions, etc. We allocate guides licensed by the Tourism Board and have good English and information about cultural and heritage sites. We guarantee that the directions given by HimalayanWindows have good knowledge of history and good background info about historical sites and other touristic places.
Tipping
Tipping has no limitations; you can give as much as possible if s/he will make you happy, but not mandatory. Tips are not included in the tour cost, and the company pays for every staff involved in the trip. However, Tipping is voluntary and personal; you can tip them if you like their services. Usually, the team working for you expects some tips, and you can give them some directly at the end of the trip.
Travel Insurance
Insurance is not provided on any trip to the guest, and you must take out comprehensive travel insurance before your trip. The insurance policy must cover personal accidents, medical expenses, emergency evacuation, etc. And we also recommend that the insurance policy covers cancellation, curtailment, loss of luggage, and personal effects.
Health
Nepal does not have any specific health requirements for entering Nepal. However, you should consult your doctor before starting your trip to Nepal. Please keep up-to-date information about vaccinations and medications for any logically predictable illness while traveling in Nepal. Be informed that some drugs or any anti-malaria have side effects at altitude.
Packing before your Trip
The Medium-Sized Day pack is recommended to bring to carry things you will need during the day tour. Here is the list of other essential items to be packed before you start your trip.
Rain Jacket or Poncho bag
Water bottle (Min. one litter)
Walking or hiking boots – Waterproof and lightweight
Socks: Thick wool/blend, think cotton, and make sure boots fit such a combination
Running shoes and sandals or morning and evening wear
Wool Sweater – Lightweight
Fleece Jacket
Shirt – Long sleeved
Long trousers /Pants
Hats, Gloves, Scarf, Underwear, Thermal Underwear
Sunglass, Sun Cream, Bag Liners, Money Belt, Toiletries, Towel, Torch or flashlight, headlamp, Lighter
First Aid Kit
Indian Citizens
Indian Citizens do not require a visa to enter Nepal. However, it is recommended to bring your original Passport. Since October 1st, 2000, Indian Citizens traveling to Nepal by air have to show a Passport or Voter's Identity card upon their arrival. Children under ten years do not need to show any identity cards, but it is recommended to bring them if available.
Car Rental Service
If you need a Car Rental Service upon arrival in Kathmandu rather than buying a package, email us at [email protected].
---
Travel blog
---
Tour in Nepal
.
trekking in nepal
.
---
---