Tiger's Nest Paro an amazing and most picturesque place perching on the cliffside of a mountain at an elevation of 3120 meters above sea level. Tiger's Nest monastery in Bhutan is a place to trek and enjoy nature at the fullest, local guides are there to help, and on halfway cafeteria is there to relax and energies yourself. The Tiger's Nest Temple, also known as Taktsang Monastery, is one of the most recognized and sacred places in Bhutan.
Discover why Tiger's Nest in Bhutan remains an essential destination on every visitor's bucket list, regardless of the duration of their visit. Explore the extraordinary allure of this iconic site.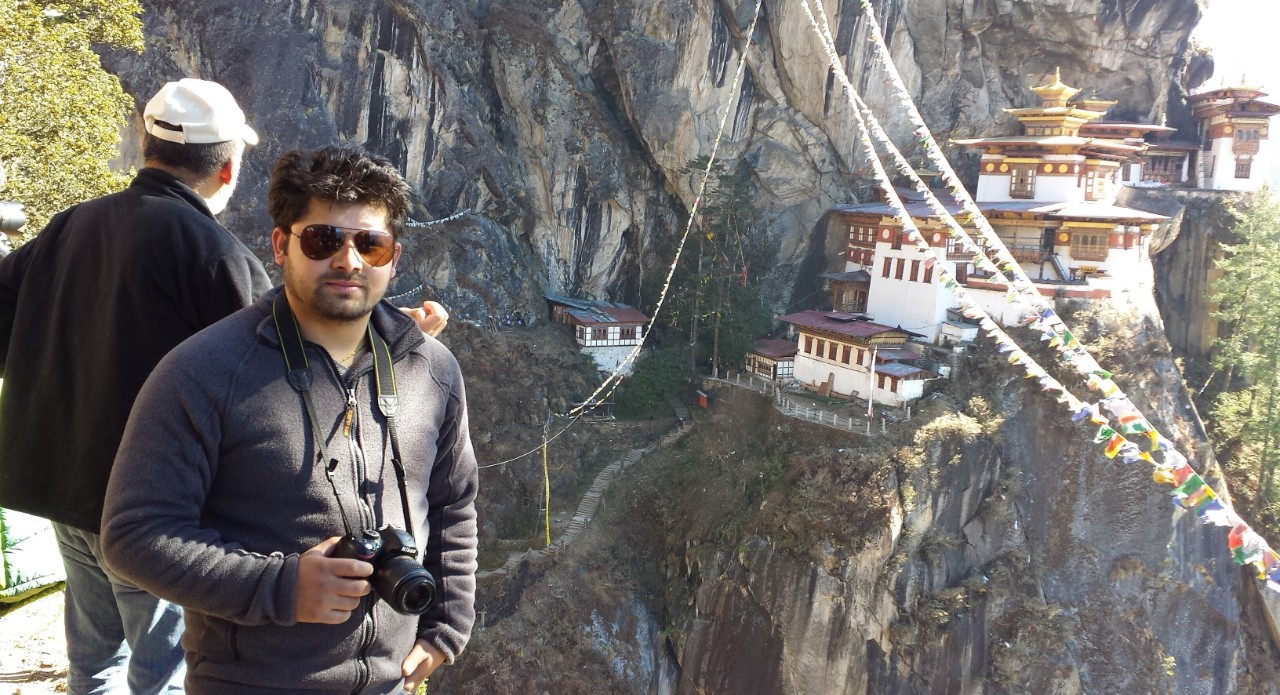 Tiger's Nest, also known as Taktsang Monastery
Tiger's Nest Monastery (Paro Taktsang) Facts
| | |
| --- | --- |
| Tiger's Nest Location | Near Paro, Bhutan |
| Tiger's Nest Height above sea level | 3120 meters (10,236ft) above sea level |
| Tiger's Nest Elevation Gain | 518m (1699ft) |
| Duration of the Tiger's Nest hike | 5-6 hours (Back and forth) |
| Tiger's Nest Trek Distance | 4 Miles (6.4 Kilometers) – Round Trip |
| Tiger's Nest Trek Difficulty | Moderate (Steep Ascend) |
| Best Months to Visit Tiger's Nest | March, April, May and September, October, November, December |
What is the story behind Tiger's Nest (Taktsang Monastery) and where is it located?
The Tiger's Nest Monastery (Taktsang Monastery) is a recognized and sacred Buddhist site located near Paro in Bhutan. It was first built in 1692, Guru Rinpoche had first meditated in the cave and this is the major event that introduced Buddhism into Bhutan. It is believed that the Guru Rinpoche was carried from Tibet to the Paro Taktsang on the back of a tigress, thus the name is given, 'Tiger's Nest'.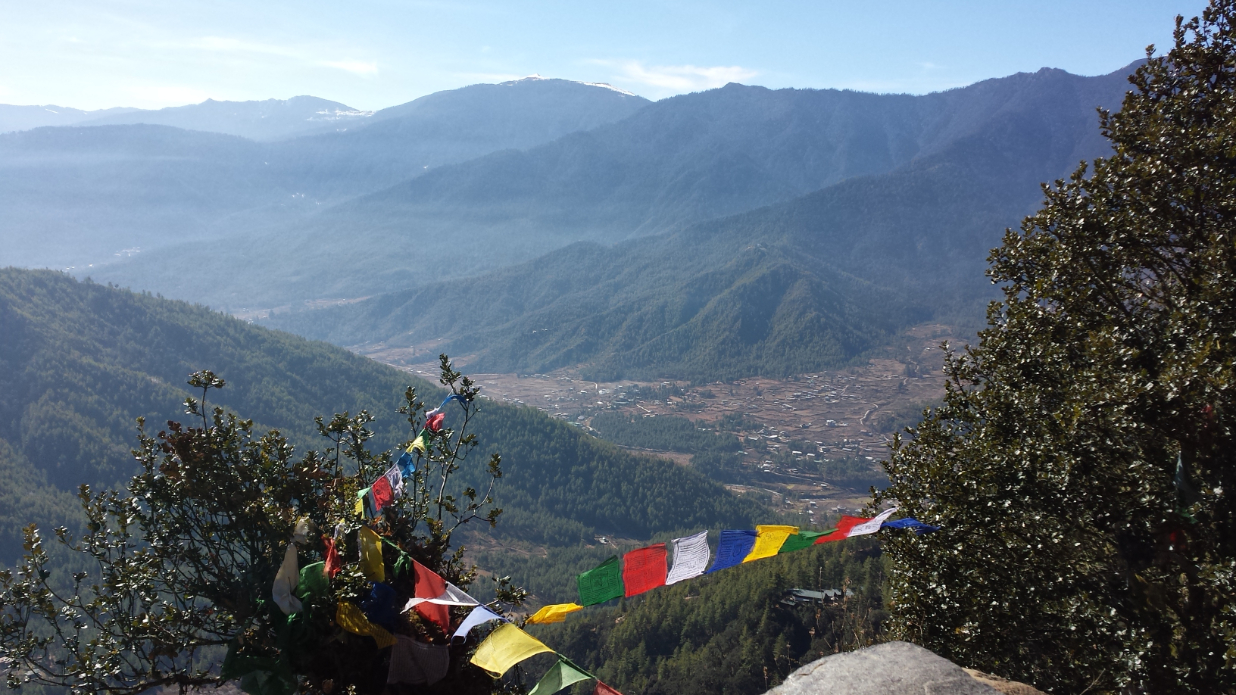 Paro Valley as seen from the Tiger's Nest Trail
Getting into Tiger's Nest (Paro Taktsang) Monastery 
The Tiger's nest is located near Paro Valley. It takes about half an hour to reach the hiking spot from your hotel in Paro. The hike starts at the bottom of the mountain from where you can see a glimpse of Tiger's Nest temple. There are some outdoor shops where you can buy necessary things for the hike such as walking sticks, and umbrellas, and also you can buy souvenirs. If you are unable to hike up to the temple, you can hire a horse at this place. The horse can walk up to the cafeteria; from there, you have to walk yourself for over an hour to reach the temple.
The total hiking time to reach the Tiger's Nest (Paro Taktsang) is about 3 hours from the bottom. The hike up to Cafeteria is halfway, it takes about one and a half hours to reach the cafeteria. A total of 5 hours would be spent (back and forth) on the hike to this sacred monastery.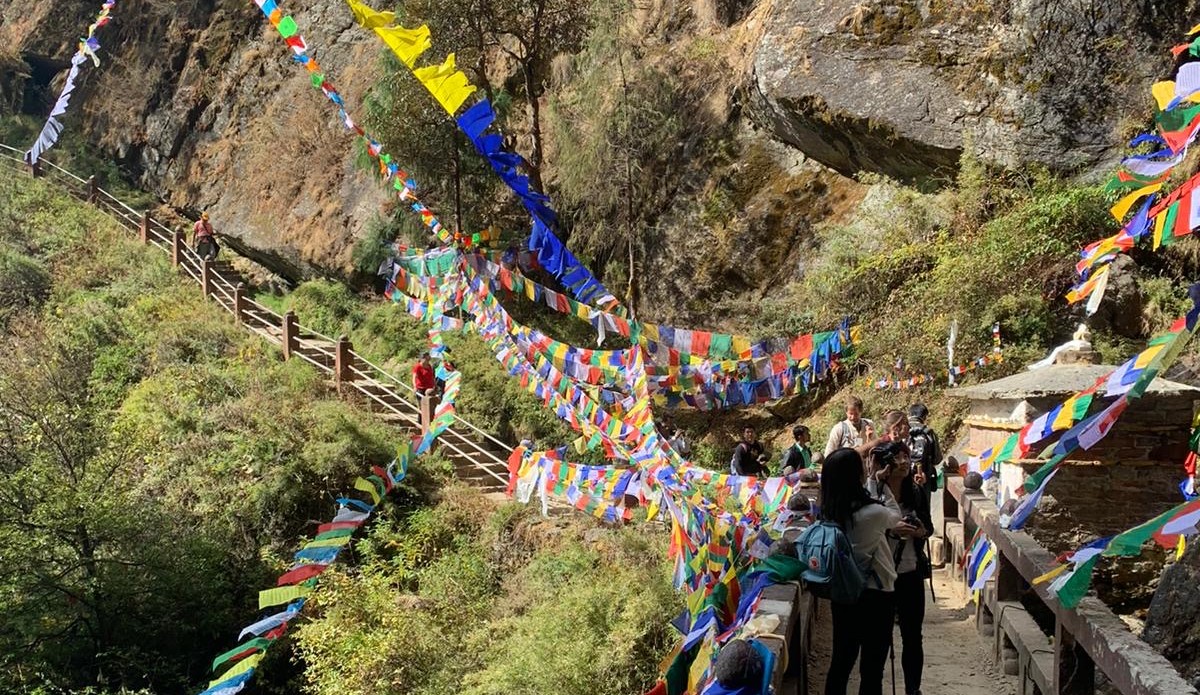 Prayer Flags before reaching the Tiger's Nest Temple
The path is covered by tons of prayer flags and you can enjoy the beautiful view of Paro Valley as you go higher. Before you reach the Tiger's Nest, you have to climb nearly 800 stone steps, and finally, you reach the most sacred site, Tiger's Nest.
Once you reach the Tiger's Nest Monastery, your guide will take you inside the monastery. Your day bag, photography, and shoes are not allowed inside the monastery. These kinds of stuff will need to be left with security persons just outside of the monastery gate. When you are going back, do not forget to take pictures of the Tiger's Nest temple, which is something you want to look back on forever.
Gears to bring for the Tiger's Nest hike
Normal hiking shoes (No trekking shoes are necessary)
Some snacks or energy bars (You will take lunch at Cafeteria, en-route)
Camera, Hat, Sunglasses, Sunscreen
Day bag, Water bottle
Walking pole (Waling wood sticks are available on hire/purchase at the hiking start point)
When is the best time of the year to visit Tiger's Nest?
Tiger's Nest Temple is open and possible to visit all year round. However, the best times to visit Bhutan and hike the tiger's nest are during spring (March, April, and May) 'Pre-monsoon', and autumn (September, October, and November) 'Post-monsoon'. Winter (December, January, and February) is the coldest month and you may encounter snow on the trail. However, you still have the best view and are good for photography. And the summer (June, July, and August) is monsoon but less crowded.
How fit do you need to be for this hike?
Anyone of average fitness can do this hike. Take your time, do not exhaust yourself. You can bring hiking poles that help to hike and especially it is helpful for your knees on the descent. You can also take your kids for a hike. The difficulty level of the Taktsang hike is kind of moderate with a steep ascent but every fit average person can make it to this temple/monastery without any difficulties.
Can I hire a horse on this hike?
Yes, If you are comfortable taking a horse ride, you can hire a horse during the hike. The horseman will follow you along with a horse, so it is less risky. You can only take a horse up to Cafeteria, after that you should hike to the temple on foot.
Riding a Horse during the Tigers Nest hike
Opening time of Tiger's Nest Monastery
The opening time of Tiger's Nest is 8 AM to 1 PM and 2 PM to 5 PM Daily during October, November, December, January, February, and March and it opens until 6 PM during April, May, June, July, August, and September. However, it is better to re-confirm with your tour operator before you hike to the monastery.
Choosing a tour package for this hike
Tiger's nest is included in almost every itinerary that you get for Bhutan and this is one of the major things to do in Bhutan. If your major highlight is hiking Tiger's Nest in Bhutan, we generally recommend the three most popular short itineraries like Shortest Bhutan Tour Package (3 days), Short Bhutan Tour Package (4 Days), Bhutan Tour with Tiger's nest hike (5 Days).
You May also like;
Conclusion
In conclusion, Tiger's Nest (Paro Taktsang) in Bhutan is an incredible and picturesque destination situated on a cliffside at an elevation of 3210 meters above sea level. This iconic monastery offers a thrilling trekking experience amidst nature's beauty, with local guides available for assistance and a halfway cafeteria for relaxation. Known as Taktsang Monastery, it holds immense culture and spiritual significance, making it a must-visit for every traveler. Explore the enchantment of Tiger's Nest, discover its fascinating facts, and plan your visit during the best months for an unforgettable adventure. Don't miss out on this extraordinary attraction that captivates visitors from around the world.
---
Bhutan tour
.
Travel blog
.
visit Bhutan
.
---
---