"Explore Bhutan in just three days with our Shortest Bhutan Tour – 03 days, 02 Nights! Experience a thrilling Himalayan flight to Paro International Airport. Discover Bhutan's unique culture, hike the iconic Taksang Monastery (Tiger's Nest), and explore Thimphu's attractions such as Taschichho Dzong, Buddha Dordenma, Memorial Chorten, etc. Don't miss this chance to uncover the beauty of Bhutan; contact us to plan your perfect trip! "
Nestled in the majestic Himalayas, Bhutan is a remarkable country surrounded by land in South Asia at the eastern end. It shares its borders with Tibet (China) in the north, and India in the south, east, and west. In the west, it is separated from Nepal by the Indian state of Sikkim, while further south, it is divided from Bangladesh by the Indian states of Assam and West Bengal. Thimphu, the largest city and capital of Bhutan, is a thriving hub of culture and heritage.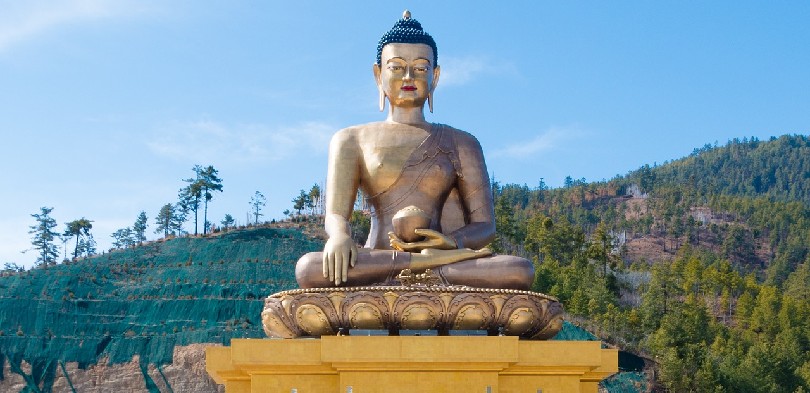 Buddha Dordenma in Thimphu, Bhutan
Do you want to explore Bhutan in just three days? Look no further than our Shortest Bhutan Tour 03 Days 02 Nights! From the spectacular Himalayan flight to the capital city of Thimphu, this mini-tour package is the perfect way to experience all the beauty of Bhutan. Our travel experts can also help you extend your itinerary from 3 nights to 9 nights for a more comprehensive Bhutan tour. Plus, you'll get to take in the breathtaking views over the Himalayas on your way to Paro Airport. Don't miss out on this amazing opportunity; contact us today to plan your perfect Bhutan tour!
Embark on an unforgettable journey through the isolated kingdom of Bhutan with this 2-night 3-day Bhutan shortest tour! Experience the unique culture and explore the country's major cities. Hike the iconic Taktsang Monastery, also known as the Tiger's Nest in Paro, and visit the renowned attractions of the capital Thimphu, such as the Memorial Chorten, Buddha Point (Buddha Dordenma), and Thimphu Dzong. Don't miss out on this amazing opportunity to discover the essential things to do in this beautiful country!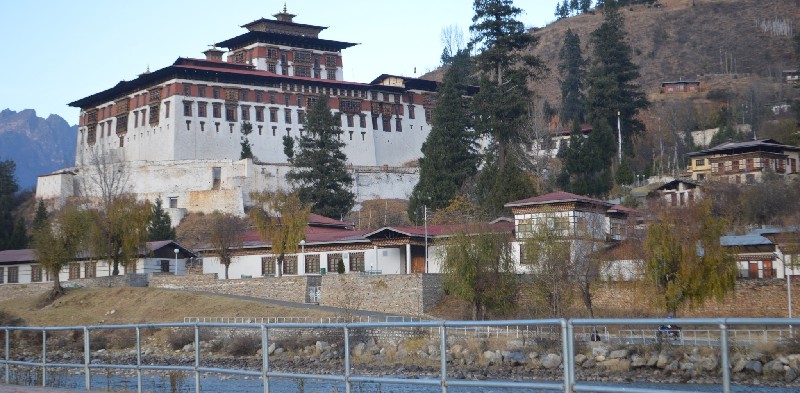 Rinpung Dzong in Paro, Bhutan
We guarantee to offer you the lowest possible price for your Bhutan trip, no matter the date. Reach out to us for a detailed itinerary, fees, and cost details. Moreover, you can explore 3 Country Tours – Nepal, Tibet, and Bhutan all at once; this will save you both time and money.
---
---
At HimalayanWindows Tours (HWT), we strive to make your Shortest Bhutan Tour 03 Days 02 Nights as easy and enjoyable as possible by carefully selecting the best attractions to visit and providing excellent service.
Travel Note:
Explore the beauty of Bhutan with HWT, one of the most sought-after tour companies for Bhutan tours from Kathmandu, Nepal! We have a wide variety of packages to choose from, each with amazing discounts. You can also book your tour from Delhi, Kathmandu (Nepal), Bangkok, Singapore, and Dhaka with direct flights to Paro operated by Druk Air and Bhutan Airlines. Let us know your travel port when you send us an inquiry and we'll get you the best flight fares and seat availability to make your tour even more affordable.
---
If you are connecting to/from Nepal, we have some recommended add-on trips that you may consider;