If you're planning to travel to Nepal during winter, you should be prepared for cold temperatures, especially at night. Pack warm clothing, including a good coat, hat, gloves, and scarf. You should also bring sturdy shoes or boots, as the roads can be slippery and icy.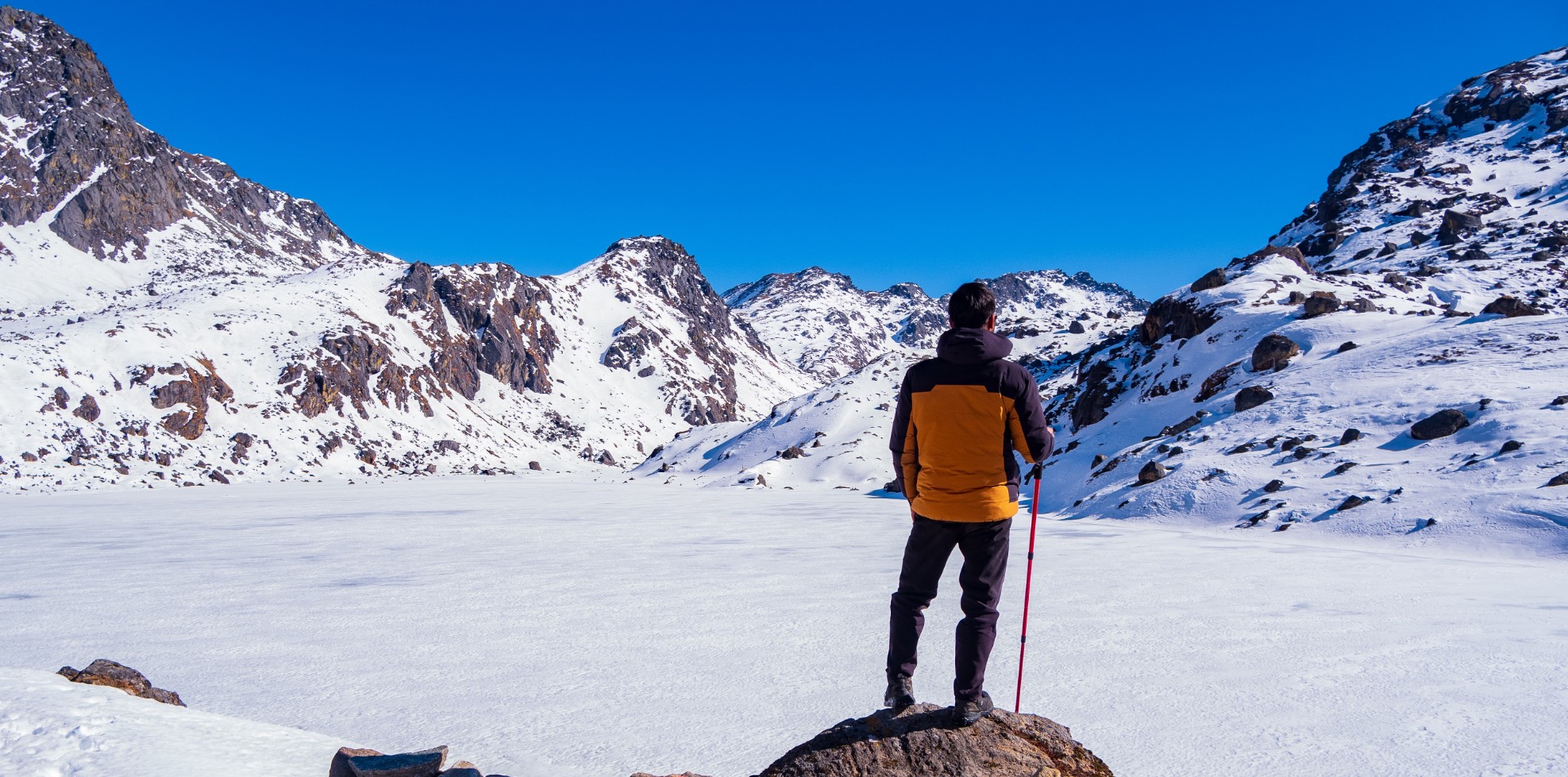 A man is observing a frozen lake in Gosaikunda. Photo Credit: @Hemrajrijal
What is the weather like in Nepal during winter?
Winter in Nepal is generally cold, dry, and sunny. The temperature in Kathmandu, the country's capital, can drop to 0°C (32°F) at night, and the higher altitudes can get much colder. Snow is common in the higher Himalayan regions, but in the lower elevations, winter is usually dry and sunny.
When it comes to sightseeing, winter is a great time to visit Nepal. The skies are usually clear, offering stunning views of the Himalayas. You can also visit the temples and monasteries around the Kathmandu Valley, as well as the many national parks and wildlife reserves in the country.
Finally, if you're heading to Nepal for trekking, winter is a great time to go. The trails are quieter and the views are spectacular. Just make sure to bring the right gear to keep you warm and safe.
Can I visit Nepal in December?
Yes, you can visit Nepal in December. December is a great time to visit Nepal, as the weather is generally mild and dry. December can be a great time for trekking, as well as sightseeing in Kathmandu and other cities.
December is the beginning of winter in Nepal. The temperature is mild but not as cold as the other month of winter, such as January and February. December is not as crowded as the Spring (March, April, and May) and Fall seasons (September, October, and November), so it is the best month of the year for those who love less crowded places and enjoy the clear sunny skies, mild temperatures in most of the tourist places.
What are the Benefits of Visiting Nepal During Winter?
1. Spectacular Mountain Views: The clear, crisp air of winter in Nepal offers unparalleled views of the majestic Himalayan mountains. With the snow-capped peaks lit up by the sun, the views are truly breathtaking.
2. Abundant Wildlife: The winter season is an ideal time to see Nepal's spectacular wildlife. With the snow-covered mountains and the cold weather, the animals are easier to spot.
3. Winter Activities: Winter in Nepal is the perfect time to enjoy activities such as skiing, snowboarding, and winter trekking. There are several ski resorts in Nepal, offering a variety of slopes and activities.
4. Cultural Experiences: The winter months are a great time to explore the culture and traditions of Nepal. With the crisp weather and clear skies, it is a perfect time to visit the many temples and monasteries, as well as the bustling cities.
5. Delicious Cuisine: The winter brings with it an abundance of delicious traditional Nepalese cuisine. With the cooler temperatures, it is the perfect time to sample some of the country's unique and flavorful dishes.
6. Indulge in festivities and the New Year: You can plan to travel to Nepal to celebrate festivals, including Christmas and the New Year. One of Nepal's best places to celebrate Christmas and New Year is Pokhara. The city's whole vibe, especially Lakeside Street, changes during Christmas and New Year.
People celebrate the festival by performing folk music and dancing. The restaurants and souvenir shops provide entertainment and great offers and discounts. The other popular local festivals celebrated during winter are Maghe Sankranti, Saraswati Puja, and Holi.
7. Great offers and discounts: Winter is considered a low season for tourism, but it does not mean it is the wrong time to go. The winter still offers excellent mountain views, natural beauty, and beautiful landscapes. So, you can grab the opportunity to get the offers and discounts and travel with fewer crowds during the winter season in Nepal.
---
---
5 Best Places to Visit during Winter in Nepal
Chitwan National Park
Experience the most fantastic wildlife safari at Chitwan National Park, located in the tropical Terai region and close to the Indian border. Chitwan National Park is the home of rare wild animals such as the one-horned Rhino, Royal Bengal Tiger, exotic flora and fauna, and different bird species. Chitwan is also Nepal's third most popular tourist destination after Kathmandu and Pokhara. Explore the wildlife and jungle activities in your winter vacation by choosing the 7 Days Kathmandu Valley, Rafting, and Chitwan Tour.
Bardiya National Park
Bardiya National Park is one of the protected National Parks in west Nepal. Bardiya National Park was established in 1988 as a Royal Bardiya National Park. This national park covers an area of 968 KM Square Meters, and it is the largest and less crowded wilderness area in western Nepal. Check out the recommended winter tour itinerary and things to do at the Bardiya National Park safari tour.
Pokhara and Bandipur
Pokhara: Pokhara is one of Nepal's famous cities and tourism hubs for both international and domestic tourists in Gandaki Province. Pokhara is not only the hub of adventure and leisure but also a gateway to the Annapurna region treks. Pokhara offers much excitement of adventures, including hiking, paragliding, bungee, Zipline, boating, and several other adventure activities.
Bandipur: We combine Bandipur with Pokhara as it can be explored while driving from Kathmandu to Pokhara. Bandipur is the hilltop where you get the opportunity to climb through the pristine forest on the historical trail and observe the well-preserved Newar culture along with spectacular mountain views. Several tour itineraries can be customized to include the Bandipur hilltop.
The Authentic Nepal Tour Itinerary 14 Days can be the best fit to explore the popular tourist destinations, including Pokhara and Bandipur, during your winter holiday in Nepal.
Kathmandu and beyond
Kathmandu Valley was once known as the "abode of the Gods," where Hinduism and Buddhism still co-exist with great harmony. Explore ancient temples and monasteries in the Kathmandu Valley during your stay. Experience traditional food, stroll through the old Asan bazaar and century-old stupas, and Durbar Squares during your stay in Kathmandu Valley. If you are staying here for a longer time, discover the surroundings of Kathmandu Valley by hiking the well-trodden cultural routes in Nagarkot, Dhulikhel, Shivapuri, Champadevi, Chandragiri, Namobuddha, etc. These places are suitable and discoverable during your winter vacation in Nepal.
Lumbini – the birthplace of Buddha
Lumbini is Nepal's most popular spiritual place and Lord Buddha's birthplace. Lumbini is the world's most influential spiritual site, and it attracts Buddhist pilgrims from around the globe. While exploring Lumbini, you can visit many Buddhist monasteries built by different international communities, including Japan, Vietnam, France, etc. Check out the Nepal Tour Itinerary for ten days, including the trip to Kathmandu, Lumbini Chitwan, and Pokhara.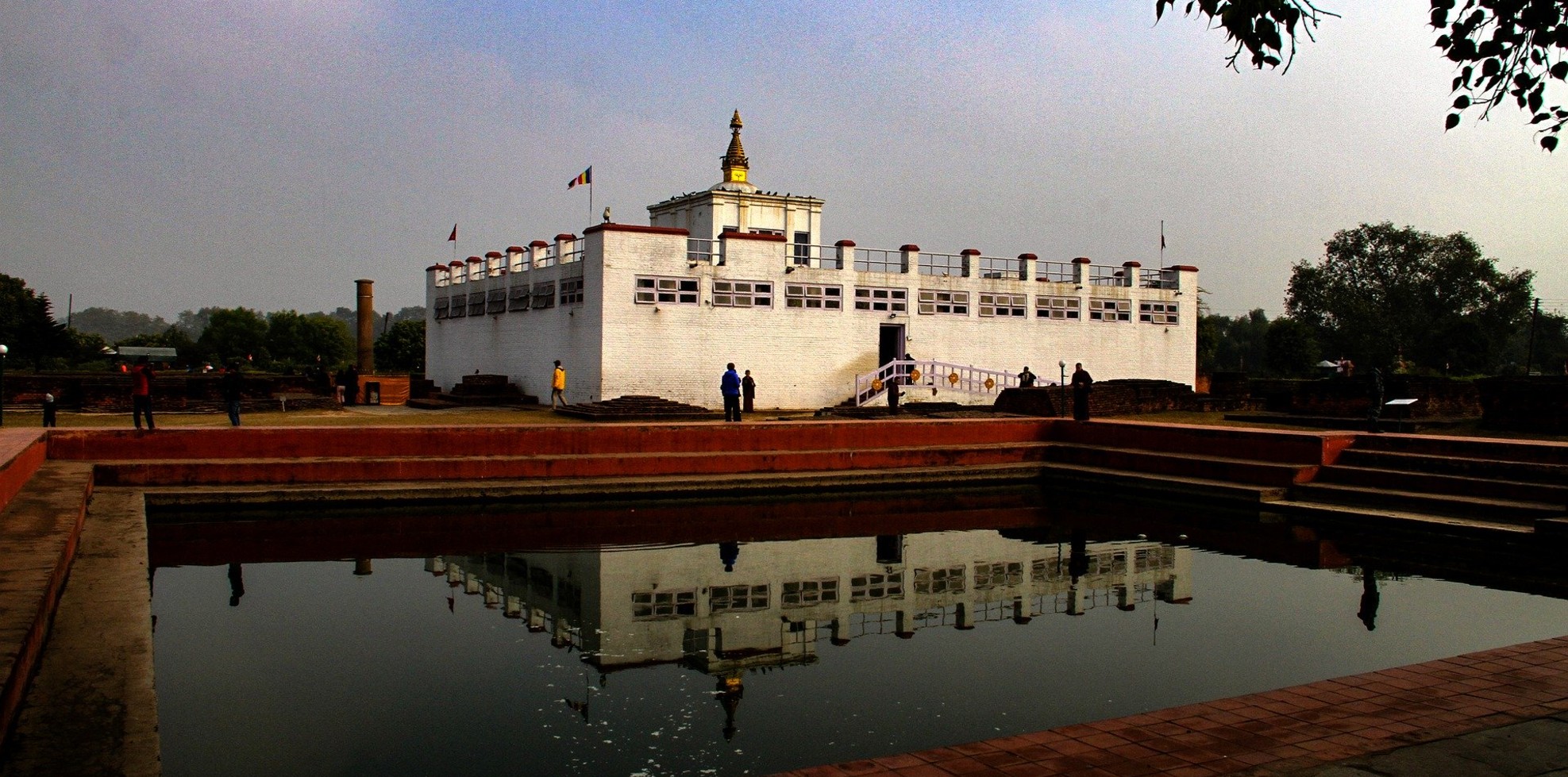 Lumbini – the birthplace of Lord Buddha
---
---
5 Best Winters Treks in Nepal
Kathmandu Valley Cultural Trekking Trail
Kathmandu Valley offers several hiking and trekking opportunities to witness the lifestyle of traditional villages and Himalayan vistas. If you are interested in walking for a day or having a short winter vacation, you may choose the cultural trekking trails around Kathmandu Valley. For a day hike, there are several hiking tours through the well-trodden trails near Kathmandu Valley.
Are you planning your winter trek near Kathmandu Valley? Consider the Kathmandu Valley Cultural trek. This trail is a clean and untouched natural environment, with a view of picturesque local villages and the traditional culture of various native communities. Enjoy a view of spectacular mountains and a trek up to 2500 meters above sea level. The Kathmandu trek itinerary involves 25 to 30 hours to complete 75 Kilometers in four days. This trail is fit for any age group of trekkers.
Ghorepani Poonhill Trek
Ghorepani Poonhill is one of Nepal's most popular and easy trekking destinations, which is suitable for travelers who have a short holiday vacation. This trek is doable at any season and fits any age group of people. Trek up to Poon Hill at an elevation of 3210 meters above sea level and observe the best panoramic view of the Fishtail, Annapurna, and Dhaulagiri mountains from a close distance. Depending on the duration of your holiday, you can choose either 9 Days Ghorepani Poonhill trek itinerary or short three days Poonhill trek itinerary from Pokhara.
Everest Cultural Trek
Allow for about a week to explore the Everest region on your winter vacation. Trekking up to Everest Base Camp during winter (January and February) is quite challenging because of the trail's high altitude, cold temperature, and snow. Therefore, itineraries up to Everest View Hotel or Tengboches are designed to get an excellent view of Mount Everest and its surroundings. Trekking up to Tengboche or Syangboche (Everest View Hotel) is doable for all seasons and suitable for any age group. Check the itineraries of the Everest region cultural trek or Everest View trek to plan the perfect trek itinerary during your winter vacation.
Langtang & Gosainkunda Trek
Trek to Langtang region if you plan a short trip itinerary with the excitement of the Himalayas. The Langtang trek is one of Nepal's less crowded yet rewarding treks. The Langtang Valley trek is the most accessible trekking destination near Kathmandu Valley, doable for any season, and suitable for trekkers who have a short holiday vacation. The Gosaikunda Lake trek also falls within Langtang National Park and is 4380 meters above sea level.
Rara Lake Trek
Rara Lake is also another famous trekking destination in Dolpo Region. Rara Lake is the largest Lake in Nepal and is located in the Karnali Zone, located at an altitude of 2990 meters above sea level; the lake covers an area of 10.8 sq KM, the average length is 5 KM, and the width is 3 KM. The maximum depth of this lake is 167m. If you have a short vacation, you may consider taking a flight from Nepalgunj to Talcha Airport and hiking for about three hours to reach Rara Lake. For this brief itinerary, you can allow approximately 3-5 days from Kathmandu to explore Rara Lake. If you do the longer trek, consider Rara Lake Trek 15 Days trekking through Jumla (2370m), Danphe Langa (3130m), Chautha (2770m), Dhotu (2380m), and finally reach Rara within around a week.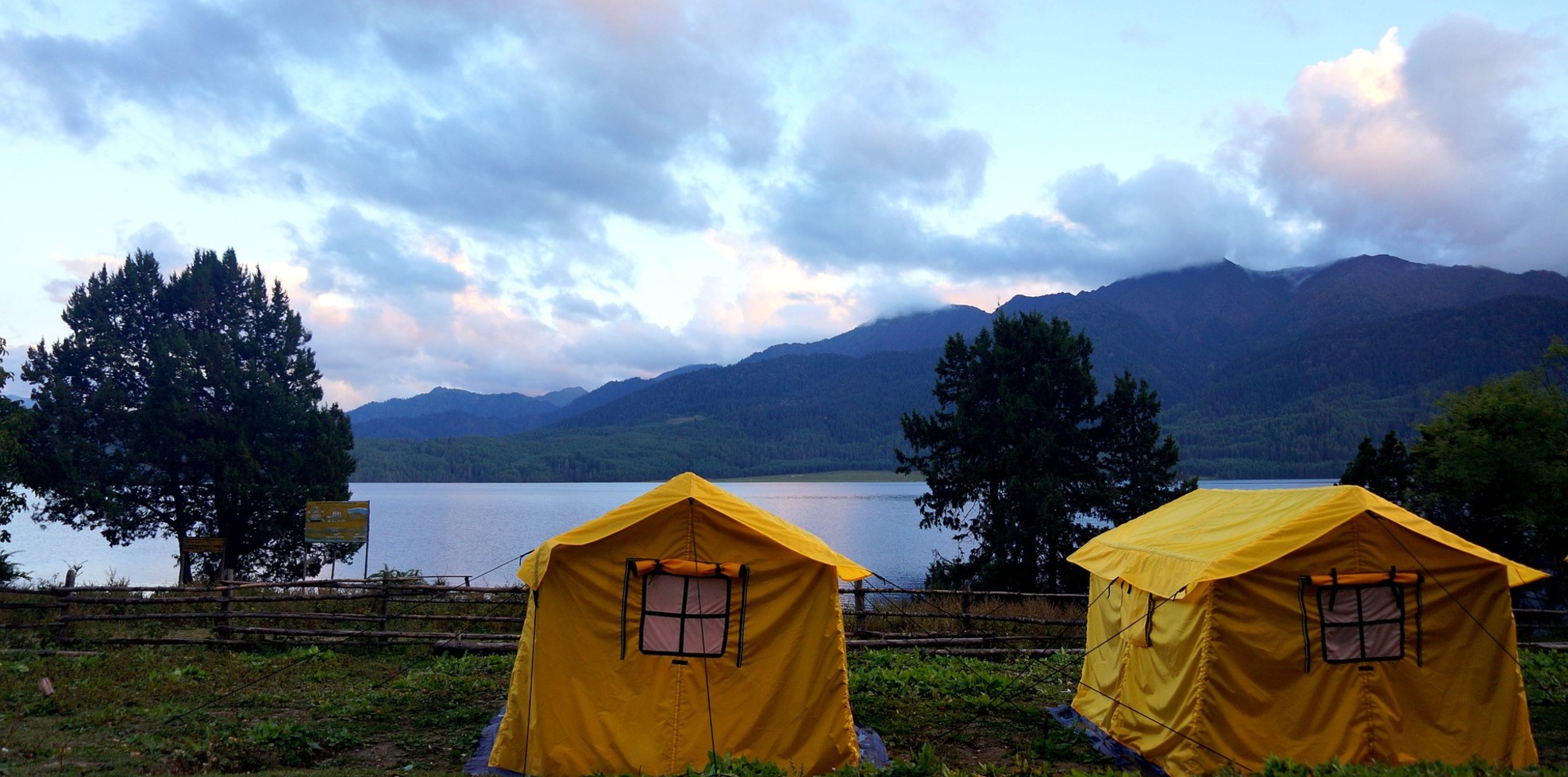 Rara Lake 
Conclusion
We provide authentic and reliable information to help travelers make the right decision before taking any Himalayas trip. In this blog, we have explained how to plan your holiday during the winter season in Nepal and the benefits of booking your holiday in Nepal during the winter (December, January, and February). Before you board your flight, it is always wise to be aware of the weather, altitude, and other essential things to have a hassle-free and memorable trip.
*This article was first published on 12 February 2021 and updated on 17 May 2023. 
---
Travel blog
---
Winter in Nepal
.
Visit Nepal
.
Nepal
.
---
---