Nepal is located in South Asia and landlocked between India and Tibet (China), but I would rather say, Nepal is land-linked between India and China, Nepal offers one of the most stunning and unbelievable places to travel on earth. This amazing country presents diverse picturesque landscapes with the Himalayas in the north and Terai or plains to the south including exciting culture and charming people. One can truly enjoy the stay exploring Nepal's diverse landscapes, chatting with welcoming people and experiencing a vibrant culture. There are other several reasons that make you enjoy each and every moment of your stay in Nepal.
However, it is always advised to be aware of the country where you are planning to visit;
5 Facts Every traveler should know before traveling to Nepal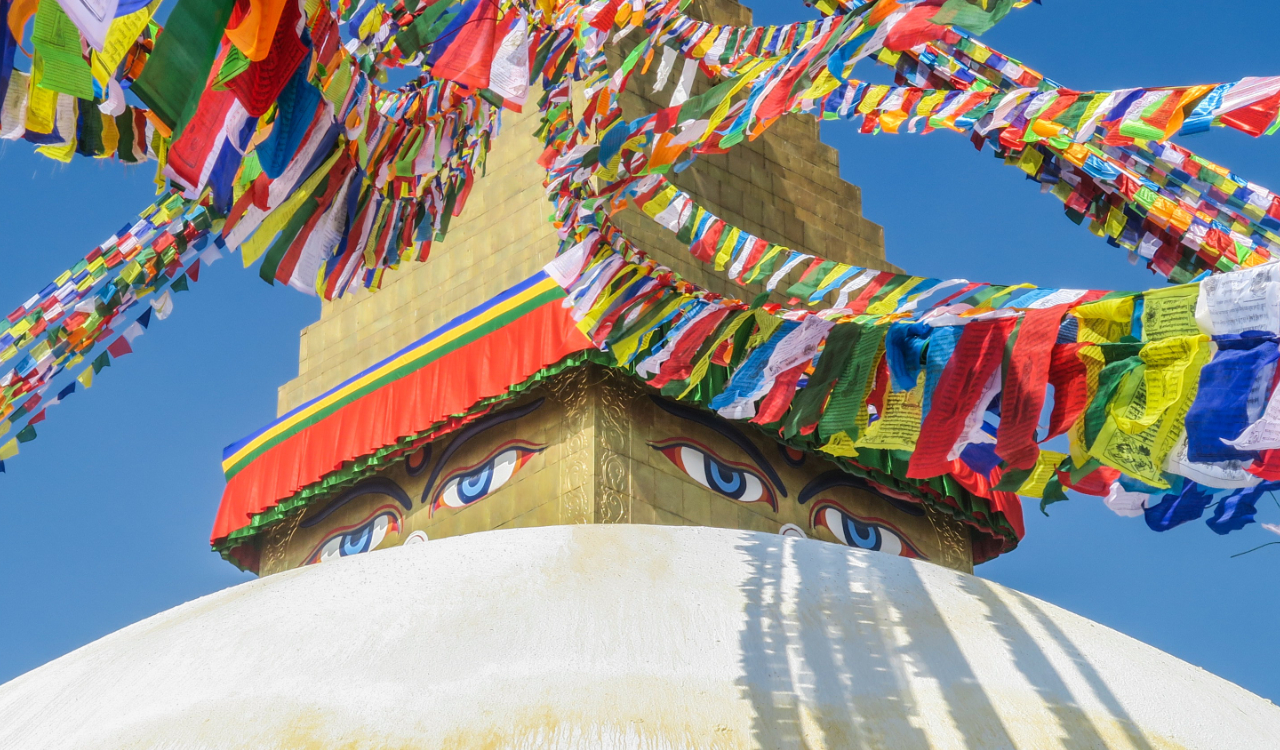 Buddha Eyes (Buddhists Stupa)
Experience Adventure in Nepal with Buddy/Guide
Nepal considered one of the most popular adventure tourism destinations in the world, and thousands of trekkers make their way to the Himalayas every year. Traveling or trekking alone in the mountainous region is not a good idea for several reasons so that it is suggested if you take a destination, take one buddy too. Either you can hire a guide or invite another buddy to join the trip, as the dense forests and Himalaya areas can be risky and there could be high chances of getting lost or injured. Be aware of possibly high altitude sickness, get a proper idea of the route, bring a good tailored map, and don't bring too heavy stuff that you don't need whilst traveling.
Aware of Culture and local traditions
Nepal is blessed with the richest cultures for long centuries in the world. In general, the culture holds a code of manners, rituals, languages, dress, systems of belief and etc. It is great to know the culture and tradition of the country before traveling and Nepal is multi-ethnic and multi-lingual. This Himalayan Kingdom is rich with unique cultural groups like Brahmin, Chhetri, Gurung, Magar, Sherpa, Tharu, Yadav, Newars, and others. Each ethnic group has its own traditions, dresses, and languages. However, Nepalese can be spoken in common. More importantly, it is advised to learn about the Festival and when it falls during your visit to Nepal. Festivals effectively bind the Nepalese people together because of beliefs and diverse cultural backgrounds.  To know more about the schedule of the festival, Please check our Festival Chart, the exact date is not mentioned yet.
Drinking water safety in Nepal
It is always suggested to bring a water purification tablet while traveling to a mountainous region in Nepal. Water from the tap may not be safe especially in the Himalayan areas, just bring a bottle (1-2 liters), Refill the water wherever you find a tap and drop a purification tablet which is much safer and cheaper than buying mineral water frequently. It's not good to get sick in the mountain, we have to be completely careful during trekking in Nepal in terms of eating food and drinking water. Before you are heading to the mountain, don't forget to bring your appetite. You will offer several traditional foods by the locals, and it is not good to reject them sometimes. The popular dishes you can get offered are Dal Bhat, MoMo, Thukpa, Roti, and etc.
Remember your feet and use the right hand
Never step over on any religious place, books, and never touch anything with your feet. Always use the right to offer something as a gift or use both hands. Use your right hand to eat anything and do not eat from a common plate. Always take permission before entering any religious temple as many Hindus temples do not allow foreigners to enter. This is considered as an offense among Nepalese.
Greets by 'Namaste' instead of Shaking hands
In general, Nepalese greets by 'Namaste' instead of shaking hands, and it applies especially to women. Kissing and hugging publicly is a social offense in Nepal. While traveling in Nepal, especially women to avoid wearing short skirts and outfits. It has now been realistic after the COVID-19 Pandemic as there is a high risk of disease transmission by hugging and shaking hands. Infectious diseases are commonly transmitted through direct person-to-person contact. Transmission occurs when an infected person touches or exchanges body fluids with someone else.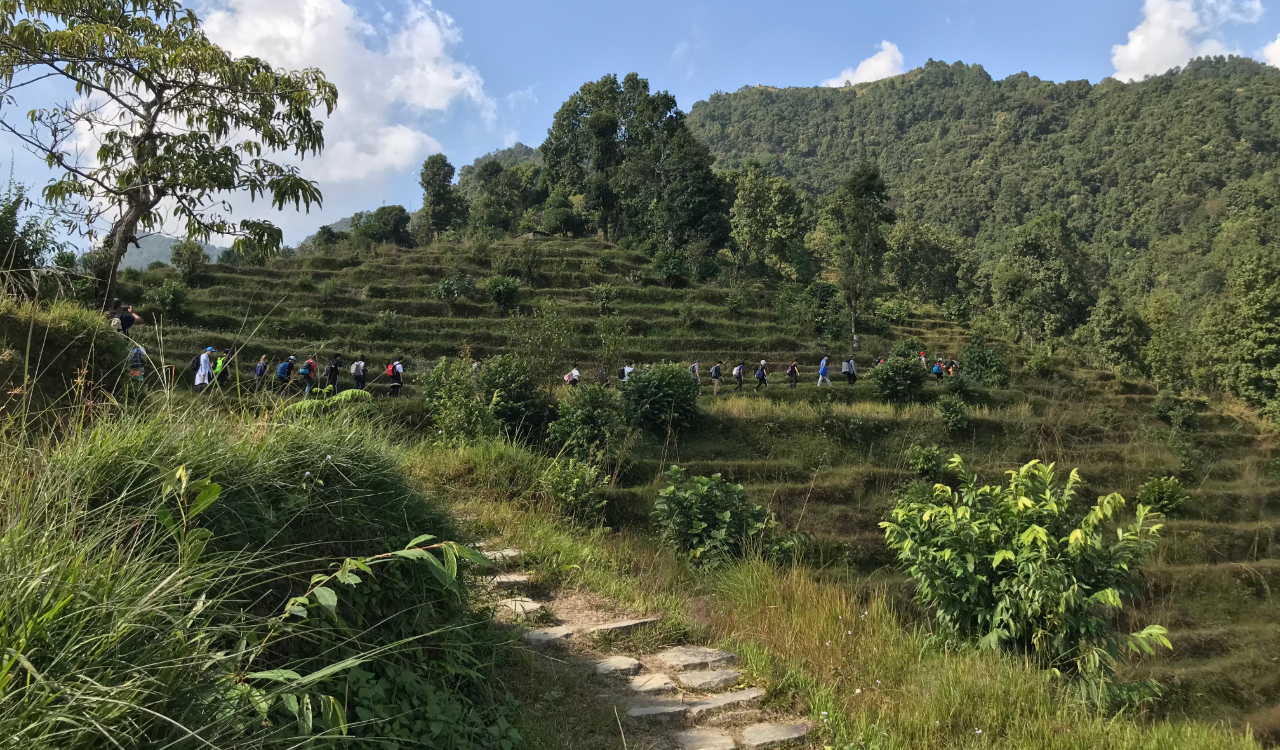 Dhampus Hiking Trail near Pokhara, Nepal
Best  time to go to Nepal
The climate of Nepal can be broadly divided into two seasons. The dry season starts from September to May and monsoon season starts from June to August. However, the four seasons in Nepal can be categorized as Spring (March to May), Summer (June to August), Autumn (September to November), and Winter (December to February). Spring and Autumn in Nepal offer warm daytime temperatures, clear skies, and the best weather for trekking, hiking, rafting, and etc. The peak season for tourism in Nepal starts from October to December. During these months, the landscape is green and lush, the air is crisp and clean and views of mountains are crystal clear.
The months (March, April, May, and October, November, December) are peak season Nepal. If you are planning a trip during these months, it is suggested to book your trip to Nepal in advance as hotel rooms and flight seats can be filled up quickly.
Things you need to bring before leaving home…
A face mask: Against viruses and air pollution especially while driving in the rough roads.
Sunscreen and sunglasses: While trekking in the mountain, to protect from windes and unfiltered sunlight.
Hiking Shoes/boots: It is advised to buy good quality hiking boots for trekking in Nepal and it is better to bring from home rather than buying in Kathmandu.
A waterproof backpack
A waterproof Jacket
A LED torchlight for night-time toilet trips during trekking
Insect repellent and anti-leech oil (for monsoon trip in Nepal)
A water bottle and water purification tablets (buying a bottle of water during trekking in Nepal is very expensive)
Check out hiring trip gears to have a better idea of things that you need to bring or you can hire in Kathmandu.
In addition, Nepal offers a huge variety of trekking and hiking outdoor adventures and deserves to satisfy every bold traveler in every aspect. Nepal offers other outdoor activities such as Rafting, Mountain Biking, Bunjee Jumping, Peak Climbing, Rock Climbing, and many other exciting and adventurous activities. If you love adventure, you can pick Everest Base Camp Trek or Annapurna Base Camp Trek in Nepal and may have side trips to Tibet and Bhutan. 3 country tours (Nepal, Tibet, and Bhutan) in 'one package' could be the best choice to learn about the culture and religion of each country. If you are more focused on culture and history in Nepal, a  One-Week tour Nepal could be the best choice. However, it is always advised to be aware of all the possible happenings and safety prior to any option is always suggested.
For any concern, you can contact any time, we are here to help you have your trip as an unforgettable moment once in a lifetime.
Happy Travels!
This blog was first published on 23 Aug 2016 and again republished on 23 August 2020. 
---
Adventure Trekking
.
Travel blog
.
---
Adventure
.
Himalaya
.
Nepal tour
.
travel
.
trekking in nepal
.
---
---