The complete guide trekking in Nepal for beginners | Nepal Hikes for Beginners | When to go to Nepal?
So you are planning to trek in Nepal but don't know a thing about it? Here is a complete guide trekking in Nepal for beginners. Learn more about Nepal hikes for beginers or first-timers.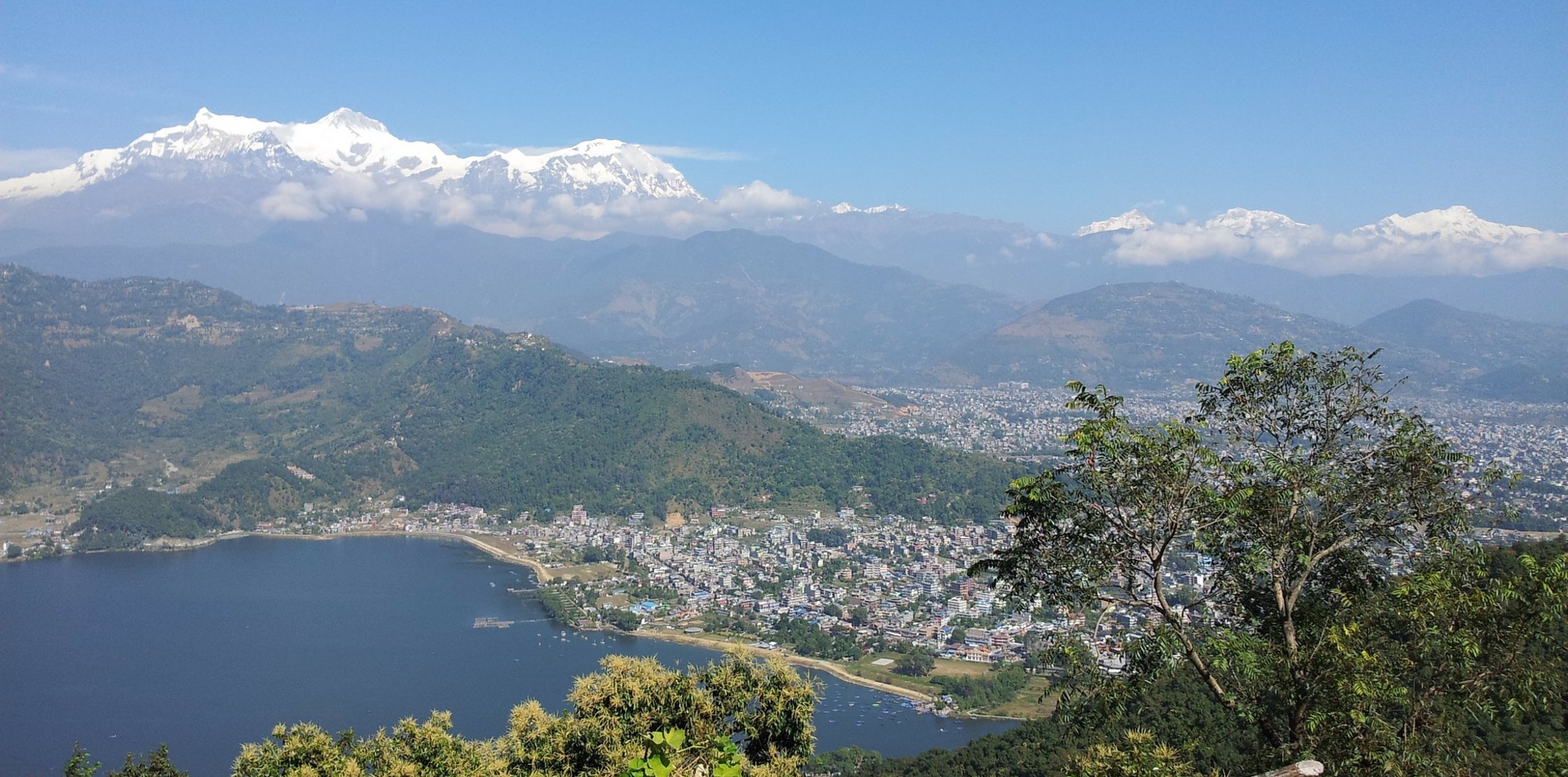 Pokhara View from World Peace Pagoda
Trekking in Nepal Info
Nepal is a paradise for trekking lovers and is famous for many reasons. First, Nepal is the home of the eight highest mountains out of ten in the world, including the world's tallest mountain Mount Everest (8848m). Nepal offers many trekking opportunities from high altitudes (up to 6000m) to lower altitudes, from adventure trekking to slow and budget trekking. Moreover, Nepal is the perfect destination for any adventure seeker, from solo trekkers to group/family trekkers, and entirely safe for trekking in any region in Nepal, including Everest, Annapurna, Langtang, etc.
---
---
When to go trekking in Nepal? – The best time of the year to go trekking in Nepal
Here are the best times of the year to go trekking in Nepal. We have categorized the best months and seasons of the year for trekking in Nepal.
– Trekking in Nepal in spring 'Pre-Monsoon' (March, April, May)
Spring is the perfect season for trekking in Nepal as this season offers moderate warm temperatures and blossoming flora. Early spring tends to be a little colder, with pleasant temperatures at the low altitude (below 3000 meters), making trekking in reasons such as Ghorepani Poonhill Trek in Annapurnas enjoyable. The early spring is a snow-melting season, if you trek up to 3000 meters, you see snow on the trail, and the temperature is relatively colder. After late March, elevations over 3000m have a moderate temperature, making the day sunny, clear, and warm trekking surroundings.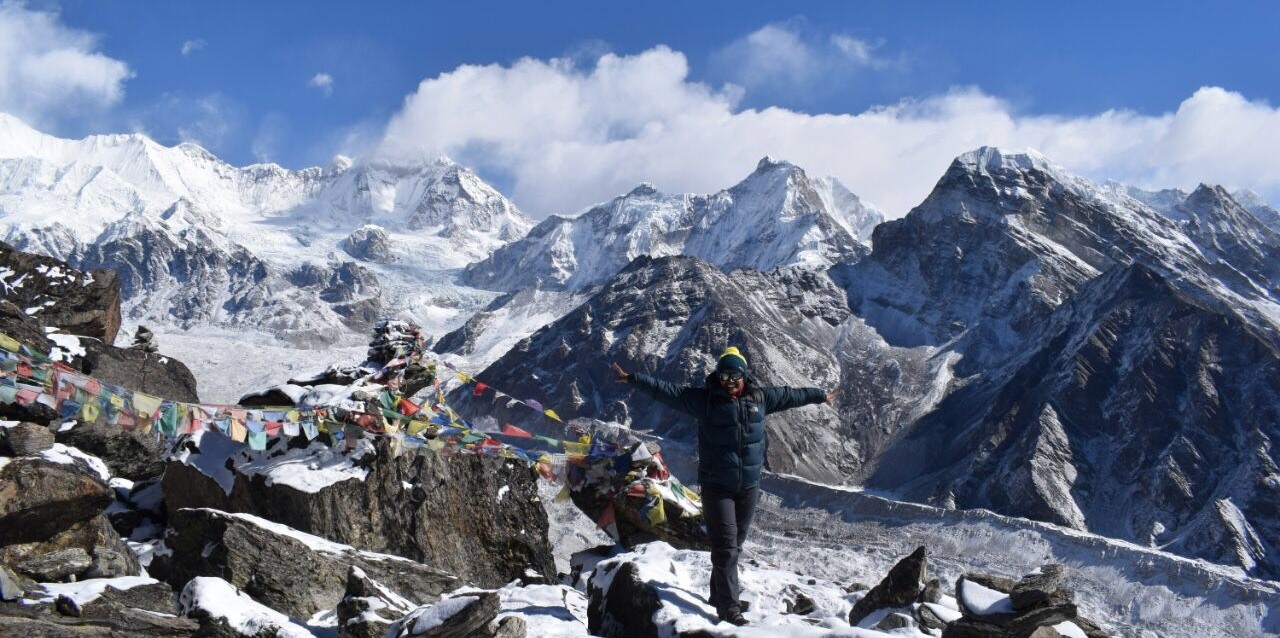 Trekking to Everest Base Camp In March
March, April, and May are considered some of the best seasons of the year for trekking in Nepal, and it is highly recommended to trek in Nepal if you can visit during this time. Spring brings sunny days and warmer temperatures with blossoming rhododendrons and other wild flora on the trekking trails.
Recommended Treks during spring:
– Trekking in Nepal in the summer 'Monsoon' (June, July, August)
Summer brings monsoon in Nepal, which typically starts from early June to mid-September. Trekking in Nepal during summer is usually not recommended. As soon as summer starts, you experience high temperatures, frequent rain, and muddy road. Clouds usually cover mountains; the lower parts are dirty, and several leeches are visible.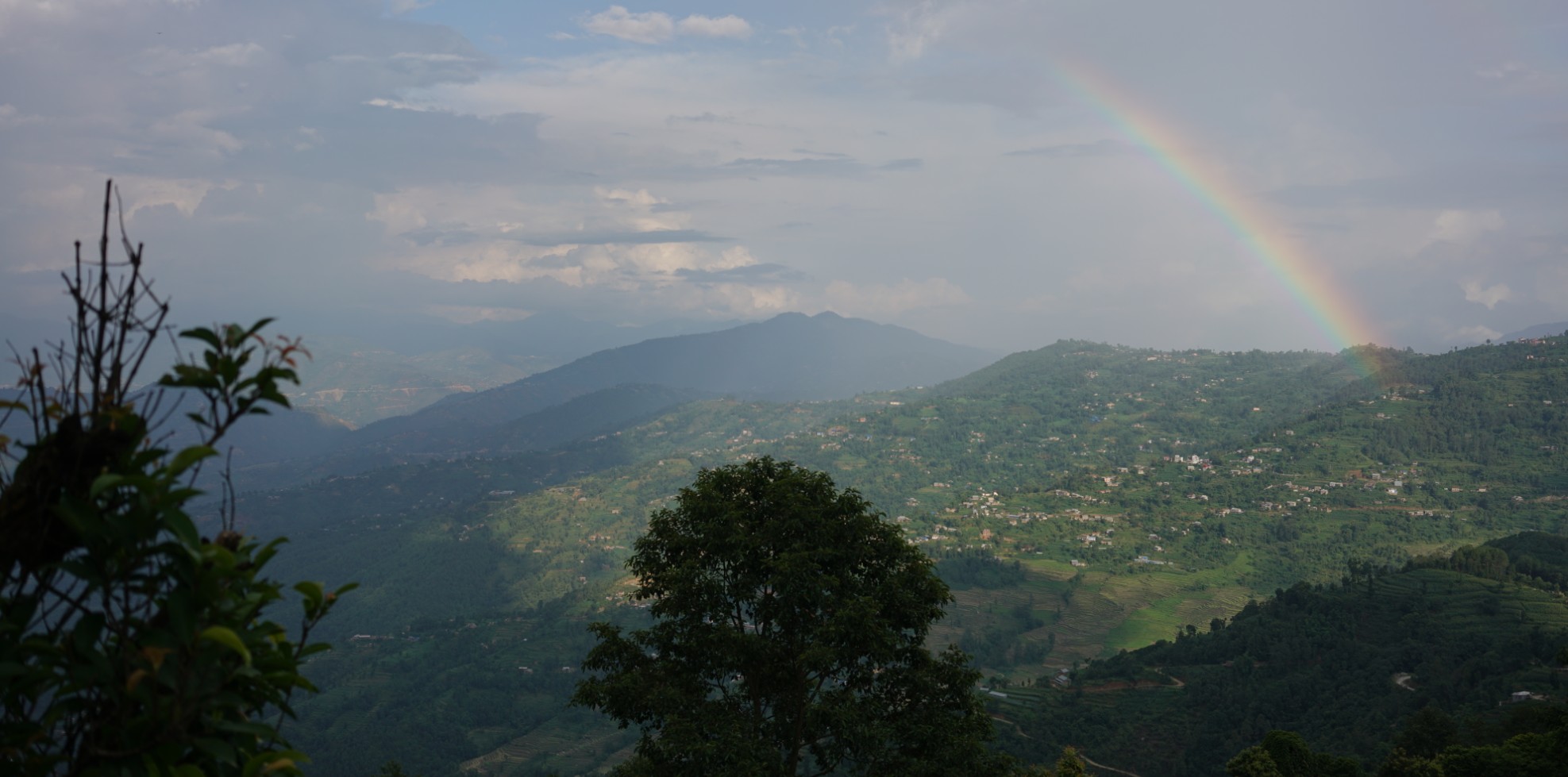 View from Dhulikhel town – photo taken during monsoon with a rainbow view
However, the summer could be the best option if you are fond of green scenery, fresh air, and clear skies. Suppose you are trekking in high places such as Upper Mustang, Dolpo, and Tibet. In that case, the summer offers ideal conditions, protecting from monsoons and the opportunity to experience the highland culture and spectacular high Himalayan scenery.
Recommended treks during summer
– Trekking in Nepal in autumn 'Post-Monsoon' (September, October, November)
From September to November, autumn is the perfect season for trekking in Nepal. This season offers excellent weather and appealing mountain views, the warm temperature during the day, and a little colder during the night, welcoming significant festivals like Dashain and Tihar are celebrated across the country; the autumn season makes the best time for trekking in Nepal.
Recommended Treks during autumn:
– Trekking in Nepal in winter (December, January, February)
While spring and autumn are typically the best times to trek in Nepal, winter (December, January, and February) also offers excellent views of the mountains and clear skies. Although, it is not recommended to trek to the high elevation of over 4000m as it is too cold, especially for those who live the tropical areas and do not like cold weather. Also, the trekking trails can be blocked due to heavy snow in the high-altitude regions, although there are some recommended trekking trails that you can trek during the winter season. Nepal still offers some good lower-altitude trekking routes that can attract trekkers who want to visit Nepal during the winter.
Recommended treks during winter (December, January, February)
---
---
Training for trekking in Nepal
Trekking in Nepal up to 5500m above sea level requires average fitness but proper willingness. However, trekking in the Himalayan regions needs substantial physical challenges, and the more fit you are, the more you can enjoy the trek. There are a few points that you need to consider before you start the tour in Nepal.
Before you start the trek in the Himalayas, we recommend you do the following exercises.
Build Stamina, keep yourself healthy and fit – Run, Cycle, and take Zumba and aerobics classes
Cardio training – Some studies show that the best way to improve your cardio fitness, you need high strength training, and we recommend do several times every other day until you see the actual results
Climb nearby hills or mountains: We recommend you climb nearby hills or mountains before going to Nepal and keep yourself fully prepared for the high-altitude trek.
Leg strength: As you will be hiking five to seven hours a day, you need to strengthen your legs by doing several excurses, which can also be practiced at home. Having your legs and knees fit and robust makes your trip more enjoyable.
Consult with your fitness coach or doctor before planning a trek in Nepal, and be flexible in dates for any unfavorable conditions.
Budget for trekking in Nepal | Trekking in Nepal costs
There are many trekking destinations where you can trek without hiring a guide/porter but by buying the required permits. You can prepare without a guide if you plan to walk on a low budget. Trekking in Nepal without guide services costs you around US$ 30- US$ 40 per day for accommodation and meals. However, we strongly recommend you hire a guide/porter through a reliable trekking company. If you book through the company, the costs would be around US$ 80 – US$ 90 per day, including guides, porters, accommodation, meals, company service fees, etc. The price may vary if you are trekking in remote areas and high in the mountains.
Family Trekking in Nepal
Nepal has several slow and easy multi-day hiking trails with alluring mountain views and enchanting local villages. Nepal's many lower altitudes trekking destinations can be suitable for family trekking from children to senior citizens. A group of families can experience Nepalese communities' local lifestyles and traditions by hiking through the beautiful villages across the country. Some ideal destinations for the family adventure group can be chosen, such as Balthali Village trekking, Kathmandu Valley Cultural trekking, Ghorepani poon hill trekking, Dhampus Trekking, etc.
---
Adventure Trekking
.
Travel blog
.
---
when to go
.
trekking in nepal
.
---
---