Planning a trip to the Himalayan countries Nepal, Tibet, and Bhutan in 'One Go? Here is a complete guide to help you plan the Himalayan single trip smoothly.
"Based on our experiences organizing Nepal Tibet Bhutan Tour packages for more than a decade, we present the most important things that you should know before traveling to these nations in a single trip."
A trip to Nepal, Tibet, and Bhutan as 3 Country Himalayan destinations that cover three different countries in a single tour allowing us to experience the culture, tradition, history, and religion of each country. From the magical city of Kathmandu including ancient temples & palaces to the roof of the world of Tibet including the Potala Palace & monasteries in Lhasa and Tibet Everest Base Camp to the last Shangri-La, Bhutan to explore the cultural cities of Paro and Thimphu with a hike to Tiger's Nest. This can be the complete combo trip to the Himalayas and learn about the culture, history, and religion (Buddhism and Hinduism) that are being practiced differently in each country.
How to plan the 3 Country Himalayan tours (Nepal, Tibet, and Bhutan? First of all, it is advised that you allow about two weeks to explore these three beautiful Himalayan destinations and choose the best tour company that can help you plan all the arrangements including Visas and flights to and from Paro and Lhasa. 3 Country Himalayan Tours (Cross-Country) including Nepal, Tibet, and Bhutan can be started from any city such as Kathmandu, Lhasa, or Paro. Depending on your flight, destination, and cheapest fare; you can choose the cities to start your journey of 3 Country Himalayan Tours. However, some procedures need to be followed before you book the tour. Your tour operator can organize everything including Visas, flights, etc and it is wise to know everything before you plan this trip.
3 Country Himalayan Tours STARTING from Kathmandu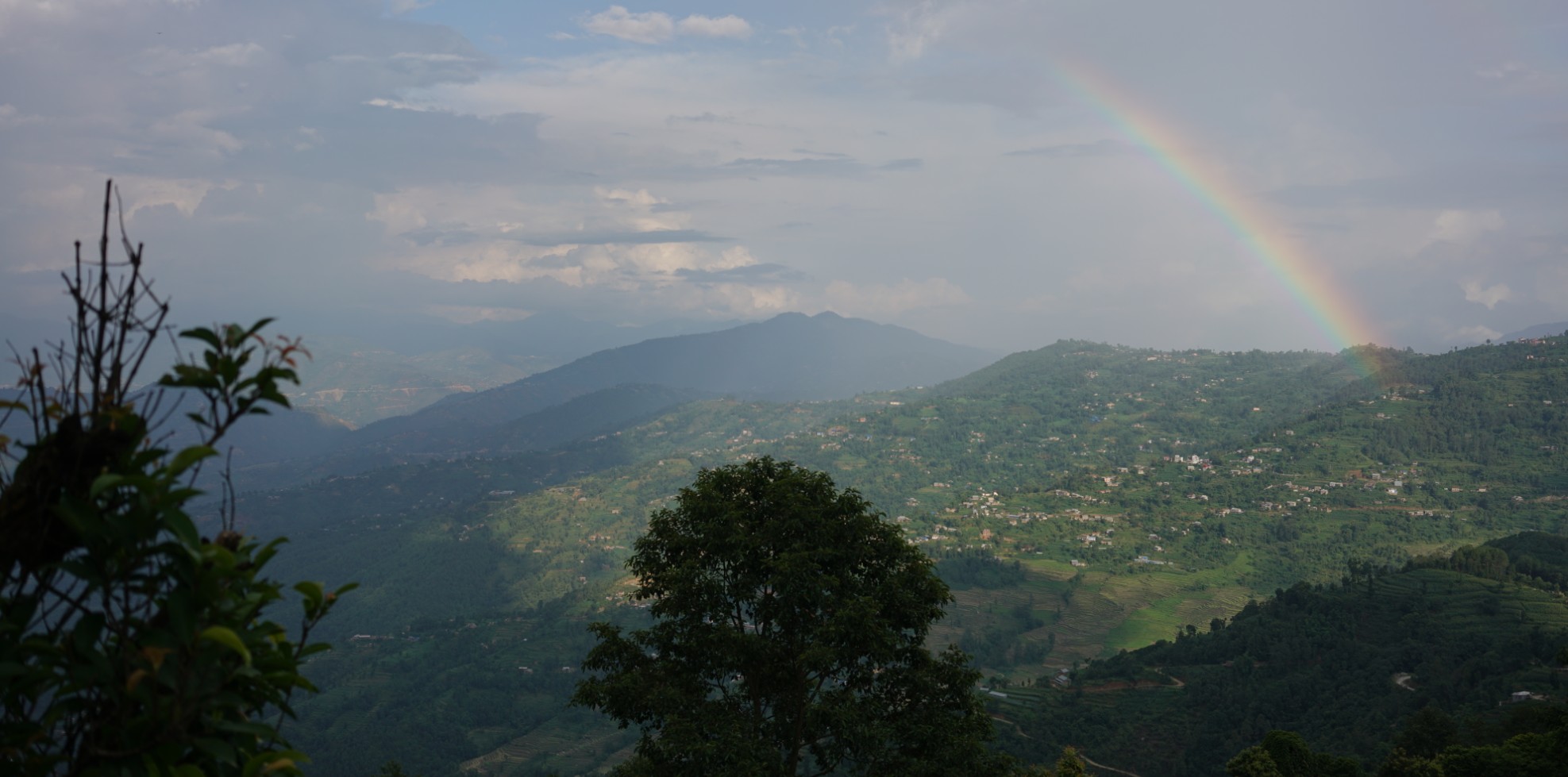 Landscapes as seen from Dhulikhel near Kathmandu Valley. Take an add-on trip to Nagarkot-Dhulikhel One-Day Hike for this amazing landscape view.
Trip Starts: Kathmandu (Nepal)
Trip Ends:  Paro/Kathmandu
Itinerary in order: Kathmandu (Nepal) – Lhasa (Tibet) – Bhutan
Total no. of days suggested: 11-14 Days
Starting the trip from Kathamndu could be the first choice for most travelers. It is much easier to plan the 3 Country Himalayan Tours including the flight and visa from Kathmandu. Tour agents based in Kathmandu are well experienced in organizing your tours professionally. However, it is important to select the best itinerary and a tour company to have a hassle-free arrangement. Here are the point-wise suggestions that you can take into account before you plan a trip starting from Kathmandu.
First of all, make sure your visa is valid at least 6 months before the tour start date and obtain a multi-entry Nepal Visa either on arrival in Kathmandu or your hometown. Send the color scanned clear passport copy to your tour agent whom you are looking to book the entire trip after you confirm the tour and price. It is advised to book all three destinations with the same company to have a better experience.
Allow at least 4 working days in Kathmandu to process the Tibet Group Visa (TGV). Your original passport must be submitted to apply for the TGV at the Embassy of China in Kathmandu and your tour operator can process the visa on your behalf. Until TGV is issued, you can go for a tour around Kathmandu and its surroundings or take a half-day H

elicopter tour to Everest Base Camp

. If you are a fit hiker, you may go for Everest Base Camp Trek, Annapurna Base Camp Trek, Ghorepani Poonhill trek, Kathmandu culture trek, or any other guided private day tours.
It is advised to pick Tibet first and then Bhutan. This helps save your time and the Bhutan Visa Clearance can be ready during the trip to Tibet. You can choose Tibet tours from 3-4 days to 7-8 days, depending on your holiday time and budget. If you are planning a budget tour for 7-8 days in Tibet, you can choose 7 nights 8 days Kathmandu to Lhasa overland Tour which starts every Saturday from Kathmandu or you can plan a tailor-made private tour.
---
---
3 Country Himalayan Tours STARTING from Lhasa -Arrive from China (Beijing/Chengdu)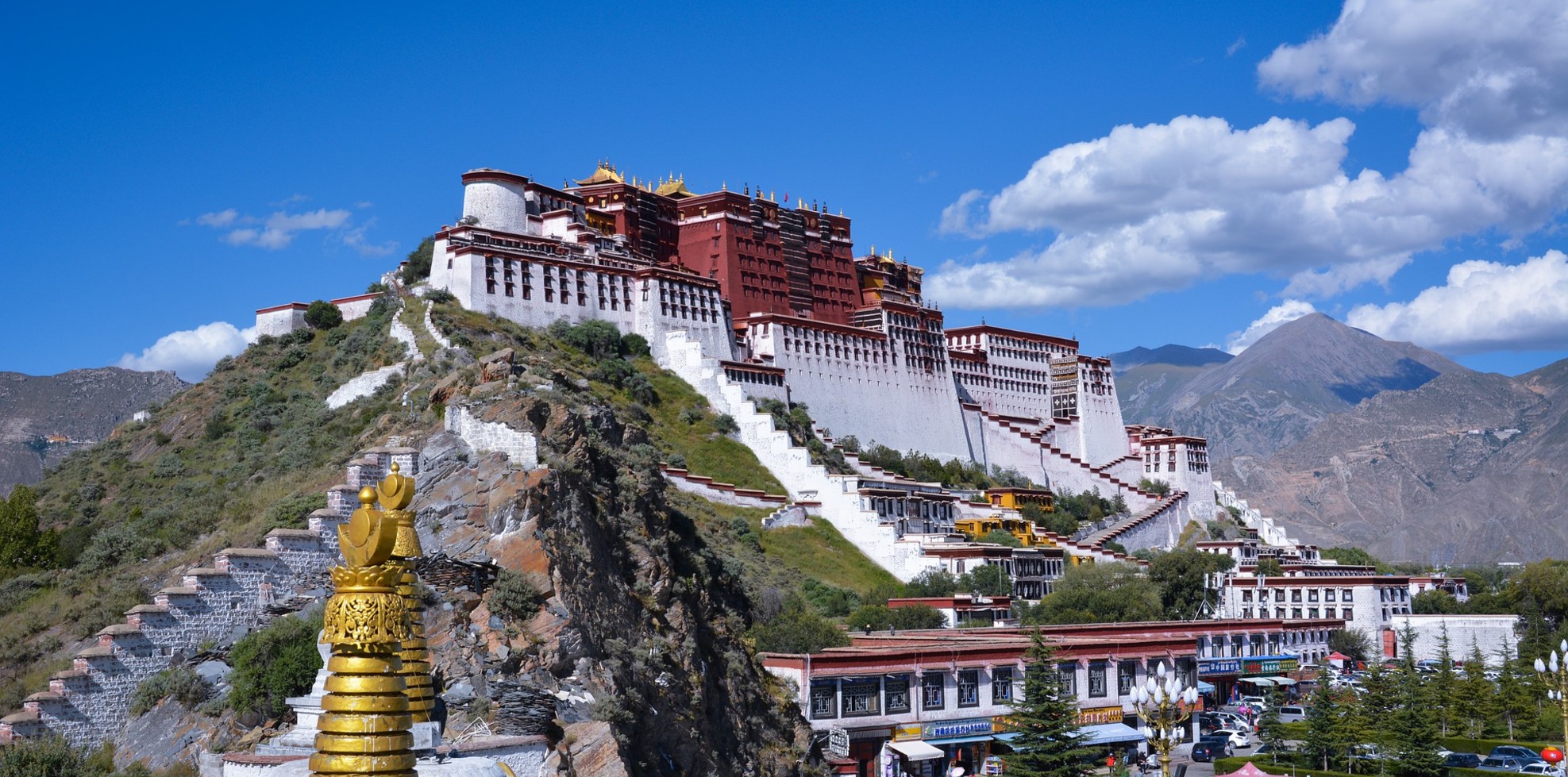 Potala Palace in Lhasa, Tibet – Used to be the residence of the Dalai Lamas.
Trip Starts: Lhasa, Tibet (3650m) – Arrive from Beijing or Chengdu via flight or train
Trip Ends: Paro/Kathmandu
Itinerary in order: Lhasa – Kathmandu – Bhutan
Total days suggested: 11-14 Days
The 3 Country Himalayan tour can be started from Lhasa – before you book the flight and tour; you should be aware of the permit and visa requirements for the Tibet tour. If you are entering from Beijing or Chengdu to Lhasa via flight or train; make sure that you have the original permit in hand before you leave for Lhasa. You can plan the Lhasa-only trip or take an overland tour to Kathmandu via Everest Base Camp.
To process the tour, you will be required to obtain a Chinese individual tourist visa in your home country and send it to your tour operator once you confirm the tour and price. Because only the tour company is allowed to take you around who issues the permit for you. So choosing a different company after getting permits is not possible.
If you are working or studying in China, you will need to send the visa copy along with the leave/no objection letter from your concerned employer or university.
Your tour operator will process the permits which take a minimum of 5-7 working days or it might take even longer during the peak season (July, August, and September).
After the permits are issued in Lhasa, original permits should be couriered to the address in China where you will be staying for a night (It is advised to stay at least a night in China). Send your apartment or hotel address where the agent can send them safely,  grab your permits, and fly or train to Lhasa.
After the trip to Tibet is over, you may fly into Kathmandu from Lhasa or take an overland tour to Kathmandu via the Kerung border. If you are traveling overland, there will be a guide at the border to receive you and take you to Kathmandu, it takes about 7-8 hours through the rough road to reach Kathmandu. Then, you can explore around Kathmandu and beyond before you fly to Bhutan.
---
---
3 Country Himalayan Tours STARTING from Paro, Bhutan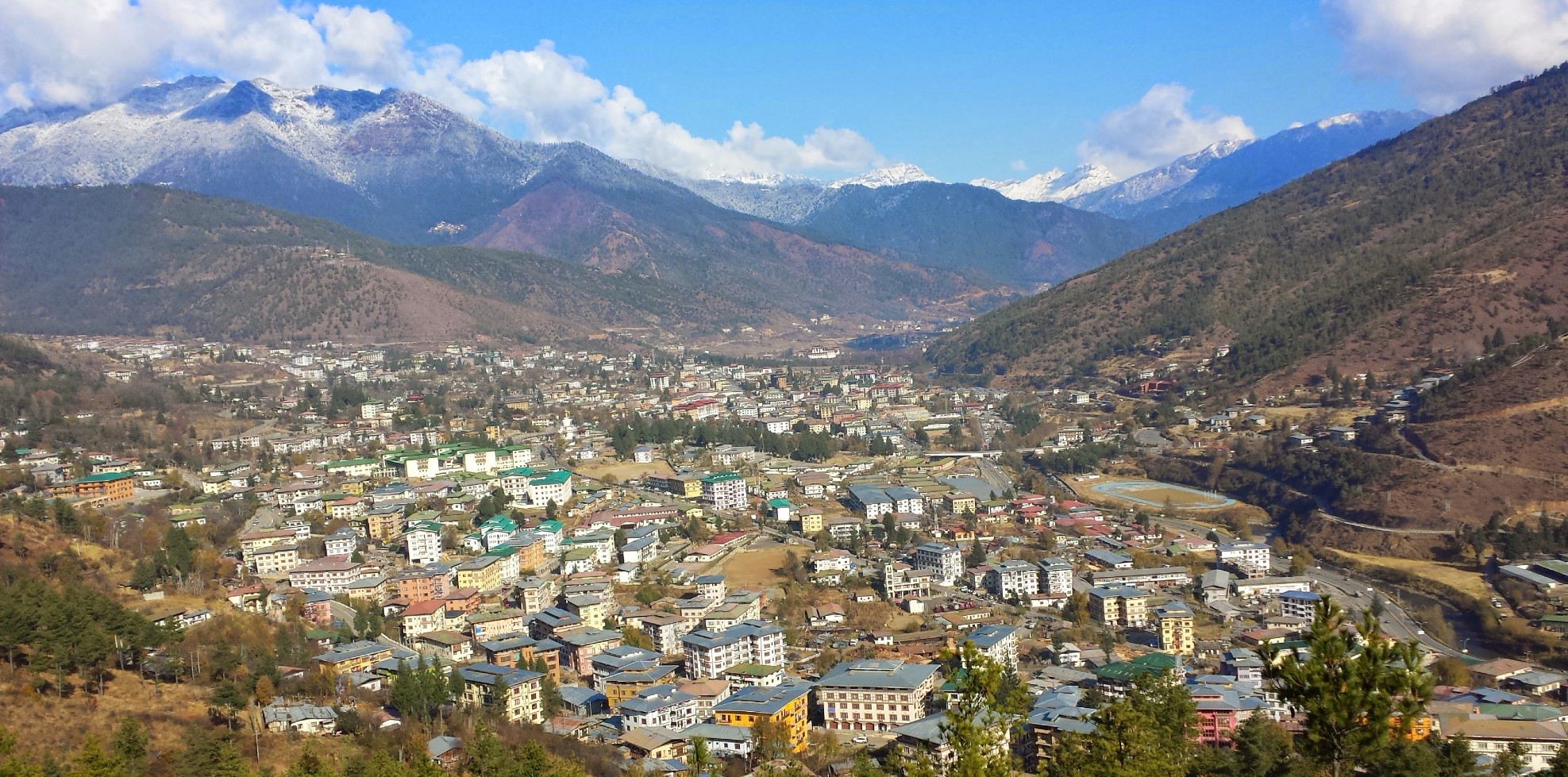 Thimphu City as seen from Buddha Point – The picture was taken during December.
Trip Starts: Paro, Bhutan
Trip Ends: Lhasa (Fly to Mainland China/Kathmandu)
Itinerary in order: Bhutan – Kathmandu – Lhasa
Total days suggested: 11-14 Days
Same as Kathmandu, you can plan 3 Country Himalayan Tours starting from Paro, Bhutan. You can land at Paro airport from several destinations such as Thailand (Bangkok), India (Delhi, Kolkotta Guwahati, Bagdogra) Singapore, Bangladesh (Dhaka), and Nepal (Kathmandu). There are two flights (DurkAir and Bhutan Airlines) in operation, check the destinations and available dates before you confirm the date of your holiday to the Himalayas. After you complete the tour in Bhutan, you will fly to Kathmandu, a short flight from Paro to Kathmandu, you can enjoy the eye-level Himalayan vistas from the window – request for a left seat window for KTM to Paro and a right window seat for Paro to KTM. As described above, you will need to allow at least 4 working days in Kathmandu to process for TGV and fly to Lhasa or travel to Lhasa via border crossing.
3 Country Himalayan Tour BUDGET Plan
It is advised to travel in a group to minimize the tour cost as tailor-made private trips are expensive especially if you are traveling solo. Being two people & choosing 3 country tours for about 11-14 days with 3-Star hotels stay with breakfast, guide, private transportation, and entrance fees; the budget would be around USD 3,000 per person including flights and visas to/from Kathmandu. However, it depends on the package you choose, there will be varieties of budget to luxury versions and prices may differ accordingly.
---
---
The destinations Tibet and Bhutan DO NOT allow independent travel and it is a must to hire a licensed guide. The trip has to be booked through the local tour company or any international associates. There are some group tours available for the Tibet tour that you can check before you book the trip. However, if you are a couple or group of friends/family of three or more with similar travel interests, it is wise to book tailor-made private trips to have a better travel experience.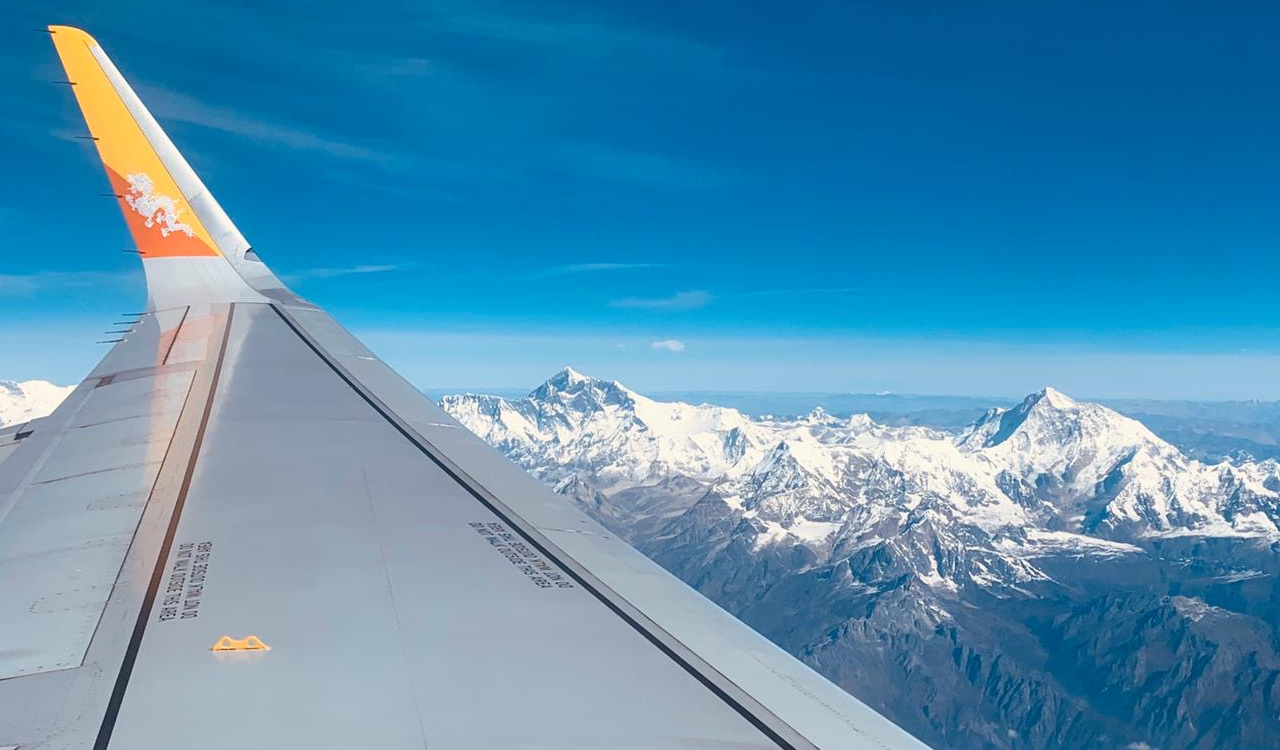 A scenic flight from Kathmandu to Paro | an Eye-level view of the Himalayas incl. Mt. Everest
Best time to go
It is possible to travel to three destinations all year round and getting the perfect weather for each destination at the same time can be difficult sometimes. Tibet is on the high Himalayan plateau and has arid weather and long winter the best time to visit Tibet is in during summer (June, July, August, and September) whereas Nepal and Bhutan share sub-tropical climates with four seasons such as spring 'pre-monsoon' (March, April, May), Summer 'monsoon' (June, July, August), Autumn 'post-monsoon' (September, October, November), and winter (December, January, February). Exploring only cities on this trip, all seasons are suggested, however; if you wish to choose the best months for combining the trip for all three destinations, it is recommended to travel during April, May, September, October, and November to enjoy the best weather/climate of three places of Nepal, Tibet, and Bhutan.
The Best tour package that you can choose from HimalayanWindows
There are several packages that you can choose or customize as per your requirements; here are some of the popular packages that are liked by our previous clients – take a look:
Conclusion
The main purpose of writing this blog is to be aware of things before planning a trip to Nepal, Tibet, and Bhutan on a single package. If the above-given trip ideas are not enough for you to make a decision, you may contact us at any time. Also, rules and protocols can be changed overnight, especially in Tibet and it is always wise to have fresh information before making any decision.
HimalayanWindows is very happy to answer your questions and we can also help plan your trip for a lifetime. Happy and Safe Travel after this Coronavirus (Post-COVID-19) Pandemic and everything gets back to Normal.  Namaste!
---
Bhutan tour
.
Travel blog
.
---
Bhutan tour
.
Nepal tour
.
Tibet tour
.
---
---