Are you looking to take a beautiful trip to Bhutan after the Coronavirus Pandemic (Covid-19)? Planning a Bhutan Tour can be a daunting task, but we're here to make it easier for you! In this blog, we'll provide you with suggestions for Bhutan itineraries and things-to-do, as well as answer any questions you may have about entering Bhutan, how much it costs, and what's included. So get ready to embark on your Bhutan adventure!
Nestled between India and China, Bhutan is a small, yet mighty Himalayan nation. From its title as the 'Land of Thunder Dragon' to its recognition as one of the world's greenest countries, this enchanting country has much to offer. Not to mention, Bhutan is the only nation that has adopted Gross National Happiness (GNH) as its measure of success instead of GDP. Many of its high-altitude peaks are forbidden to climb due to religious reasons, yet its stunning trekking spots such as the Chomolhari Trek and Druk Path Trek, are sure to take your breath away!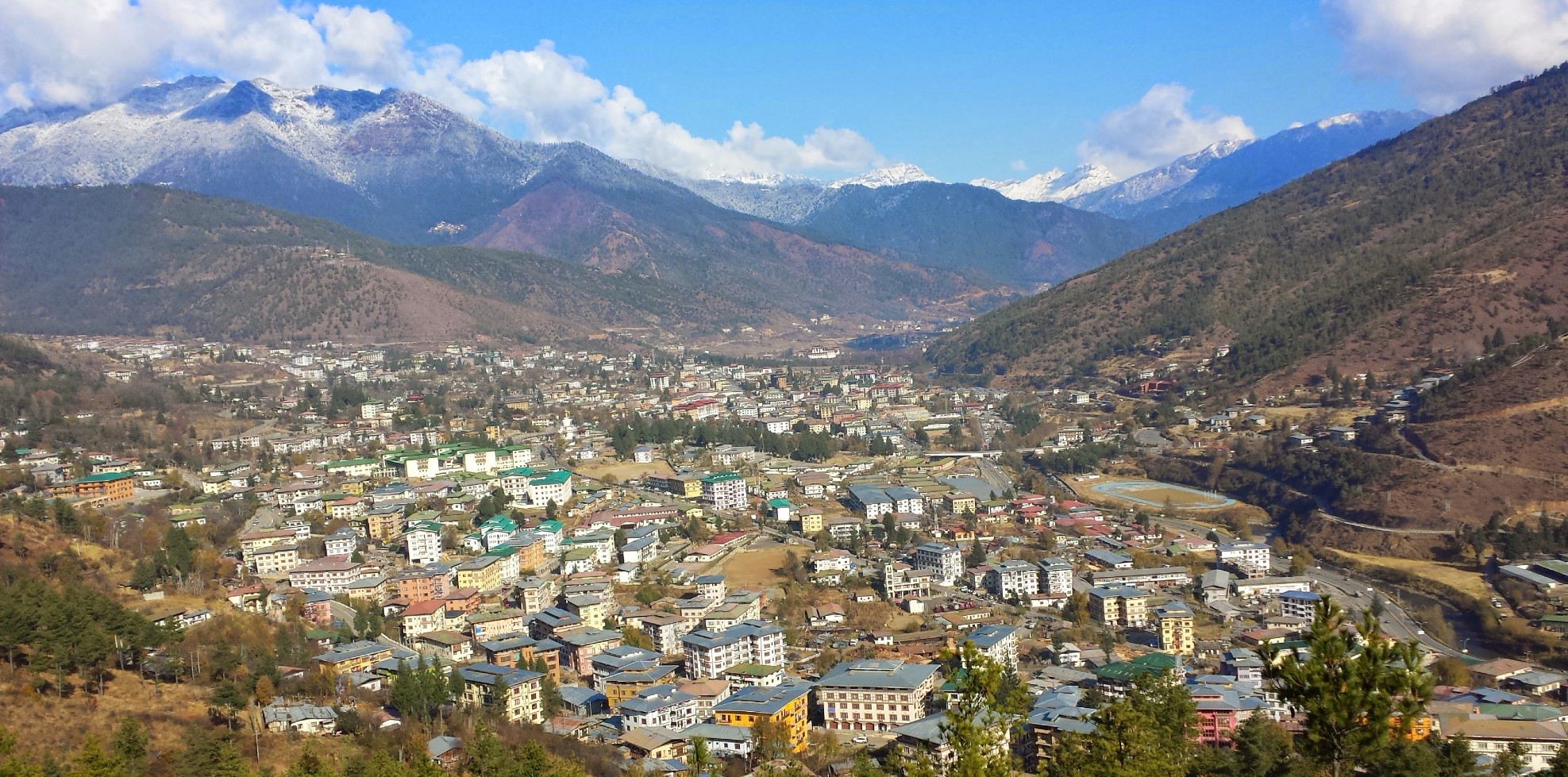 Thimphu – the capital city of Bhutan. 
How to enter Bhutan? Bhutan can be reached by flying and road/land from India.
By Flight: For those wishing to explore the wonders of Bhutan, Paro International Airport is the only gateway. Operated by Druk Air and Bhutan Airlines, flights can be taken directly from Nepal (Kathmandu), India (Delhi, Kolkotta, Guwahati, and Bagdogra), Thailand (Bangkok), and Singapore (SIN) as well as Bangladesh (Dhaka). Before planning your journey, however, make sure that you have your Bhutan e-Visa approval in hand. Get ready to be enchanted by the Land of the Thunder Dragon!
By Land: Experience the best of the Himalayas with a Bhutan Kathmandu Lhasa tour via Phuentsholing, the most popular of the three borders connecting Bhutan with India. Here, you can enter Bhutan after visiting the nearby Indian cities of Darjeeling, Sikkim, and Siliguri, or landing at Bagdogra airport. Gelephu and Samdrup Jongkhar are the other two border crossings to Bhutan, both located in the Indian state of West Bengal. No matter which route you choose, you're sure to have a memorable journey!
Bhutan e-Visa Clearance
Planning a trip to Bhutan? Make sure you obtain your Bhutan e-Visa Clearance before you board your flight! Ask your tour operator to provide you with a copy at least one week prior to your departure, and don't forget to bring it with you to the airline counter at check-in. Additionally, make sure your passport is valid for at least six months from the start of your tour.
---
---
How much does it cost to travel to Bhutan?
Say goodbye to the Minimum Daily Package Rate (MDPR)! This rate, which was previously USD 250 per night (high season) and USD 200 per night (low season) for a minimum of three people traveling together, is no longer valid. This means that tourists can now enjoy greater flexibility when visiting Bhutan.
The MDPR had been a major restriction for travelers, as they could only select packaged tours provided by tour operators. Now, with the removal of the MDPR, tourists have the freedom to engage with service providers directly and pay for services separately. This opens up a wide range of possibilities for travelers, allowing them to create their own unique experiences in Bhutan.
As of 20 June 2022, the Sustainable Development Fee (SDF) of USD 65 per night that was collected within MDPR has been increased to USD 200 per night. This fee hike will be used to fund activities that will help promote carbon-neutral tourism and create a more sustainable tourism industry. The fee will be used to offset the carbon footprint of tourists and provide training to workers in the industry. Indian tourists will still pay the previously stipulated fee, which will be revised at a later date.
The total approximate cost, including SDF, is shown in the table below.
| | |
| --- | --- |
| Standard Bhutan Tour Package (3-Star Hotels) | USD 370 – USD 450 Per Person/Night |
| Deluxe Bhutan Tour Package (4-Star Hotels) | USD 450 – USD 750 Per Person/Night |
| Luxury Bhutan Tour Package (5-Star Hotel) | USD 750 – USD 1900 Per Person/Night |
Note: The cost includes food, accommodation, guide, transport, SDF, entrance fees, etc. The extra cost would be Visa Fee (USD 50 Per Person) and flight fare to/from Paro.
Starting from July 2020, citizens of India will be subject to an additional INR 1200 per day (Approx. USD 17) per person as a Sustainable Development Fee (SDF) when taking the standard tour cost to visit Bhutan.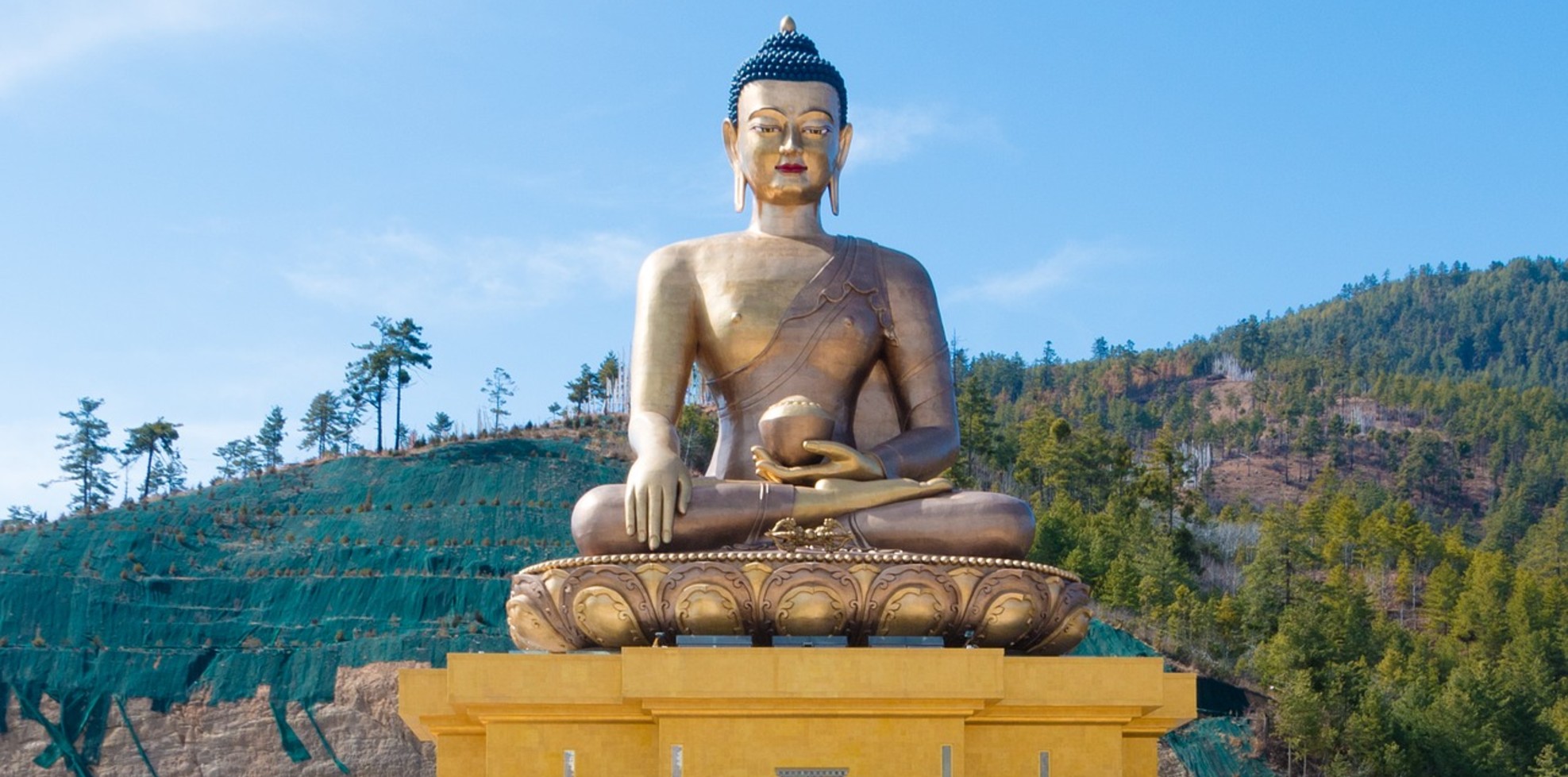 Buddha Dordenma in Thimphu, Bhutan
---
---
Suggested Itineraries and thing-to-do before you take a Bhutan Tour
Taktsang Monastery, also called Tiger's Nest in Bhutan
Planning a trip to Bhutan? Booking your tour with a tour operator can be a great way to take the hassle out of your travel experience – many packages even include the flight fare to and from Paro! Of course, if you prefer to book your own flights online, you're free to do so – just make sure to check that your tour dates are available and that you have enough time to process your Bhutan Visa.
– If you are planning to have a Glimpse of Bhutan with a stunning hike to the Tigers Nest, we recommend taking 3 Night 4, days Bhutan tour or 4-night five days Bhutan Tour.
– If you are planning to experience the culture and Bhutan's beautiful landscapes and want to stretch the itinerary a little longer, a 6-night seven days Bhutan tour can be the best. This seven days itinerary includes five cities of Bhutan, and you will be able to learn about Bhutan's culture, history, and traditions during this time frame. This seven days itinerary is also suitable for families and couples.
– If you are keener on learning about Bhutan culture and seeing how the lives in Bhutan, even in distant locations, take nine night ten days Bhutan tour that stretches up to the western city of Bhutan- Trongsa, and Bumthang.
– You are free to customize your private trip to Bhutan; talk with your tour operator or travel expert to have a perfect itinerary for your lifetime trip to Bhutan and make it the most memorable one. While touring Bhutan, you can take a chance to visit the other two beautiful nations, Nepal and Bhutan. Choose a 3 Country Tour of Nepal,  Tibet, and Bhutan in a single trip to have the best experience in the Himalayan regions.
Conclusion
The blog provides you with detailed information about Bhutan's geography, climate, culture, language, customs, visa requirements, currency, the best time to visit, and other important information. It also provides you with detailed information about the different cities and places to explore in Bhutan, the different adventure activities you can enjoy, the best accommodations available, and the different types of food you can enjoy. Additionally, it provides you with tips and tricks on how to save money on the trip, how to get around in Bhutan, and what type of transportation to use while in Bhutan. Finally, the blog also provides you with reviews of some of the best tour operators in Bhutan and recommendations as to which one to choose for a hassle-free tour.
*This blog was first published on September 21, 2020, and recently updated on May 17, 2023. 
---
Travel blog
---
post COVID-19
.
Bhutan tour
.
---
---