"Find an easy way to start planning your perfect trip to Nepal, we guide your and recommend the best-suggested itineraries, the best time to visit, and how to proceed further to arrange your visa and logistics."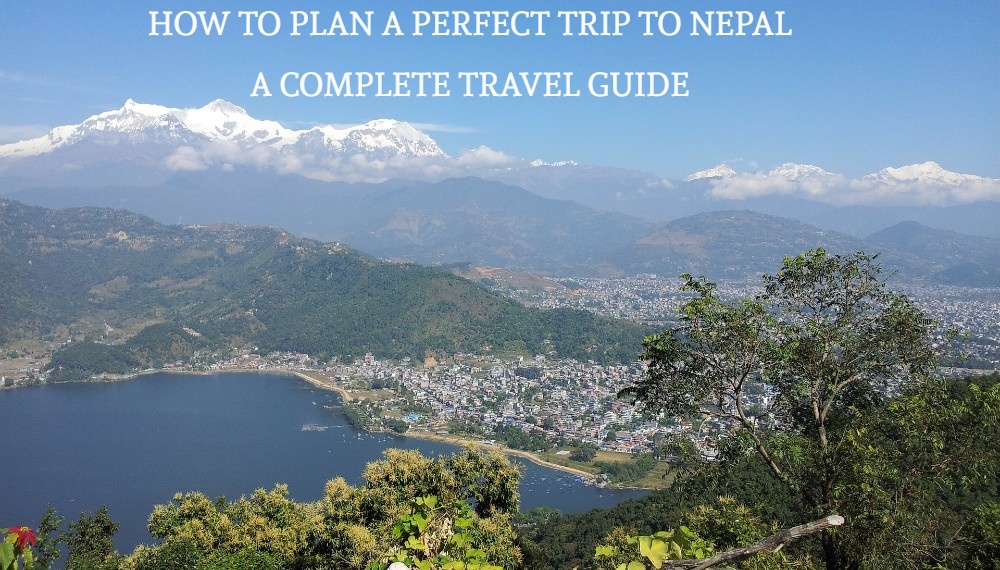 Where is Nepal?
Nepal, a country in South Asia, is situated along the southern slopes of the Himalayan mountain ranges and landlocked country between India to the east, south, west, and Tibet (Autonomous Region of China) to the north. Nepal is mostly well-known for its mountains, scenery, wildlife, flora, and fauna. Apart from this, Nepal is also known as a rich country for its culture, traditions, temples, and Stupas.
How to reach Nepal?
Nepal is well-linked via Airports and roads. Travelers also can reach the Nepal border crossings via India's railway.
Tribhuvan International Airport is the sole international airport in Nepal as of now. However, there are two other international airports ready to be operated by mid of 2021 named Gautam Buddha International airport and Pokhara Regional International Airport. Travelers can land at Kathmandu airport from different destinations and there are more than a dozen international airlines operating flights to Nepal. The major transits for Kathmandu airport are from Doha, Dubai, Delhi, Bangkok, Guangzhou, Singapore, etc.
You can reach the Nepal border via well-connected roads from India. There are multiple border crossings to reach Nepal and you can travel to Nepal with your Indian cars from India following the country's protocol. If you are coming from Tibet (an Autonomous Region of China), you can enter Nepal via the Kyirong border crossing.
Reaching Nepal by Railway
You can travel to the Nepal border by Indian railways. Passenger trains operate in Sunauli, Raxaul, Siliguri, etc. You can also travel to Nepal via the Jayanagar (India)-Janakkpur (Nepal) (Indo-Nepal) railway which has recently been inaugurated by the prime ministers of both countries and this railway link is now in operation.
Travel Categories 
Get to know how to plan a perfect trip to Nepal by choosing different categories, depending on your interest; you can travel to Nepal for Cultural and Heritage tours, Day tours, Helicopter Tours, Pilgrimage Tours, Hiking, trekking, Expeditions, etc.
Cultural and Heritage Tours
Nepal is rich in history and culture and always proud of its heritage. Hinduism and Buddhism are major religious practices in Nepal which provide a wealth of ornate temples, Stupas, and other important religious monuments. The cities like Kathmandu, Bhaktapur, and Patan display a wide range of heritage sights and some of them are listed as UNESCO world's heritage sites.
If you are looking for exploring the culture and history of the country, Nepal would be one of the best destinations in the world. Nepal has preserved temples, monasteries, and Durbar Squares built during the 13th, and 14th centuries. We recommend choosing destinations such as Kathmandu Valley including Patan and Bhakpatur, Lumbini (the birthplace of Buddha), Dhulikhel, Panauti, etc.
Recommended Itineraries for Cultural and Heritage Tours in Nepal
Nature and Wildlife Tours
Jungle Safari, the 4th most popular adventure sport in Nepal into the wilderness to witness wild animals, birds, mammals, and the natural beauty of Nepal. You can either take an Elephant Safari or Jeep Safari to witness the nature and wildlife of Nepal. Nepal has 14 National Parks and wildlife reserves with dense tropical jungles packed with diverse wildlife and exotic birds. However, not every National Park are open for tourism, there are few open for tourism such as Chitwan National Park (the most popular), Bardiya National Park (The best to choose), Koshitappu wildlife reserve, Parsa wildlife reserve, Dhorpatan hunting Conservation are among the most popular national parks and reserves to Jungle Safari in Nepal.
Recommended Itineraries for Nature and Wildlife Tours in Nepal
Day Tours and Helicopter Tours
Day tours in Nepal are an ideal way to explore the best of Nepal in one day. This program is designed for those who have a single day to discover specific destinations such as Kathmandu, Patan, Bhaktapur Dhulikhel, Nagarkot, Pokhara, Chitwan, and Lumbini. On this particular day, you will explore culture, heritage sites, art, handicraft, and other adventure activities available for a day such as Helicopter tours, day hikes, etc.
Recommend Day Tours in Nepal Including Helicopter tours
Pilgrimage Tours
Nepal has always been a popular pilgrimage destination for Hindus and Buddhist devotees. There are many pilgrimage sites in Nepal including Pashupatinath Temple, the most sacred temple of Lord Shiva, and Lumbini, the birthplace of Lord Buddha. The other pilgrimage sites which are famous for Hindu and Buddhist pilgrims are Swoyambhunath, Boudhanath, Gosaikunda, Pathibhara, Barah Chhetra, Muktinath, Haleshi Janakpur, Dham, Swargadwari, Khaptad, and Mount Kailash (Tibet) from Kathmandu.
Recommend Pilgrimage Tours
Lumbini Tour (birthplace of Lord Buddha)
Hiking and Trekking
Nepal is the world's best destination for hiking, trekking, and adventure as Nepal is the home of the eight highest Mountains out of the 14th highest mountain in the world. Nepal has always become the first choice of mountain lovers as the infamous Everest Base camp trek locates in Nepal. Nepal offers the most popular high-altitude treks with spectacular views of the Himalayas, villages, and valleys.
Recommended Itineraries for Hiking and Trekking in Nepal
---
---
Extend your trip to Tibet, Bhutan or both
Nepal is not only the best destination for adventure, wildlife, pilgrimage, culture, and history trips, but Nepal is a suitable country to extend your tours to Tibet and Bhutan. There are several benefits of extending your tours to Tibet and Bhutan from Kathmandu (if Tibet and Bhutan are already on your bucket list).
Benefits by extending your Nepal Trip to Bhutan, Tibet or Both
Easy Processing: The first benefit is easy processing, the Kathmandu-based tour operators are well-specialized for organizing your cross-country tours to Tibet and Bhutan. You will get reliable and fresh information about the trip. You can arrange a Tibet Group Visa (TGV) and Bhutan Visa more easily with the help of a tour operator in Kathmandu and you will have complete hassle-free tour arrangements booking through a reliable tour operator based in Kathmandu.
Budget Plan: The Second benefit is budget – you will save your money by extending your trip to Bhutan, Tibet, or both. Three country tours can be organized with the same company in Kathmandu. You will have direct flights to Lhasa and Paro from Kathmandu. Comparatively, the flight fare from Kathmandu to Bhutan is cheaper than flying from other airports like Delhi, Bangkok, Singapore, etc.
Likewise, Kathmandu has a direct flight to Lhasa and it is interesting to know that Kathmandu airport is the only international airport (Except China) that has direct flights to Lhasa. So, combining the trip with the same company and making it 'one go' would save you money, and time, and of course, it makes a hassle-free trip.
---
---
Fixed departure Packages
Fixed departure packages are always beneficial especially if you are traveling solo with a limited budget and if you are fond of interacting with people from different countries and languages. We offer several groups joining Fixed Departure tour/trekking packages that can be suitable for your lifetime trip to Nepal. Also, Fixed Departure with a group tour is cheaper than the tailor-made private tour packages.
Fixed Departure tour/trekking packages from Kathmandu
Everest Base Camp Trek Fixed Departure
Annapurna Base Camp Trek Fixed Departure
Check HimalayanWindows' Fixed Departure Packages.
Best Time of the Year to Visit Nepal
There are four seasons in Nepal Spring (March, April, and May), Summer (June, July, August), Autumn (September, October, November), and Winter (December, January, and February). The peak seasons are Spring and Autumn with warm temperatures, clear views, and less rain. The other seasons; such as Summer is the monsoon time in Nepal with heavy rain and landslides, and the Winter is likely to be very cold, especially in the mountain. Although, winter is still the best season for short hiking and lower-altitude trekking as you will have clear weather with spectacular mountain views. Learn more about the best time of the year to visit Nepal.
Nepal Tourist Visa
It is always important to know about the Visa procedure before booking your trip and flight. Most countries get the Visa-On-Arrival at the Tribhuvan International airport. Please kindly check the official website of Nepal Immigration whether your country is permitted for visa-on-arrival or not.
Nepal Tourist Visa on Arrival at the airport or border crossing
Upon arrival at the airport, you will find electronic Kiosk machines that read your passport, take your photo, print out the complete form and proceed to the payment counter where you will pay for your visa and you will move to the immigration line for Visa-On-Arrival. If you are entering from the border crossing, you will have to fill up the arrival card and submit it to the immigration officer.
Make sure to have Cash in hand for the Visa fee (USD is preferable but you can also pay with Euro, HKD, AUD, CAD, or JPY), and make sure that your passport is valid for at least six months from your entry date.
Getting your Tourist Visa Online
Since 2014, you can also apply for a tourist visa online within 15 days from your arrival date in Nepal. You will need some basic information such as the address of your hotel or apartment in Nepal, and a recent passport-sized photograph (digital). Complete the application form and submit and print out the receipt. You will need to show the printout confirmation along with your passport to the immigration officer along with the proper amount for the visa fee.
Getting your Tourist Visa at the Nepal Embassy
Before leaving home, you can also apply for the Nepal Tourist Visa at your local Nepalese Embassy or by mailing your application to them in advance.
Nepal Tourist Visa Fee and Duration
| | |
| --- | --- |
| Duration of Stay | Visa Fee |
| 15 Days | US$ 30 |
| 30 Days | US$ 50 |
| 90 Days | US$ 125 |
| Multiple Entry (if you are doing Cross Country tours between Tibet and Bhutan or India) | US$ 25 |
| Extending your Visa | US$ 30 for 15 Days and US$ 2 Per day after that up to 150 Days |
Additional Tips
Bring 4-5 passport-sized photographs from home as you will require them for purchasing SIM Cards, obtaining permits, etc.
Keep a couple of photocopies of your passport especially while traveling…
Carry Cash in USD for the Visa than other currencies as the exchange rate may vary and may encounter difficulties.
What to Pack
It is always wise to study well about the weather and customs of a particular country before your trip. If you are trekking in Nepal, you will have more essential things to carry as you will be trekking for multi-day in the cold temperature. Here are some recommended logistics that you should pack before heading for Nepal.
Rain Jacket or Poncho bag
Water bottle (Min. one litter)
Walking or hiking boots – Waterproof and lightweight
Socks: Thick wool/blend, think cotton, and make sure boots fit such a combination
Running shoes and sandals or morning and evening wear
Wool Sweater – Lightweight
Fleece Jacket
Shirt – Long sleeved
Long trousers /Pants
Hats, Gloves, Scarf, Underwear, Thermal Underwear
Sunglass, Sun Cream, Bag Liners, Money Belt, Toiletries, Towel, Torch or flashlight, headlamp, Lighter
First Aid Kit
You may also like;
*This post was originally published on 20th December 2020 and updated on 16th June 2022.
---
Travel blog
---
Nepal
.
Nepal tour
.
trekking in nepal
.
---
---